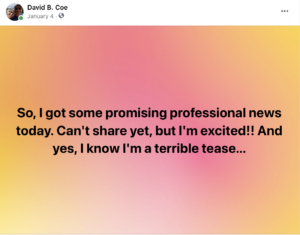 Nearly two months ago, early in the new year, I posted on social media that I had some exciting professional news I couldn't share quite yet. I was thrilled, and wanted to let people know. But I also didn't want to say anything before all the details had been settled. So I posted my little teaser, forgetting the one immutable rule of the publishing business: Things always happen slower than one thinks they will.
Well, I can finally make the announcement official. I have signed and sent the contracts, and they are (or soon will be) back in the hands of my publisher.
I have signed a contract for a new trilogy with Belle Books.
What kind of trilogy?
I'll tell you, but first some brief background. (Sue me: I'm a writer, so I always build suspense, and I'm a historian, so I always fill in backstory . . .)
A little more than a decade ago, in the summer of 2011, I found myself with nothing to write. We (my agent and I) had sold the Thieftaker books to Tor, and had turned in the first volume, but was waiting on revision notes. The year before I'd finished my Blood of the Southlands series and had also published the Robin Hood novelization. We were shopping the Justis Fearsson series, but sensed that the first book needed more work. And, frankly, I was not yet in a state of mind to tackle another rewrite on that front.
And so, with nothing else to do, I started something new. When I named the file folder on my computer desktop, I just called it "NewUF" (new urban fantasy). The book remained untitled for a long time.
The scene I first envisioned (not the first scene in the story) centered around a woman who wakes up from a night she can barely remember with a wound she feels but can't see. She stumbles to the shower, but the pain only increases. At last she finds herself picking at skin that looks normal but feels rough and scarred. And suddenly blood is cascading down her side. She doesn't know or remember why.
A little weird, right? Ideas come in all shapes and sizes. Some books take form clearly and sequentially. Some introduce themselves piecemeal, like a jigsaw puzzle. I didn't know what to make of the scene I'd imagined, but working backward from it I filled out the character of this woman, I sculpted her world, which is basically our world with a magical twist, and I built other characters around her.
The result was a contemporary urban fantasy steeped in Celtic mythology: two women, a Sidhe sorcerer and her human conduit, fighting off shapeshifting Fomhoire demons and their allies from the Underrealm, with the fate of the world hanging in the balance.
It sounds grim, and it also sounds a bit like other books we've seen before. It's neither. Yes, there is some serious shit going down throughout the book, but there is also humor and there are lots of unexpected twists in both the magical underpinnings of the story and the narrative itself.
I wrote the book in about three months. And then I set it aside. I had final edits to do on Thieftaker and I needed to get started on Thieves' Quarry, the second book in that series. I loved this other book I'd written, but I knew it was part of a larger project, and I didn't know yet what to do with the next books in the sequence.
Thieftaker and its sequel did well. We sold the Fearsson series. And abruptly, I had more than enough work to keep me busy for a few years. But I certainly never forgot about my Celtic series, and a few years later, when I pulled the book out of the proverbial drawer, I reworked it, taking into account my agent's editorial comments from that first draft, and all that I had learned since while writing the Thieftaker and Fearsson books. A couple of years after that, I took it out again and edited it some more. And finding myself once more with a bit of time, I started work on the second volume.
This second book built on what I'd done in book one, but the plot stalled at the 2/3 mark (as books often do) and, with other work to get done — now on the Islevale series — I put it away again.
And on it went. I returned to these books again and again, polishing book one to a high shine, eventually completing and then polishing book two, and finally developing an idea for the third book in the trilogy. By then we'd reached the middle of 2021. I was working on the Radiants series with an incredible publisher and editor, and I decided it was finally time to bring these books out of the drawer they'd been in and present them for possible publication. Which brings us to this post.
We don't always know what will happen with the stories and books we write. The first book in this new Celtic urban fantasy has, at this point, been through five or six iterations and countless edits. It wasn't ready in 2011. Not even close. But I believed in the idea, and I knew that with work I could make it into a publishable novel.
Sure, I have other books and stories that have never gone anywhere and probably won't. I also have ideas like this one that are still awaiting their time.
Never give up on a story you love. Maybe it's not ready yet. Maybe you haven't figured out how to end it or where to take subsequent volumes. Maybe you're not sure what it needs, but you know it needs something. Stick with it. Work on other things as well. Sometimes we need to confront stubborn ideas and stories head on. Sometimes we need to set them aside and let them percolate while we write other characters in other worlds.
I don't yet know what to call this new series. When I know, you'll know. The first book is titled Stone Bound. I expect it will be out later in 2022 or early in 2023. The second book is called The Demon Cauldron.
Have a great week.