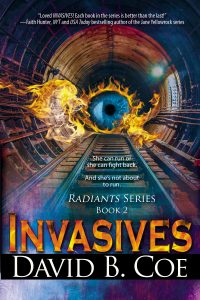 In case the daily teasers and cover art reveals and previous blog posts all failed to tip you off, this is release week for Invasives, the second Radiants novel. It comes out on Friday, February 18! Yay!!
Release weeks are a big deal and we authors depend on early sales of new books to maintain series momentum and to get the new book front and center in the attention of the reading public.
And so, here are my top ten reasons why you need to buy INVASIVES!
10. I'm a good guy, and you want to help out my career!
9. Have you seen the jacket art?? I mean I know: book, cover, ixnay on the udgementjay. But this is a seriously cool cover, and, I have to say, it is quite representative of the story contained within.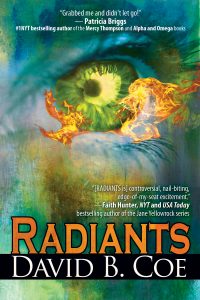 8. You read Radiants, right? Right? And so you know how good that book was. Why wouldn't you want to read this one, too?
7. Along similar lines, I love this series, and I think if you give the books a chance, you're going to love the series, too. And if the second book doesn't sell, there won't be a third. That is simple publishing industry arithmetic. Good sales mean a series continues. Bad sales not so much.
6. My lead characters are homeless teens living in the New York City subway tunnels. I've written about an entire underground culture and society — the Below — invisible to those of us in the Above. That alone should be pretty intriguing.
5. You've seen the teasers I've been putting up daily on social media. Tell me those haven't whet your appetite for the story.
4. All kidding and promotional enthusiasm aside, this is the book I wrote during the time when I was first dealing with the news of my older daughter's cancer diagnosis. Without this story, I'm not sure how I would have made it through those dark, difficult days. All my books mean a lot to me in one way or another. But this book in particular is one that I cherish and love, in part because the emotions of my journey as I wrote it come through in the narrative, the prose, the character arcs. This is, to my mind, a very special book.
3. As I mentioned in a recent post, the three lead characters came to me long, long ago — a decade ago, or more — and they have haunted me ever since. Their backstories are complex, as are their conflicted interactions with one another. This is some of the most intricate character work I've done — I'm quite proud of it actually.
2. My agent, the fabulous Lucienne Diver, told me when she first read the manuscript that this might well be her favorite of all the books I've written. Don't you want to know why?
And my number one reason why you should buy this new book . . .
1. It really is a fun read, a moving read, an exciting read. The story includes characters with cool Radiant powers, assassins who will chill you to the core, and heroes who will make you stand up and cheer. The narrative will grab you on page one, and it won't let go. Trust me on this.
You can order Invasives from:
Amazon | Barnes and Noble | Kobo | Google Books