Many years ago, several of my writer friends and I were involved in a joint online venture — a writing blog called Magical Words, where we offered writing advice for free. We posted new content nearly every day, each of us taking one day out of the workweek to write, we commented on one another's posts to create a writing dialogue, and we garnered a pretty significant following. The roster included regulars Faith Hunter, Misty Massey, A.J. Hartley, John Hartness, C.E. Murphy, Stuart Jaffe, Edmund Schubert, and me as well as a host of terrific guests including James Tuck, Mindy Klasky, Lucienne Diver, and Gail Martin, to name just a few. I know, quite a line-up, right?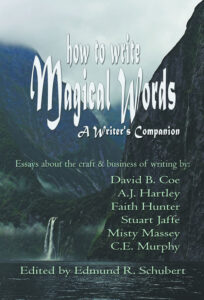 We kept the site going for nearly a decade (thanks Todd Massey), and the site still exists, for those interested in wading through the extensive archives. We also produced a writing book, which is still available.
I bring all of this up because recently I have been thinking about the advice I offered on that site, with the idea of revisiting some of the topics. And I'd like to begin doing that today . . . .
I have posted before about different ways we might breathe life into a story, book, or series that has gone a bit stale. This is a fairly common problem, one I have dealt with throughout my career, and one I have thought about recently as I contemplate what I might do with a new Thieftaker installment, or a return to one of my other projects.
A great bit of advice in this regard comes from Faith whose approach to the problem is fairly simple, not to mention ruthless. When your plot starts to feel flat, she has often said (paraphrasing here), kill off a character. This will change your story's dynamics, give your writing a burst of emotional power, and almost certainly result in shifts in narrative tectonics you can't even anticipate. And I agree with this: It's a great way to shake things up. But there is another way to breathe life into an older project, and it's actually the direct opposite.
One of my favorite characters in the entire Star Trek franchise was Ensign Ro Laren (played by Michelle Forbes), the Bajoran-rebel-turned-Starfleet-officer. She was introduced to viewers of Star Trek: The Next Generation in an outstanding episode that aired in the 5th season, and it was clear from her very first scene that she would be a terrific character. She was surly and abrasive, disdainful of authority and deeply proud of her Bajoran heritage. Starfleet was always portrayed as the ultimate melting pot — characters from different planets were expected to subsume their native cultures to the shared values of the larger organization. She refused, which made her compelling, fascinating even. Adding her to the cast shook up the somewhat tired dynamics of the show and yielded several memorable episodes.
Buffy the Vampire Slayer, another of my favorite series did something similar in its third season, when it introduced a second slayer, Faith Lehane (Eliza Dushku) to the mix. Faith joined Buffy's Scooby-gang, but she brought a rebellious, morally-ambiguous quality to the show that had been missing previously. She disrupted Zander and Willow's friendship, defied Giles's authority, corrupted Buffy, and eventually turned on her, becoming a dangerous rival. Again, the addition of a new character altered familiar dynamics and infused the franchise with new drama and energy and power.
A third example: My favorite show of all time is The West Wing, which, in its second season, introduced a character named Ainsley Hayes (Emily Procter) to the Bartlet White House. Ainsley was a Southern conservative Republican, whose political views were diametrically opposed to those of Josh, Sam, C.J., and Leo, and whose keen intelligence and sharp wit made her a worthy foil for all of them. The West Wing hadn't had time to grow stale at that point, but Aaron Sorkin, the show's creator and chief writer, seeing the potential for such a thing, acted preemptively. By adding Ainsley to the cast, he sent the show in new and unexpected directions and brought additional tension, humor, and resonance to a show already brimming with those qualities.
Three different shows, three powerful, dynamic women added to the storylines. In each case, the addition of one character completely altered the tone and feel of the series.
The lesson here should be fairly obvious. Yes, killing a character can jump-start a plot. I use that approach quite often. But adding a character can do much the same thing. And if I am working on a longer project — a multi-book series — I often find that killing off someone important isn't enough to infuse the franchise with the needed energy. Introducing a new character, however, particularly someone who is going to prove disruptive to my plotting and uncomfortable for my established characters, can really shake things up. And sometimes that's exactly what we need.
Storytelling is about conflict and tension. When we find a book or series going flat it is usually because those two qualities — conflict and tension — are missing, or at least lagging. That's why it's not always enough to add just any new character. Sure, a new love interest or sidekick can spice things up a little. But if this new person fits in too comfortably, the point of adding them might well be lost. If instead we bring in someone who is going roil the metaphorical waters, we stand a much better chance of achieving the desired result: namely more drama, more emotion, more trouble for all concerned. Our readers will eat it up.
Keep writing.