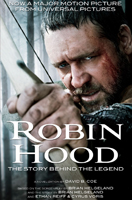 Over the course five frantic weeks at the end of 2009, David wrote the novelization of Ridley Scott's movie, ROBIN HOOD, starring Russell Crowe and Cate Blanchett. Start to finish, first draft to final edits, it was, to say the least, an interesting experience. David will be happy to tell you all about it, but it's best done face-to-face. Find him at a con, lure him into the bar, and see to it that he has a beer in front of him. Or two. The stories will start to flow . . .
He would love to link to sample chapters from the book, but because of licensing agreements with  NBC/Universal, that's not possible. The book is still available, though, so you can always read it for yourself.
"Robin Hood chronicles the live of an expert archer, previously interested only in self-preservation, from his service in King Richard's army against the French. Upon Richard's death, Robin travels to Nottingham, a town suffering from the corruption of a despotic sheriff and crippling taxation, where he falls for the spirited widow, Lady Marion, a woman skeptical of the identity and motivations of this crusader from the forest.
Hoping to earn the hand of Marion and salvage the village, Robin assembles a gang whose lethal mercenary skills are matched only by its appetite for life. Together, they begin preying on the indulgent upper class to correct injustices under the sheriff. With their country weakened from decades of war, embattled from the ineffective rule of the new king and vulnerable to insurgencies from within and threats from afar, Robin and his men heed a call to ever greater adventure.
This unlikeliest of heroes and his allies set off to protect their country from slipping into bloody civil war and return glory to England once more."*
Robin Hood, the book, was released on April 27, 2010. Robin Hood, the movie, appeared in theaters beginning on May 14, 2010.
* This text from the book jacket and approved by NBC/Universal.