Yes, this is a Professional Wednesday post, going up on a Thursday morning. And it's about dealing with deadlines and professional obligations, which should give you some hint as to where this essay is going . . . .
I apologize for not getting my Wednesday post up on Wednesday. I would say it won't happen again, but that would be dishonest. It's rather likely to happen again at some point. Read on . . . .
Deadlines and obligations are part of any profession, but they seem to loom larger in the literary world than in most others. We writers tend to work in isolation. We don't go to offices to ply our trade. We have few meetings. We don't wind up on committees or task forces or action groups or anything of the sort. We have, essentially, one professional duty: We are expected to turn shit in on time. That's a slight oversimplification. Yes, we have to compose lovely prose. We have to construct narratives, develop characters, create settings, tease out themes and moods and emotions and the like.
But in presenting our work to the outside world, in moving from the creative process to the marketing of our work, our responsibilities come down, largely, to deadlines. Deadlines for submission, for revisions, for copyedits, for proofs. And I don't mean to downplay the challenges deadlines can present. Being able to create on demand is THE defining attribute of a professional artist. We don't wait for the muse. We don't create when the mood strikes us. We produce regularly, and often we do so on someone else's schedule.
I have been on both sides of deadlines: I have written to them, and I have imposed them on writers sending material to me for editing. And so, I feel confident in discussing how to manage them and how to handle the conversation when we know we're going to miss them.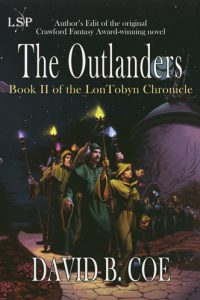 The first deadline I missed was on my second novel, The Outlanders, the middle book of the LonTobyn Chronicles trilogy. And I had good excuses. Between the time I started writing the book, and the day the first draft of the manuscript was due to Tor, our first child was born, my mother died, my father died, and my siblings and I had to settle my father's estate.
Being a first-time parent was glorious, but it consumed my days and disrupted my nights. Losing both my parents in quick succession was brutal, and the loss of my father hit me particularly hard. HIS father was still alive (my grandfather was over 100 at the time), and his mother had died in her nineties. We thought he would live forever. His death devastated us all.
With the deadline for The Outlanders approaching, I reached out to my editor at Tor Books and told him the book would be late. How late? I had no idea. I was stuck, an emotional wreck, and I didn't know how to get unstuck. But I promised him I would get it done, if he could just be patient with me. He was, and I did.
That conversation was hard, but it was the right one to have. Looking back, however, I realize I should have initiated it months earlier. The first lesson of dealing with deadlines is this: As soon as we understand that we are going to miss a deadline, we need to alert our editors (and our agents, if we have representation). Missed deadlines impact our publishers as well as the other authors in the publishing queue with us and behind us. A deadline is an obligation with consequences beyond our own lives, and we owe it to the people doing business with us to be as honest and forward-looking as possible.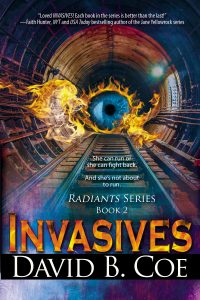 Yes, sometimes we think we're going to miss a deadline, and then we make it. And if we alert our publisher prematurely, we could lose our spot in the queue. So be it. That's the price of acting professionally. When our older daughter first was diagnosed with cancer, I told my editor and my agent what had happened, and let them know I was probably going to be late with the novel I was writing. As it turned out, writing that book — Invasives, the second Radiants novel — was a wonderful escape, and I met my deadline. But I had given up my publishing spot and so the book was released later than I had hoped. It wasn't that big a deal. As I say, the most important thing is be up front about the situation with those who need to know.
Sometimes, we fall behind on our writing not because of life events, but simply because we're struggling with the story, with the writing itself. Again, communication is the key. In that case, we should reach out to our editor. Let them know we're having trouble. It may be that a conversation with someone who knows the story, who understands what we're trying to do with the characters, who might even have already published previous books in the series, will help us clarify our thinking and get us back on track and on schedule. At the very least, it will alert our editor to a potential problem with the upcoming deadline.
And sometimes we just bump up against the realities of the creative process: It doesn't always conform to our scheduling and planning. Art can be messy and inefficient. In making our commitments, in accepting deadlines in the first place — and usually we have the opportunity to agree to a deadline or to ask for more (or less) time — we have to keep this reality in mind. We have to plan well. We have to avoid setting ourselves up for failure by agreeing to a more ambitious timeline than we are capable of meeting. Once we have have made our commitment, we have to budget our time and then stick to the calendar we've set.
In the end, there is really no secret or magic formula to any of this. We must be honest — with ourselves and with our colleagues. We have to do the work. And we have to anticipate problems before they arise.
Easy-peasy. Usually. Every once a while, missing a deadline can't be helped. And then a Wednesday post goes up on a Thursday.
Keep writing.