Continuing my series on how I came to be a professional writer . . . (Here are links to Part I, Part II, and Part III)
When we left off last week, I had just received 1) an offer to teach history and 2) a phone call from an editor at Tor Books in which said editor expressed interest in buying my first novel. These two conversations occurred within twenty-four hours of each other, and in both cases, I was given the weekend to make up my mind before informing them of my decisions on Monday.
It was a fraught weekend, though less so than one might think. The most difficult part of it was a conversation I had with my mother, who argued strongly against giving up my history career to write fiction. The more she pushed, the harder I pushed back, not because I was being contrary, but because her adamancy and my response to it convinced me that I knew already what I wanted to do. It actually wasn't a hard decision at all. If anything, I was troubled by how easy it was for me to choose.
I'd had my doubts about the history path for several years; the idea of accepting Colorado State's job offer filled me with dread. Writing fantasy, on the other hand, had been my dream for half my life, and now, improbably, that dream was within reach. How could I turn my back on it?
My mom didn't understand. She felt I was being irresponsible, immature, foolish. She said as much several times during that terribly difficult phone conversation, and the hard truth is, we hadn't fully reconciled when she slipped into dementia less than a year later — a result of her cancer treatments. She died the following year.
I had several other conversations that weekend, but only one of them mattered.
I've said before that I have the World's Best Spouse, and I mean it each time I say it. I know, though, that nearly every artist who has a life partner feels the same. A supportive, generous, patient, loving partner is, in my view, essential to creative success. I have been fortunate beyond words in this regard.
That weekend, after I hung up from my call with my mother, Nancy came into my office and essentially said, "Well, that sounded awful, but it also sounds like you've made up your mind." When I asked if she thought I was making a mistake, she gave me an emphatic no. "I knew you before you started writing, and I know you now," she said, with a mischievous smile. "I like you better now."
Joking aside, to her mind, the decision was as clear cut as I thought it was. I was happy writing. I wouldn't have been teaching history. We were in a good situation — she had a job she liked, our rent was low, we were saving money every month, we didn't yet have kids. If ever there was a time for me to pursue a writing career, this was it. We agreed that if in five years it seemed things weren't going well, we could rethink our plans. But for right then, this was a chance we could afford to take.
On that Monday, I made two phone calls, one to Fort Collins, Colorado, and one to New York City. For better or worse, I was now a professional writer.
In subsequent months, as we shared with friends and family what had happened, and what we had decided, the overwhelming response I got was "Wow, you are so courageous! You're following your dream!"
I didn't feel courageous. I felt like I had taken the easy path, like I had done something irresponsible, that I had cheated in some way. Maybe it was the residue of the conversation with my mom. Maybe it was some outdated sense of what adults — particularly adult men — are supposed to do. Dreams are for kids. Playing make-believe, writing stories about magic — these are frivolous, immature pursuits.
I feel silly typing this. I know better now. Writing is hard work. Like any creative venture, it can be a soul-tearing struggle, and as a business it demands near-constant promotion, strategic thinking, discipline, resilience, a thick skin, and an openness to criticism. I had some sense of this even then. And yet the doubts remained.
A few months later, in mid-summer, while Nancy and I were in Idaho visiting her parents, I had a conversation with her father. He was, and continues to be, in his ninetieth year, a man of wisdom and compassion. He sensed that I was still struggling to find peace with the choice I'd made. And he told me about when he first left the navy and decided he was going to move West and become a farmer. All of his navy buddies thought he was nuts, but he was determined.
"So I bought a cow," he told me. He wanted to run a dairy, and he knew if he owned a cow, he would feel one step closer to that aspiration. More, he'd feel like he was a real farmer. "That's kind of what you have to do," he said. "You need to start thinking of yourself as a writer, instead of as a guy who gave up history and is trying to write."
That simple distinction made all the difference in the world.
My first novel came out in May 1997. Neither of my parents lived to see the book in print. But my father was alive as the book went to production. He saw how proud and excited I was, and I think he shared in those emotions, despite having been as skeptical as my mom early on. Children of Amarid did well. The hardcover garnered some nice reviews despite a small print run. The paperback went through six or seven printings.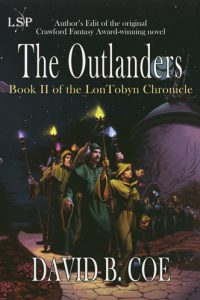 The Outlanders, my second book, may well be the most significant of all the books I've published. I knew I had it in me to write one book. But when I finished The Outlanders, and realized it was even better than CofA, I knew I was more than a guy who could write a novel. I was an author. And when Children of Amarid and The Outlanders together were given the Crawford Fantasy Award by the IAFA (International Association for the Fantastic in the Arts), for best fantasy by a new writer, I knew I would have a professional career beyond that first series.
As I've said before in this series of posts, I was incredibly fortunate to find my way to a writing career. I benefited from privilege, from luck, from the unstinting support of a loving partner. I don't quite know what the lesson is this week. Not all of us face as stark a choice as I did. I know myself well enough to understand that I could not have taken the history job and also written fiction (my mother's solution). It was a tenure-track job. I would have had a full teaching load and also would have been under immediate pressure to revise and publish my dissertation, do academic committee work, and get started on my next scholarly book. Add to that the time commitments of marriage and starting a family, and at the very least I would have been postponing my writing career for another decade or more. I didn't want that.
But I'm not so naïve as to say, "So everyone should just follow their dreams, consequences be damned." I will say, though, that if you love to write — or paint, or play music, or dance, or sculpt, or take photos — following your dream ought to be the goal. Maybe you'll have to balance your artistic ambitions with the pragmatism of a day job. Maybe you'll need to be patient for a year or two. Whatever path you find, I assure you the sacrifices are worth it. Few things in life match the joy of waking each morning to a workday that consists of doing what you love.
Next Monday, my final thoughts on my path to a writing career.
In the meantime, have a great week.