How long is too long to wait for vengeance?
To what lengths would one woman go to avenge a wrong that most have long since forgotten?
Would one family risk a fragile and hard-won peace in their single-minded pursuit of redemption?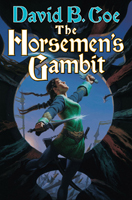 Is it possible to overcome ancient hatreds of race and clan when war looms on every horizon?
How much can one man be expected to sacrifice to save people he doesn't even know?
These questions lay at the very heart of Blood of the Southlands, the thrilling follow-up to David B. Coe's critically acclaimed Winds of the Forelands series. Blood of the Southlands is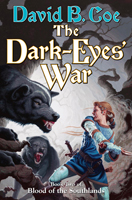 the tale of one woman's twisted quest for justice, and the evil her magic looses upon the land. It is a story of duplicity and violence, of kinship and rivalry, of revenge and the search for redemption.
Blood of the Southlands is a trilogy consisting of  THE SORCERER'S PLAGUE, THE HORSEMEN'S GAMBIT, and THE DARK-EYES' WAR.
Read sample chapters of THE SORCERERS' PLAGUE
Read sample chapters of THE HORSEMEN'S GAMBIT
Read sample chapters of THE DARK-EYES' WAR
"Coe follows the Winds of the Forelands series with this absorbing trilogy opener set across the sea in the Southlands…. Fans will cheer on Forelands series hero Grinsa, a powerful but pacifist Qirsi, who ties the two series together….." — Publishers' Weekly on THE SORCERERS' PLAGUE
"The Southlands are as highly detailed as the Forelands of Coe's five-volume Winds of the Forelands. The characters, especially the old searcher, are extremely well drawn. Those who enjoyed Coe before should like him again, and since one need not have read Winds to figure out anything in the first book of Blood of the Southlands, newcomers can jump right in." — Booklist on THE SORCERERS' PLAGUE
"Book one of Coe's Blood of the Southlands series is set in a fascinating world. Characters explore issues of magic, prejudice and ignorance with extraordinary frankness. He manages to bring in characters beloved from his Winds of the Forelands series without forcing them to carry the plot. An entertaining read!" — Romantic Times on THE SORCERERS' PLAGUE
"In this intense and appealing sequel to 2007's The Sorcerer's Plague, clan rivalry continues apace…Coe steps up the tension and raises the stakes, leaving readers quivering in anticipation of book three." — Publisher's Weekly on THE HORSEMEN'S GAMBIT
"Coe manages to take several serious, weighty issues, approach them from distinctly different points of view and make you sympathetic toward characters who sometimes act selfishly or viciously. He absolutely nails the plot and sequencing. This book is the best yet in the series." — Romantic Times on THE HORSEMEN'S GAMBIT
The world he created and brought to readers is vivid and detailed, the characters are three dimensional, there are multiple story lines all twisted into one, and the magic battles are of epic proportions, it's everything a fantasy reader could want and more. And above all these are the reasons that I love David B Coe's writing." — Fantasybookcritic on THE DARK-EYES' WAR
"The final chapter of the Blood of the Southlands series is satisfying. The characters Coe has invested so much time in continue to be the focal point, and all the loose ends are tied up neatly . . . Fans of the series will enjoy cozying up with their favorite — and least favorite — occupants of the Southlands." — Romantic Times on THE DARK EYES' WAR