Welcome to the website of award-winning author David B. Coe. Here you can learn about David's novels, read sample chapters and free short stories, check in with his blog,  and find information on his upcoming events and appearances.
Latest News: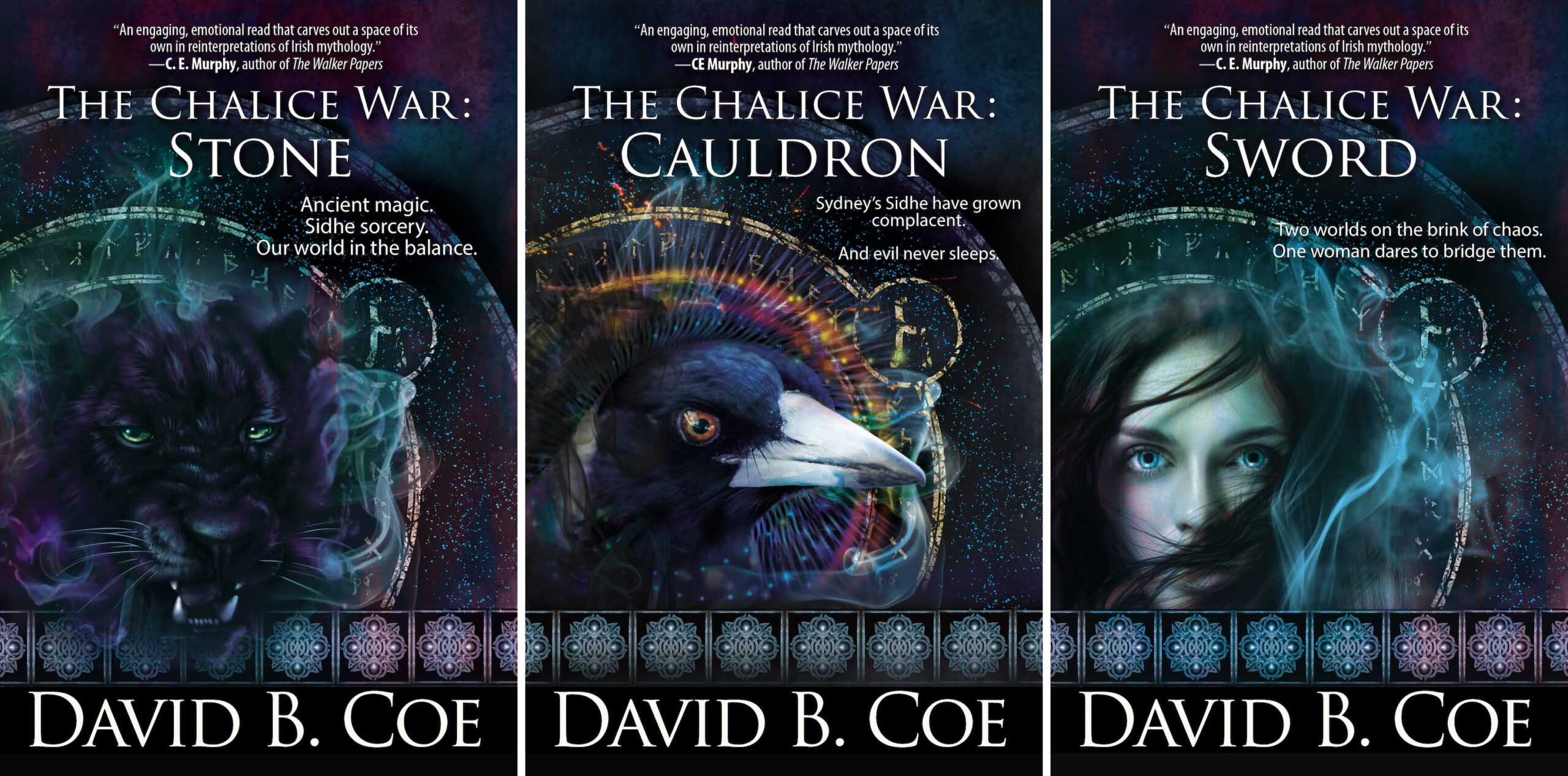 BIG NEWS!! David's Celtic-influenced urban fantasy trilogy, The Chalice War, is now available from Bell Bridge Books! All three books in the series, The Chalice War: Stone, The Chalice War: Cauldron, and The Chalice War: Sword, have been released and are available from all booksellers! These are fun, snarky, action-packed books, different from David's other work, but also familiar enough to please long-time fans of his previous novels. And once again, we have the incredible Deb Dixon to thank for the stunning jacket art!! You can follow this link to more information about the series, and you can also find on this site sample chapters and buy links for Book I, Book II, and Book III. Enjoy!!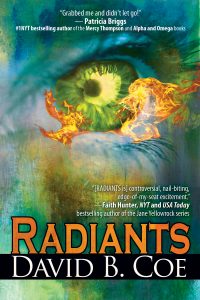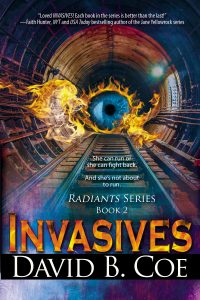 David's  supernatural thrillers, Radiants and Invasives, are currently available from Bell Bridge Books!! Read more about Radiants here! And read more about Invasives here! These books represent David's first forays into supernatural thrillers, and he has had a blast writing them. They are, he feels, among the most important and satisfying books he has written to date, and he hopes you agree. They are available in both electronic and paper format. The amazing cover art comes to you courtesy of the fabulous Deb Dixon, David's editor and publisher at Belle Books.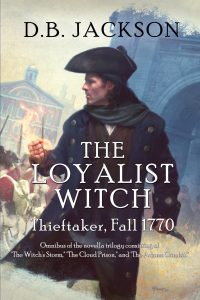 After a bit of a publishing hiatus, David is pleased to announce the release of a new Thieftaker adventure featuring Ethan Kaille, Kannice Lester, Sephira Pryce, Janna Windcatcher, Diver Jervis, and the entire Thieftaker "gang." The Loyalist Witch — Thieftaker, Fall 1770 is a trilogy of novellas published under the D. B. Jackson pen name. All three novellas — "The Witch's Storm," "The Cloud Prison," and "The Adams Gambit" —  have been released in electronic format and are available for purchase. And now the complete trilogy has been released in a paperback omnibus volume. Once again, we are fortunate and so delighted to have jacket art from the amazing Chris McGrath. Read more about the trilogy here.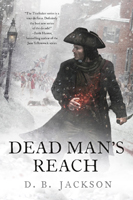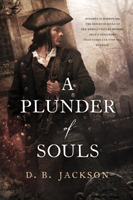 David is happy to say that A Plunder of Souls and Dead Man's Reach, the 3rd and 4th books in the Thieftaker Chronicles, have been reissued in ebook format and  trade paperback. These reissues come from Lore Seekers Press and feature the original artwork by Chris McGrath. A Plunder of Souls was named one of 2014's best books by SciFi Chick.com; Dead Man's Reach was named one of the best books of 2015 by SciFiChick.com! Kirkus Reviews calls Dead Man's Reach "A thoroughly engrossing and involving entry that no series fan will want to miss." And Publisher's Weekly says, "Jackson deftly mixes in the chaos of the Boston Massacre and the sobering realities of colonial street life, presenting a hero who is driven yet reflective on his responsibilities."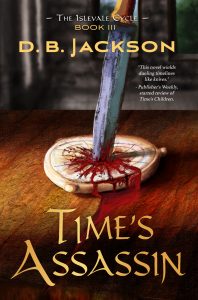 Time's Assassin, the newest novel from award-winning author D.B. Jackson, is available from Falstaff Books. This is the third and final volume of The Islevale Cycle, Jackson's time travel/epic fantasy saga. Time's Children, the first volume in the series, received a starred review from Publisher's Weekly and was named the Best Fantasy Novel of 2018 by Reviews and Robots.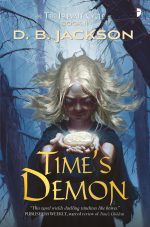 Time's Demon, volume II, has been called "about as perfect a second book in a series as a reader could hope to have" by SffWorld. You can read more about these books here. Time's Children and Time's Demon are now  available from all booksellers in ebook, trade paperback, and audiobook formats.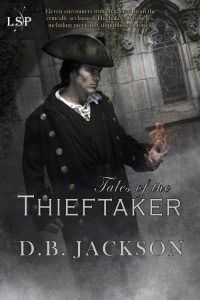 David is proud to announce the  release of Tales of the Thieftaker, a short fiction collection featuring eleven stories set in the world of the Thieftaker Chronicles. Writing as D.B. Jackson, David returns to the adventures of Ethan Kaille, the hero of his critically acclaimed Thieftaker series (Thieftaker, Thieves' Quarry, A Plunder of Souls, Dead Man's Reach). The collection includes several short stories, some flash fiction, and the long-awaited, full-length novella, "The Ruby Blade," which tells the story of Ethan's involvement in the mutiny that changed the course of his life.
The collection, published by Lore Seekers Press, is currently available in ebook and trade paperback form. Order it now!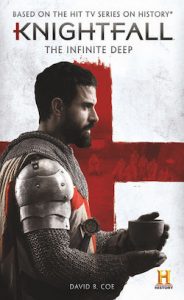 David has written a tie-in novel with Knightfall, the Knights Templar series on the History Channel ™! The novel is called Knightfall: The Infinite Deep, and it is now available from all booksellers in paperback, ebook, and audiobook formats.
NEWSLETTER UPDATE:
It is almost time for the next issue of my newsletter and the next book giveaway. If you have not yet subscribed, simply use this link and you can sign up. Easy-peasy! If you ARE subscribed, but have not yet filled out the GDPR compliance form, you will no longer receive the newsletter and you will no longer be entered in the giveaways. The simplest way to fix this is to resubscribe using this link. Simply fill out the form, take care of the Recaptcha dialog, and then you'll be told that you are already subscribed. Click on "Update my Preferences." You will be sent a confirmation email, and when you click on that link, you will be able to update and make your subscription GDPR compliant. My apologies for the hassle. Do it this once and you never have to worry about it again. You know, until the next time…. Thank you!!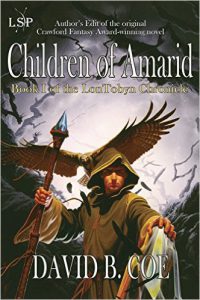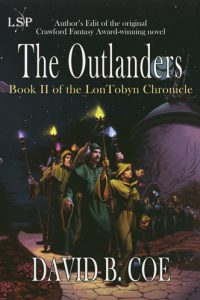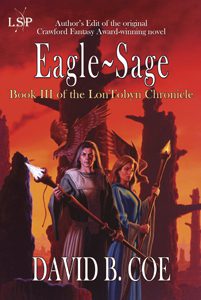 After being out of print for more than a decade, David's debut series, the Crawford Fantasy Award-winning LonTobyn Chronicle, is finally returning!! All three volumes — CHILDREN OF AMARID,  THE OUTLANDERS, and EAGLE-SAGE — are now available in ebook and trade paperback formats!
These are the Author's Edits of the original award-winning novels. The plots, characters, world building, and magic system remain the same, but the prose has been updated and polished. The result is a series of books that will thrill fans of the original LonTobyn Chronicle while also appealing to readers coming to the series for the first time. Read more about the books here.
For those of you who are wondering, the rest of David's epic fantasy backlist — the five book Winds of the Forelands series, and the follow-up trilogy, the Blood of the Southlands — will be re-released as well. Right now the plan is to come out with the Winds of the Forelands books in 2017, and the Blood of the Southlands series in 2018. So stay tuned: more classic fantasy is in the works!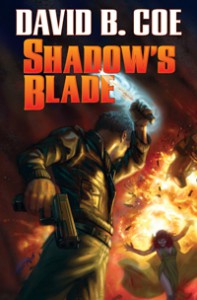 SHADOW'S BLADE, the third novel in the Case Files of Justis Fearsson, is now available from Baen Books as an e-book and in hardcover, and it is also available in audio format. You can order it here. Publisher's Weekly calls it "Gripping," and says, "This noir-tinged urban fantasy with real-feeling magic and multiple moral quandaries is highly recommended." Woot!
You can now sign up for the David B. Coe/D.B. Jackson Newsletter! It's as easy as can be, you can always unsubscribe (although, why would you?), and it will include lots of great information — scheduled events, upcoming releases, and updates on what David is up to right now. You can sign up here.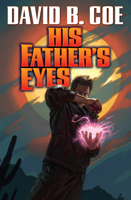 SPELL BLIND, the first novel in The Case Files of Justis Fearsson, the new contemporary urban fantasy series David is writing for Baen Books, is now available from all booksellers in hardcover and mass market paperback. It is also available as an audio book and ebook. The second book in the series, HIS FATHER'S EYES, is out as a hardcover, a paperback, an audiobook, and an ebook.  The books are  supernatural detective novels — think "The Wolfman" meets "Jekyll and Hyde" meets "Sam Spade. " Each installment stands alone as a mystery/adventure, although the author suggests reading them in order. The art work on the jacket is by Alan Pollack, who has done a terrific job capturing the "pulpy" feel of the books.
You can now also download "Water Witch," a short fiction collaboration between D.B. Jackson and Faith Hunter, New York Times bestselling author of the Jane Yellowrock series.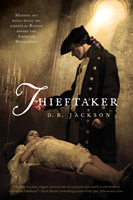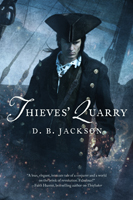 The first two volumes in the Thieftaker Chronicles, THIEFTAKER and THIEVES' QUARRY,  are currently available in all formats, including mass market paperback and audiobook. For more information on the Thieftaker books, please visit the D.B. Jackson website.