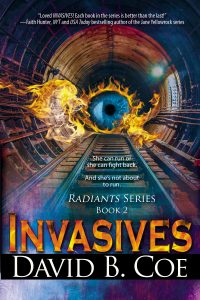 February has begun, Punxsutawney Phil has done his schtick, and time seems to be moving at breakneck speed. In a little over two weeks, Invasives, the second Radiants book, will be released by Belle Books.
Like Radiants, this is a supernatural thriller. This time, though, I have set my thriller in New York City, and a good deal of the story takes place in the New York subway tunnels. My lead characters are a trio of homeless, runaway teens — Mako, Bat, and, my main protagonist, Drowse. They live off what they can make by scrounging and, yes, stealing, and they take shelter in a house built of cardboard and shower curtains, tape and rope and plastic ties.
Bat is blind. He comes from money, but had to leave his home. When the book opens, we don't know why.
Mako was involved in gang activity for a time, but eventually went straight. Or tried. Did I mention they have to steal?
Drowse ran away from a terrible home situation. She turned tricks for a time. Ran drug money. Now she's trying to hold their small "family" together and survive in the Below. And, as it happens, she's a Radiant, whose power is invaluable to their business.
But her abilities, and the business they do, have now attracted the notice of some of the most powerful people in New York's financial world. They want something Drowse has, and they are willing to do anything, kill anyone, to get it.
Intrigued? I hope so. I love, love, love this book. Yes, I know, I say that about all my books when they come out. Because it's true.
Invasives, though, is special to me in a couple of ways.
First, this is the book I was writing when we first got my daughter's cancer diagnosis last March. At first, I put my writing on hold. I could barely function. I could barely think. How the hell was I supposed to write a novel? Well, as it turned out, writing this book was just what I needed. It is a fraught narrative, filled with suspense and tension. It focuses on these three characters, on their love for one another, on their bonds, and the forces trying to tear them apart. It wasn't about cancer at all, and that was a good thing. But the story gave me an outlet for all the emotions churning inside me. As I have said before, I could not have gotten through the ordeal of last spring and summer without this novel.
And second, Drowse, Mako, and Bat were with me, lurking in my imagination, for more than a decade before I finally started work on this book. I had the idea for them, for their circumstances and relationships, long before I knew what story to build around them. I knew only that I loved the characters, and their dynamic. I had one idea for a novel, but I could never quite figure out the storyline, the world, the ending. I did write a kick-ass opening chapter for it, though.
Then, two years ago, I began writing the first Radiants book, and as I thought about subsequent volumes, Drowse and her friends popped back into my head. This was their story. Finally. This was the perfect world in which to place them. I even was able to use an updated version of that opening chapter.
I have said before, half in earnest, half in jest, that writers are packrats. We keep everything. Or at least we should. When I figured out that Drowse et al. would be the perfect protagonists for my second Radiants book, I knew just where to find the original character sketches, the original opening chapter, the original storyline for their caper. Because even that wound up factoring in to the creation of Invasives.
I never lost faith in the groundwork I did for their story all those years ago. I knew there was a novel there, somewhere. It was just a matter of placing it.
That happens to me a lot, and I know it happens to other authors as well. Sometimes we have an idea, and we are ready immediately to write and publish it. Other times, stories and characters take a while to steep, like good, strong tea. For ten years, Drowse, Mako, and Bat waited in a file on my computer desktop. It wasn't that the original idea was bad or lacking in some way. It just wasn't ready. Or rather, I wasn't yet ready to write it in a way that did justice to the power of the original notion.
And that made the final realization of their tale in this novel all the more satisfying.
Keep writing. And don't throw any idea away!