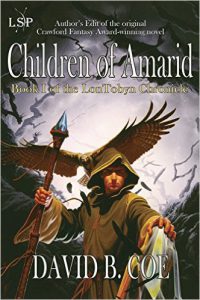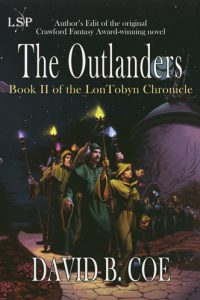 This is the series that started it all, if by "it all" you mean "David's writing career." The first book in the series, CHILDREN OF AMARID, came out in May 1997 — it was the first piece of fiction David ever published. It was followed in October 1998 by THE OUTLANDERS. In 1999, International Association for the Fantastic in the Arts (IAFA) awarded David the William L. Crawford Fantasy Award, recognizing the LonTobyn Chronicle as the best work by a new writer in the field of fantasy.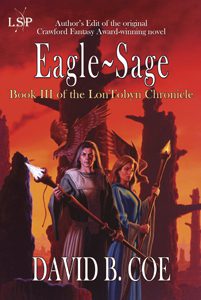 And now, after being out of print for more than a decade, the books are back, newly revised by the author, and soon to be available in ebook and trade paperback format. These are the Author's Edits of the original books (think "Director's Cut"). The original plot characters, world building, and magic system remain, but the prose has been updated and polished to reflect David's craft as it stands now, after 20 years in the business. For fans of the original series, and those coming to the books for the first time, this is an opportunity to read an award-winning series as re-imagined by a seasoned veteran of the fantasy genre. Enjoy these books, and share them with your friends.
*****
For a thousand years, the Children of Amarid, mages and masters whose power flows from psychic connections they form with birds of prey, have guarded the idyllic land of Tobyn-Ser, a realm of lofty mountains, rolling plains, and deep, verdant forests. Their magic has brought peace, prosperity, and the complacency that a millennium of pastoral comfort might breed.
Now, however, it seems that the mages have abandoned their oaths to serve Tobyn-Ser, bringing fear and chaos to the land and shaking the peoples' faith in the mages and their Order. Have renegades infiltrated the Order? Has the spirit of Theron, a dark mage who cast a curse on the Children of Amarid in its earliest days, returned to haunt the land? Or does Tobyn-Ser face an even greater threat from its sister land of Lon-Ser, a realm of vast, violent cities and technological wonders beyond imagination.
The LonTobyn Chronicle, the debut epic fantasy trilogy by David B. Coe, consists of CHILDREN OF AMARID, THE OUTLANDERS, and EAGLE-SAGE. You can purchase the entire series in ebook or paperback formats. Navigate to the book pages for purchase links. And thank you!
"In his first novel, historian Coe has crafted an elegantly written fantasy. Recommended for fantasy collections." — Library Journal on CHILDREN OF AMARID
"CHILDREN OF AMARID is the best debut novel I've read in years. Truth to tell, I don't remember how long it's been since I've read such a good debut novel. This great yarn appears to have been written by a seasoned author. To put it simply, I've enjoyed everything about it! Fantasy awards generally don't mean anything, as far as I'm concerned . . . But Coe has won the William L. Crawford Award, for best first fantasy series. And based on this first volume, it was more than deserved." — Pat's Fantasy Hotlist on CHILDREN OF AMARID
"THE OUTLANDERS is the perfect sequel to CHILDREN OF AMARID. And I will now eagerly read the last chapter of the trilogy, Eagle-Sage. Not since Robin Hobb's The Farseer series has the first two books of a trilogy showed so much promise. Let's just hope that the final volume delivers the sort of finale that will make the LonTobyn Chronicle a must-own series for any fantasy collection. . . The final verdict: 9/10. As good a novel as I've read in quite a while." — Pat's Fantasy Hotlist on THE OUTLANDERS
"Once again, all the elements that made the previous volumes so enjoyable are present in the final chapter of The LonTobyn Chronicle. The characterizations remain Coe's bread and butter, and once more he doesn't disappoint. The prose in this book is also up to the standard established by its predecessors . . .  I recommend this series to all fantasy fans out there. And if David B. Coe lives up to the promise that this trilogy has generated, I'm persuaded that he will go a long way. With such a distinctive voice, I think that we will appreciate his work for many years to come.  Final verdict: The LonTobyn Chronicle deserves 9/10. And now that I've read the whole thing, I can say without reservations that this trilogy is a great addition to any fantasy collection!" — Pat's Fantasy Hotlist on EAGLE-SAGE
"Coe writes well and creates engaging characters." — Publisher's Weekly on CHILDREN OF AMARID
"A journey of delightful reading." — Realms of Fantasy on CHILDREN OF AMARID
"The author's skillful storytelling and subtle characterizations make this tale of fantasy and intrigue a good selection for most libraries." — Library Journal on THE OUTLANDERS
"The world building here is distinctive and impressive." — Publisher's Weekly on THE OUTLANDERS
"Innovative and engaging." — Kirkus Reviews on THE OUTLANDERS
"Coe's richly textured world, with its contrasting approaches to magic and science, provides a vivid background for the conclusion of an epic of war and change." — Library Journal on EAGLE-SAGE
"Coe's Eagle-Sage is a most enjoyable reading adventure into two contrasting societies — perhaps most so when its issues are making you most squeamish." — Fantastica Daily on EAGLE-SAGE