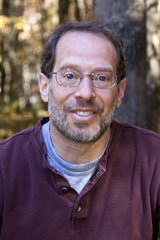 David B. Coe, who also writes as D.B. Jackson, wrote his first novel at the age of six. It was called "Jim the Talking Fish," and it was not really as good as the title makes it sound. David illustrated the story, which did nothing to improve its quality.
And yet, as poor as this first effort might have been, it did mark the beginning of a lifetime passion for dreaming up stories and writing them down so that he might inflict them on others share them with others. Along the way David has dabbled in other professions — he was a political consultant for several years, and he earned a Ph.D. in U.S. history, flirting with the notion of an academic career before wisely thinking better of it.
He began writing full time in 1994, with the love and support of The World's Best Spouse, and published his first novel in 1997. He is now the award-winning author of more than 20 novels and as many short stories.
As D.B. Jackson he writes The Islevale Cycle, a time travel/epic fantasy series from Angry Robot Books and Falstaff Books. The first book, Time's Children, received a starred review from Publisher's Weekly and was named the Best Fantasy Novel of 2018 by Reviews and Robots. The second novel, Time's Demon, has been called "about as perfect a second book in a series as a reader could hope to have" by SffWorld. And the third and final book, Time's Assassin, has recently been released by Falstaff Books.
Under the D.B. Jackson pen name he is also the author of the Thieftaker Chronicles, a series set in pre-Revolutionary Boston that combines elements of urban fantasy, mystery, and historical fiction. Thieftaker, Thieves' Quarry,  A Plunder of Souls, and, Dead Man's Reach have been released, and are available in hardcover, ebook, audio book. David has also  released Tales of the Thieftaker, a Thieftaker short story collection. And the most recent installment in the Thieftaker saga is The Loyalist Witch — Thieftaker, Fall 1770, a trilogy of novellas coming out in the spring and summer of 2021.
As David B. Coe, he has most recently published Knightfall: The Infinite Deep, a tie-in with the History Channel's ™ Knightfall series.
Before what, he wrote a contemporary urban fantasy called the Case Files of Justis Fearsson, which was published by Baen Books. All three books, Spell Blind, His Father's Eyes, and Shadow's Blade, are  out and available in a variety of formats.
David's early books include the LonTobyn Chronicle, a trilogy that received the Crawford Fantasy Award as the best work by a new author in fantasy. This trilogy has now been updated and re-issued and is available from all booksellers! David also wrote the critically acclaimed Winds of the Forelands quintet and Blood of the Southlands trilogy, and the novelization of director Ridley Scott's movie, Robin Hood, starring Russell Crowe. David's books have been translated into a dozen languages.
David received his undergraduate degree from Brown University and his Master's and Ph.D. in U.S. history from Stanford University.  He co-founded and regularly contributes to the Magical Words group blog (http://magicalwords.net), a site devoted to discussions of the craft and business of writing fantasy, and is co-author of How to Write Magical Words: A Writer's Companion.
He is still married to The World's Best Spouse. They have two daughters and live in a small college town on the Cumberland Plateau.