Last week, in the first of what I expect to be a three or four part series on how I got started in writing, I posted about my early creative efforts and the teachers who were so influential in encouraging and inspiring me. I titled that first installment "A Case Study of Dubious Worth" and I think the title holds for this week as well. This entire exercise — the writing and posting of these essays — might be interesting, I certainly hope it's entertaining, but I'm not at all sure how illustrative it will be or whether it's at all relevant. Not to put too fine a point on it, but I'm pretty old, and the world is a different place from what it was when I was getting started. And yet, I continue . . .
My last semester in high school, I was in a creative writing workshop class, taught by one of those outstanding teachers I mentioned last week (Phil Restaino), and populated by a remarkable, talented, close-knit group of fellow students. Many of them remain friends to this day. What I wrote in that class was, overall, pretty mediocre. But I learned so much about writing, about the creative process, about critiquing others and building a safe, productive space for having those intimate, at times difficult conversations.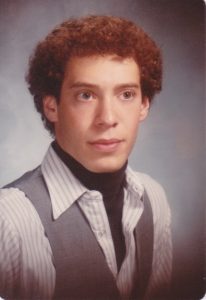 And so I went off to college thinking I would be a creative writing major, and fully expecting that I would find at Brown University a similarly nurturing creative environment.
[Cue sound of screeching brakes…]
Talk about rude awakenings.
Even then, I knew I wanted to write fantasy, and I had an idea for a novel. This idea would eventually morph into Children of Amarid, my first published book, which won the Crawford Award, but this early incarnation was a long, long, long way from that finished product. It was not very good. I know this. But that doesn't excuse what I encountered in the very first creative writing class I took at Brown. Our professor was a writer of stature, well known in academic fiction circles. I'm willing to believe that early in his career he was a fine teacher. When I had him, he was a year or two away from retirement. His classes meandered, and he left most of the important work, including the facilitation of the critique sessions, to his graduate assistant.
But he did make clear that, in his view of the world, there was "Literary Fiction," and then there was the genre stuff that didn't really count because it was, well, genre stuff. And so, perhaps taking their cues from him, or perhaps responding to the fact that my work still needed a good deal of refinement, my fellow students savaged my manuscripts in the critique sessions. No one had taken time to teach our class the rudiments of critiquing. There was no "start with what's good, move to what needs work, return to what is good and can be built upon." There was just "this is bad." After the wonderful experience I had in that high school workshop class, I found the experience devastating.
I should say that I did get one bit of good advice from that class. It came from the graduate assistant, who was unable to steer the critique discussion, but who went out of her way afterward to assure me there were strong elements to my writing, my storytelling, and even my world building. And she said, "I know that session was hard, but don't retreat into rewrites. Keep moving forward with your book and revise these early chapters when you're finished."
It was, and still is, sound advice for any writer, and to this day I offer it to writers I work with. But the fact is, the graduate assistant's kindness and wisdom were not enough to overcome the negative experience. I never took another workshop class at Brown. I did continue thinking maybe I would be a creative writing major, but I moved away from fiction toward journalism, where I had some better experiences. Sadly, though, that terrible first class pushed me away from writing fiction for a decade.
As I say, I was still thinking about a creative writing major as I began my sophomore year. But then I had a conversation with my mom and dad. Now, as I mentioned last week, my parents were very supportive of my writing. They were also my mom and dad and they worried a creative writing major would have little or no value in the real world. So they gently but persistently encouraged me to channel my interest in writing toward something more practical. Looking back, I am not sure how wise their advice was, but at the time, I found it compelling. I liked nice guitars and nice stereo equipment, and I had figured out that those things cost money . . .
I wound up choosing as my major American Studies, an interdisciplinary program combining (among other things) literature, political science, and history. I found these subjects and their intersections quite interesting, and, to my delight, I found as well that all my classes in the field were writing intensive. By the end of my second year at Brown, I was on the trajectory that would lead me to get my Ph.D. in history.
More on that as I continue this story next week.
But here are the most important things I would like you take away from this post. First, a badly run writing workshop, one in which critiques are done without sensitivity, without compassion, without pairing encouragement with criticism, can do irreparable harm to the aspirations of beginning writers. Dreams are powerful, but they can also be fragile. And just as last week's post emphasized the importance of pedagogical excellence, this week's ought to highlight the potential harm that can come of slipshod and lazy teaching.
Second, the literary prejudice that favors "literary" fiction over other sorts of storytelling is as poisonous as it is misguided. Writing is hard, whether our stories are about our world or another, whether they are firmly rooted in realism and "now" or imbued with magic and cast in different timelines. Quality work can be found in any genre; so can mediocrity. And lest we forget, some of the best and most important writing happening today is being done by writers in fantasy and science fiction. Ask N.K. Jemisin.
And third, stuff happens for a reason. I truly believe this. Yes, I was discouraged from writing fiction by a bad class and also by my parents' overly developed sense of what was pragmatic. It would be easy for me to look at the changing trajectory of my life during my college years, and look as well at where I am now, and decide I had wasted that decade of my life when I didn't write any fiction at all. But if I hadn't gone to graduate school in history, I would have missed out on academic training that taught me so much about crafting prose, about doing research, about writing with discipline. If I hadn't gone to grad school in history, where I developed a real interest in the American Colonial Era, I doubt I would have wound up writing the Thieftaker books. Most important, if I hadn't gone to grad school, I never would have met Nancy and I wouldn't have my two brilliant, beautiful daughters.
So maybe that class I hated so much was the best thing that ever happened to me.
More next Monday.
In the meantime, have a great week.