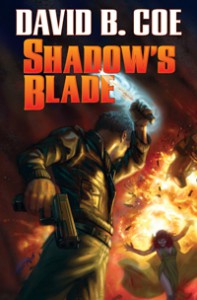 Justis Fearsson is a weremyste. He possesses powerful magic and can cast all manner of spells. But each month, on the full moon, he loses his grip on reality. With time, the moon phasings will drive him mad, as they have his father.
Jay is also a private detective, and when Gracie Davett and her children go missing, he's hired by a notorious drug lord to find them. As it happens, he's also been asked by Kona Shaw, his former partner on the Phoenix police force, to help solve a magical murder. One in which a woman with two small children is implicated.
It doesn't take Jay long to figure out that Gracie and her kids are pawns in a brewing magical war between weremystes like him, and the dark sorcerers who have been terrorizing his city for the past several months. This time, though, the stakes are sky high. The dark ones are after a potent weapon that could tip the balance of the conflict. They've killed in their hunt for the missing blade; they will again. And they're convinced that Gracie has it.
Now, Jay, Gracie, and her kids are on the run, not just from dark magic, but from the weight of secrets the woman is keeping. If they're caught, they're dead, and the world as they know it will be destroyed.
Read sample chapters of SHADOW'S BLADE, book 3 of the Case Files of Justis Fearsson.
"Coe's gripping third Case Files of Justis Fearsson urban fantasy (after His Father's Eyes) keeps the action moving and showcases Fearsson's professional progress and emotional growth. A magical war is heating up in modern-day Phoenix, Ariz., with PI Fearsson once again caught in the middle. He's been asked to save a fellow magic-controlling weremyste and her children, who are wanted by dark forces—and the police. With his freedom, life, and romantic relationship on the line, Fearsson must harness his powers as never before in another strong combination of detection and spell-slinging. His dabbling in blood magic, considered evil, fits nicely in this gray world, and the addition of a vampire that consumes magic is a great touch. Coe balances wit and drama, gives his female characters plenty of agency, and even throws in a bit of The Maltese Falcon via a powerful object everyone desires. This noir-tinged urban fantasy with real-feeling magic and multiple moral quandaries is highly recommended." — Publisher's Weekly
SHADOW'S BLADE has just been released by Baen Books. It can be ordered from the following vendors: