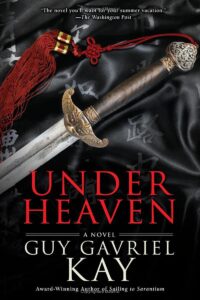 I have just started reading a book that I have read at least one time before. Maybe two. It is Under Heaven, by Guy Gavriel Kay, a terrific historical fantasy set in a world modeled after Tang Dynasty China. The truth is, I read many of Guy's books more than once. I read books by other authors multiple times as well, and I would recommend that others do the same — writers AND non-writers.
My first time through any book, I read for plot. Yes, I pay attention to the writing, to the character work, to the creation of setting, to the mechanics of narrative and pacing. But I also tend to rush my reading just a bit, as I am eager to know what happens next. On a second read, I can slow down and appreciate those elements of craft that I know I missed the first time through the book.
This is actually true for me of watching movies and television shows as well. I am a story teller by trade, and I learn something new about story, about dialogue, about pace and point of view, each time I experience a show or movie or book. With Kay's work in particular, I find that I cannot gain a full appreciate of his magnificent prose and his explorations of character in only one reading. I need to dive back into a book a second, and maybe even a third time to explore it thoroughly.
I will admit that there are also books I have read not two or three times, but ten or twelve. This goes beyond learning craft. The story becomes something more — something akin to literary comfort food. The world of the book is a place I go — familiar, safe, predictable but also beautiful and nurturing. It's like listening to a favorite old album; the well-worn melodies and lyrics bring peace and transport me to an earlier time.
I also will say that when I edit a story or novel, either for an anthology or for my freelance editing business, I ALWAYS read through the manuscript twice. I edit and make notes both times through, but invariably I find things on the second pass that I missed on the first (in part because I am more distracted by plot on the initial reading). And invariably as well, I find at least a few comments and criticisms that I offered the first time through that are "fixed" by later developments in the story.
There is an old saying that I repeat with some frequency, short and to the point: "Writers read." We read for any number of reasons. To learn the marketplace and see what others are doing with the old tropes of our chosen genre or subgenre. To support our colleagues and friends in their pursuit of fame and fortune, or at least subsistence and an escape from obscurity. And we read to learn all we can about this marvelous and confounding career path we have chosen.
For that last, one reading is rarely enough. When we find a book that captivates us, that makes us envious of the skill and eloquence of the author, that makes us want to improve our own craft so that we might elicit from our own readers what the author has elicited from us, we are well served to go back and study the text in depth. My friend Faith Hunter often tells of her early reading of fantasy books, as she was making up her mind to write in the genre. She would take notes in the book margins, use highlighters of different colors coded to draw her attention to character development, setting, narrative structure, etc. She made herself a student of the genre, and in doing so mastered it, setting up her subsequent, well-deserved success.
I don't mark up my books in that way, not because I think it's a bad idea, but because I'm a little (maybe not so little?) compulsive about keeping my books pristine. But I do study the techniques of other writers. That is why I read certain texts over and over. And that is why I recommend you do the same. Even if you're not an aspiring writer, there is much to be gained from such exploration. It is akin to pausing in a museum to look more closely at a painting, to study the shape and pattern of brush strokes. Sometimes appreciating fully the work of a story teller means taking the time to scrutinize their approach to telling that story.
Keep writing!