I've been trying to figure out how to write about my Dad for today's post, and I find myself struggling.
I'm surprised, because it's not for a lack of affection or great stories. I loved my father and I miss him all the time. I hear his voice and laughter in my head every day – bits of advice that remain relevant, remembered jokes that still make me smile, a strange surety – utterly at odds with my well-practiced agnosticism – that he sees my daughters growing up and is as proud of them as I am.
There's a ton I could write, but everything I think of feels trite and well-worn. I'm sure I've said all of it before in Facebook posts and previous blog entries. And yet…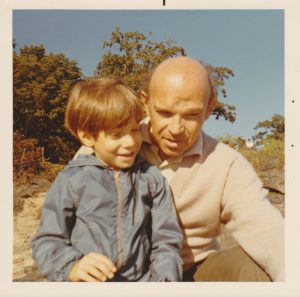 My father was born in 1919, lived through the Great Depression, lost a brother to World War II, married my mother half a year after V-E day (almost to the day). He supported Wendell Wilkie in the Presidential election of 1940 (although he would have been too young by a month to vote) and very nearly lost my mother when he confessed this to her before their wedding. Never again did he vote for a Republican for President.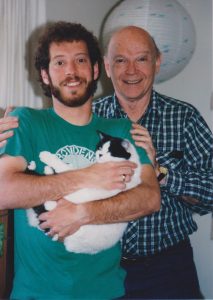 He was caring and generous, devoted to his family and friends. He loved a crass joke, but he took great pride in being gentlemanly – a product of his upbringing. My grandmother demanded no less of both her sons, just as my dad demanded no less of my brothers and me. I remember in high school he and I drove my girlfriend back to her home – I sat up front and she was in back. We pulled up to her house, and he turned around and said, "M____, you stay right there until he gets your door for you and walks you in." Which, of course, I scrambled to do.
He loved sports, and he especially loved watching sports with his kids. I was the youngest sibling by far, and so, long after my older brothers and sister had left for college and life beyond, I still lived at home. I had six years "alone" with my parents – a mixed blessing at the time, a treasure trove of memories now. Dad and I would watch some sort of game almost every weekend: football, hockey, basketball, tennis, golf, and, our favorite, baseball. We would guess what play was coming and then, after, talk about why we were right and the managers were wrong. Sometimes we rooted together. Often, if I got to the television first, he would ask me, "Who are you rooting for?"
"Team A."
"Okay, I'm rooting for Team B." Just because.
Like my mom, Dad, through his example, taught me so much about what it means to be a parent. The phrase has gone out of style, but it was truly apt in this case: He was the product of a "broken marriage." My grandfather was a philanderer. Egotistical, self-centered, more interested in his professional status than his personal integrity, he left my grandmother when Dad was eleven years old. Almost as soon as the divorce was finalized, he married his (wealthy) mistress. Soon after, Dad went to visit his father and new stepmother. He tried to greet my grandfather with a hug, but grandpa stopped him at arm's length and said, "You're old enough now that I think we should greet each other with a handshake."
Years later, Dad would tell me that story, adding, "I knew that I would be a good father, because I knew from my father all the things not to do."
Dad was affectionate – demonstrably so. He hugged and kissed all his children. He doted on my mother. He cried at movies and was perfectly willing to put his sentimentality on full display. Without possessing the modern lexicon, he understood instinctively that modeling masculinity and strength for his sons meant being gentle and loving, honorable and generous, supportive and wise. In this regard, he was an anachronism for his generation.
When my mom got sick in the early 1990s, my father threw all his passion and energy into caring for her. Her illness consumed him. We always thought that Dad would live forever – his mother, my Gram, lived to ninety-one. His father lived to be 103. But after Mom died, Dad had nothing left. Two months after her funeral, he was diagnosed with Leukemia. He died a year later.
I have no trouble celebrating Mother's Day and basking in memories of my Mom. For reasons I can't explain, Father's Day is much harder. Maybe because it's a day I should be able to share with him and can't.
I miss you, Papa. I wish there was a game on.