Let's begin with the obvious: Everything that's old is great, and new stuff sucks. It's important to get that out of the way before we move on. I mean who are we kidding? The way things were when we were young — well, not so much "we" as "I" — the way things were when I was young? That's how it should all be now. Progress is bad. Innovation is bad. Technology ruins everything and the world was a better place before people invented all that stuff. By which I mean, anything that hadn't yet been invented when I turned 21.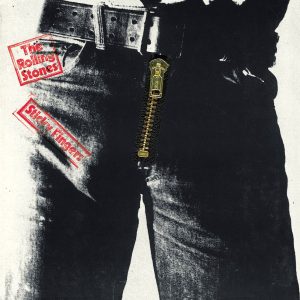 Music isn't meant to be sold song by song. We're supposed to buy albums. We're supposed to put up with the bad songs in order to enjoy the good ones. That makes the listening experience better. For every "Eleanor Rigby" and "For No One" we should have to endure a "Doctor Robert." For every "Brown Sugar" and "Can't You Hear Me Knockin'?" we should have to suffer through a "You Gotta Move." It's only fair. No one is entitled to a perfect listening experience, and songwriters deserve the chance to have their crappy songs heard alongside the good ones. This is America, damnit!
And don't get me started on CDs versus LPs. What ever happened to the art of piecing together a two-sided album, of figuring out the proper song order so as to make those horrible, vinyl-wasting tunes that we hated as hard to avoid as possible? I mean sure LPs warped and skipped, and got scratched, making them all but unbearable after a year or two of solid use, but that's a small price to pay for the inconvenience of having to interrupt a pot-induced haze to get up, walk to the stereo, and turn the record over.
Songs are meant to occur in a certain order. That's how God intended it. And by God, I mean Mick Jagger. Or John Lennon. Or Joni Mitchell. Or David Crosby. Or Aretha Franklin. Or James Taylor. You know. God. As day follows night and spring follows winter, "You Can Call Me Al" is meant to come after "Diamonds on the Soles of Her Shoes." Except not really, because that album came out after my twenty-first birthday. But never mind that.
The point is, albums set the order of songs and never shall they exist in any other configuration.
Except for mix tapes.
Okay, I confess. Back when I still listened to LPs (Kids, ask your parents. And get the hell off my lawn…) I made mix tapes all the time. I loved the idea of cutting out those songs I didn't enjoy. I loved the idea of putting my favorite songs from any number of artists and any number of albums in one collection and being able to listen to all of them together. I loved listening to a new mix tape, of savoring the lingering surprise of the next tune from a completely different source.
Sadly, even in my pot-smoking days that surprise lasted for all of two or three listens. After that, the mix tapes became too familiar, taking on the wearisome predictability of the albums from which I'd culled the songs in the first place. As Rob Gordon (the John Cusack character in High Fidelity) says, "the making of a good compilation tape is a very subtle art." But even the best made mix can't save us from the fact that we remember and anticipate.
Enter the "shuffle" command on our phones and computers.
That stuff I said before, about everything new sucking? I didn't mean this. And that part about all technology after the mid 1980s ruining the world? I might not have meant that, either. And the stuff I said about how great LPs were — that was total bullshit. Not that a case can't be made. I mean, cell phones and computers and the constant presence of social media and "connectivity" in our daily lives — there's a lot there to dislike.
But the shuffle command makes all of it worthwhile. Hitting "shuffle" is like putting in the ultimate mix tape. Every song is one we want to hear. Every transition is a surprise. Every listening experience is destined to be different.
Nirvana.
The state of being. Not the band. They definitely came on the scene after my twenty-first birthday…
The other night, Nancy and I were cooking dinner, and we had my iPhone on shuffle. (iPhones are okay. They were invented way before I turned 21. Really. I promise. Same with Bluetooth speakers like the one we were using. I swear.) And, quite seriously, I was struck that evening, after the fourth or fifth excellent song in a row, by the absurd amount of pleasure I derive from the shuffle feature. Ridiculous, I know. The world is in the midst of a pandemic. The planet is melting. American democracy is on life-support. But I can listen to a collection of Eagles tunes without fear of hearing "Chug All Night."
It doesn't get better than that.