We lost my mother nearly twenty-five years ago. It seems like so much longer, and it seems like yesterday. A cliché, I know, but true.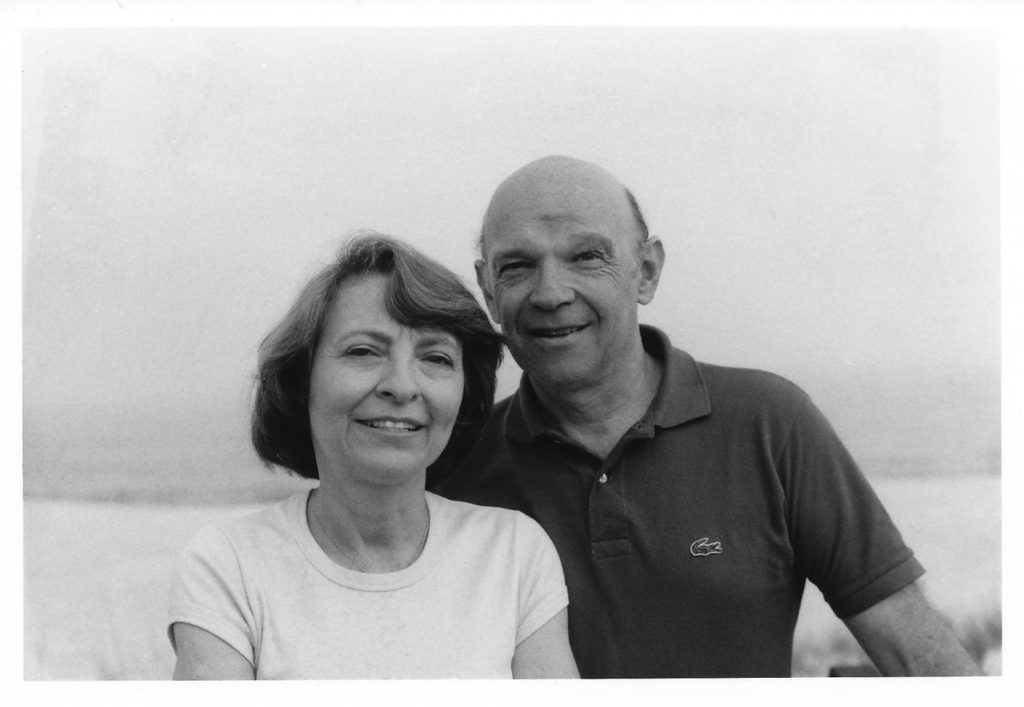 I am the youngest of four children, and by the standards of the time, my parents had me late in life, so I can say truthfully all of the following: I've always felt that I was too young to lose my mother, and I know that Mom died too soon, but I also know that she lived a full, rich life.
She was a child of the Great Depression – she would have been seven when the markets crashed, ten when Franklin Roosevelt was first elected. Forever after, he remained her political hero, the measure by whom all other Presidents were judged. She came of age during World War II, a young Jewish woman in New York, horrified by the spread of Nazism across Europe, and by the subtler forms of anti-Semitism found all through her city and her country.
Mom and my father married in the fall after the war ended, while my father and his family still grieved for my uncle Bill, Dad's younger brother, who died in France. When my oldest brother was born three years later, of course they named him William.
Two and half years later, my sister was born. Six years after that, my second brother, and six years after that, me. Four children spanning almost the entirety of the baby-boom generation. Somehow, Mom managed to parent each of us with both consistency and sensitivity to our unique personalities and moments in history. My brother Bill, who grew up rebellious and tortured, a product of the Sixties, adored and worshiped her. My sister, who didn't rebel the way Bill did, and who was the lone girl in our family, considered Mom her closest friend and confidante. And Jim and I, younger than the other two, raised in very different eras with different expectations and needs, loved her deeply as well, and learned so much about parenting from her shining example.
Mom didn't work outside the home for her first two decades as a mother. Later in life, though, as I was starting elementary school, she began her studies to earn an advanced degree and her teaching certification. She taught for twenty years as a learning disabilities specialist in a public school system outside New York City, a job she loved in a field that was her passion.
When she wasn't working and parenting, she was learning. She was a voracious reader – it's no coincidence that my siblings and I all wound up as writers of one sort or another. She and my dad were happily married for nearly fifty years, and they loved, loved, loved us kids. But it seems to me that their marriage flourished after we were grown. They had always loved to travel, but once on their own they truly began to explore: France and Greece, Israel and Egypt, Peru and Turkey. They attended the theater, went to concerts, visited museums and galleries. Always together, always curious, always valuing the arts in every form.
On this Mother's day, I can't help but wonder what Mom would think of the world we live in now, a world nothing at all like the one she departed in 1995. She would have been devastated by the 9/11 attacks on her beloved New York, and might have wept with joy at Barack Obama's election seven years later. My father was the gadget lover in their marriage, and so he might have been more taken than she with computers and smart phones. Then again, any device that allowed her to see her children and her grandchildren on demand, at a moment's notice? On second thought, she might have been the one pushing for the newest technologies.
She would be horrified by the current occupent of the White House, appalled by his lack of intellect and curiosity, his mistrust of science, his cruel and craven approach to politics, his criminal disregard for the principles enshrined in our Constitution. She would have a healthy respect for, and fear of, the coronavirus, and would be contemptuous of those ignoring health experts in their rush to "open the economy." But she would also have genuine compassion for those suffering in this, the worst economic downturn since the Depression of her youth.
Mostly, she would be concerned for the well-being of her kids and grandkids, frustrated by her inability to get to the symphony or the Long Wharf Theater, and eager for news from all of her friends and relatives.
It would be fitting in a piece like this one to end with something about how much I miss Mom, and how I think of her every day. And I do, both. Honestly, though, she's been gone a long time, and as much as I grieved in the years immediately after her death, I have long since made peace with the loss. The truth is – another cliché – she is with me all the time. I hear her voice in my head whenever I read something she would have found interesting, or take a photo she would have loved, or cook a meal that might have impressed her, or marvel at the speed with with my own children have grown into adulthood.
It doesn't take Mother's Day to make me think about her. But for this Monday Musings post, I thought I would introduce you to my Mom.
Enjoy your week.