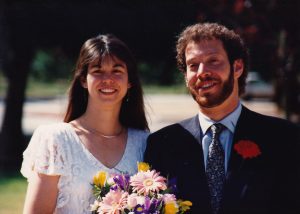 It's Memorial Day – and, it seems to me, a particularly somber one at that – and so I won't write too much for today's Musings.
But this is also a very significant weekend in my life. Twenty-nine years ago, on Memorial Day weekend 1991, Nancy and I were married. (Our anniversary is actually tomorrow, the 26th.)
To this day, memories of our wedding, and all the festivities surrounding it, warm me and comfort me and bring a huge smile to my face. We lived in California at the time – Mountain View, in the Bay Area, to be precise. We were graduate students at Stanford, Nancy in biology, me in history. The tradition, of course, is that the bride's family pays for the wedding, but Nancy's folks ran a small family farm, and even with our modest plans for the ceremony and reception, a Bay Area wedding was beyond their budget. They helped us out, and so did my parents.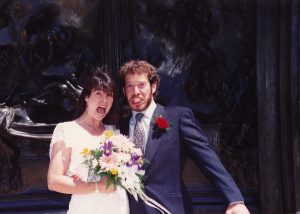 But we did everything we could to keep costs down. Because we were students at the school, Stanford allowed us to marry in the Rodin Sculpture Garden, near the university museum, for something like $200. It was a gorgeous venue — we have joked since that we were married in front of the Gates of Hell, because, well, we were. We had our reception at a reasonable local restaurant – part of a Bay Area chain called, I kid you not, the Velvet Turtle. Not amazing, but decent food and lots of it. We hosted a party the night before the wedding at our apartment, and then did the same for brunch the day after the wedding. Our big activity? On Saturday afternoon, after the rehearsal lunch, we had a softball game for the entire guest list – whoever wanted to play. (We played a lot of softball in grad school – her bio lab had an intramural team.) The game was bride's team against the groom's team (randomly selected). I have no idea who won. But the two key rules were, 1) Nancy didn't have to play in the field, and 2) she got to bat whenever she wanted, no matter which team was up. She would just announce, "Bride's turn to hit!" and then she would…
Mostly, we spent the weekend catching up with family and dear friends from near and far. And, of course, celebrating our love. That sounds like the worst sort of cliché, but I honestly don't care. It's the truth. From start to finish it was about the joining of our lives, the bringing together of nearly all the people in the world whom each of us loved most, so that they could be with us when we declared our intention to build a life together.
Yes, the memories are bittersweet. We have lost too many of the people who stood with us that day. Nancy's sister and one of her brothers, one of my brothers, my parents, other relatives and friends… As I say, too many. And I won't stand here and try to claim that the entire weekend went smoothly, that there were no conflicts or problems or logistical issues. There were. Some were truly comical, others just annoying.
Overall, though, it was wonderful – the perfect kickoff to what has been an amazing 29 years.
Across the country this Memorial Day, young couples are dealing with wedding plans that look nothing like what they hoped for, or that have been postponed until who-knows-when? It's not something we hear about often – such disappointments are overshadowed by the breathtaking scope of this tragedy. For those affected, though, it must come as a terrible blow. I can say in all honesty that it's the love that matters, the bond these couples mean to celebrate. I can also say, with equal candor, that this would have brought me small comfort had we lost out on our big weekend all those years ago.
I wish I had more to offer by way of wisdom and solace for those whose plans have been ruined by the pandemic. I will spare you sappy declarations of my love for Nancy (except to say that I honestly do love her even more today than I did back then, which I wouldn't have thought possible). Part of the point of Monday Musings is to share with you where my thoughts have wandered over the weekend.
This weekend, they were in a sculpture garden two thousand miles from here.
Wishing you a great week.