Henry Louis "Hank" Aaron died last week. He was, of course, a baseball legend, the former home run king. He was also a civic leader, a philanthropist, and a Civil Rights activist. And he's been an idol of mine since I was a kid.
As a baseball player, Aaron was so good as to make superlatives redundant, and so ridiculously consistent that he managed to fly under the radar, at least in a relative sense, while rewriting baseball's record books. He entered the Major Leagues in the game's golden age, as part of the first generation of Black superstars. It is almost impossible to understate the revolutionary impact he and the other ballplayers of his cohort had on the game.
For those of us who love baseball, there are two statistical milestones that define supreme career achievement for batters: 500 career home runs, and 3,000 career hits. At the time I graduated from high school, only twelve players in the history of baseball had hit 500 home runs. Of those twelve, eight of them hit their first home run during the 1950s, and of those eight, five were black. At the same historical moment, only fifteen players had more than 3,000 hits. And only two players, Hank Aaron and Willie Mays, both part of that class of Black superstars, were on both the 500 home run and 3,000 hit lists.
Even after the steroid era, which saw so many players — many of them undeserving — join that exclusive home run club, Hank Aaron still holds the record for most seasons with at least 20 home runs (20 such years). He holds the record for the most seasons with at least 30 home runs (tied, at 15), and is second only to Babe Ruth in the number of seasons with 40 home runs (tied with others at 8). When Aaron completed his career in 1976, he was second on the all-time hit list, and first on the all-time home run list. If all of his home runs had magically disappeared, he still would have had over 3,000 hits. To this day, he remains the Major League's career leader in runs batted in and total bases.
He wasn't as flashy as Mays, and, in fairness, he also wasn't as good in the outfield or as fast on the base paths. He won "only" one Most Valuable Player award (in 1957) and only one World Series championship. (He played in two World Series and batted a combined .364 in fourteen games.) He never won the Triple Crown, as his contemporaries Frank Robinson and Mickey Mantle did. But he led the league in batting average twice, in home runs four times, in runs batted four times, in runs scored three times, in hits twice, in doubles four times, in total bases eight times, and in slugging average four times. He won three gold gloves for outstanding fielding. He stole 30 bases in a season once, and at least 20 six times. He was voted into the All-Star game twenty-one consecutive years — another record. He wasn't particularly big or brawny, but he had as quick a bat as anyone in the game. Said one of his teammates, "Trying to sneak a fastball past Hank Aaron is like trying to sneak the sunrise past a rooster."
Aaron grew up in Mobile, Alabama, deep, deep, deep in the heart of the segregated South. He loved baseball as a child, but for years wondered if he would ever have the chance to play in the Major Leagues. He was thirteen when Jackie Robinson broke baseball's race barrier. Aaron played briefly in the Negro Leagues and then played in Jacksonville, Florida for a minor league affiliate of the Milwaukee Braves. He put up with racial taunts from fans, abuse from opposing players, and indifference, even hostility, from too many of his own teammates. Much of this continued when he reached the majors.
Still, in 1960, as a popular star on the Braves, he campaigned for Democratic Presidential candidate John F. Kennedy, and was said to have played a role in JFK's crucial victory in the Wisconsin Democratic primary.
As has been well-documented elsewhere, Aaron's pursuit of the Major League home run record in the early 1970s, after the Braves had moved to Atlanta, forced him into the national spotlight as never before, to his detriment. He and his family received death threats and cruel, horrible letters filled with racist invective. He himself said years later that his chase of the record should have been a time of joy and excitement, but was instead the darkest period of his life.
And yet, his performance on the field never suffered. In the three seasons leading up to his record-setting home run, when he was in his late thirties and should have been fading as a ballplayer, he hit 47, 34, and 40 home runs. He entered the 1974 season with 713 career homers, one behind Babe Ruth's hallowed record. He hit the tying home run on Opening Day. He hit the record-breaking shot in his first home game of the season three nights later.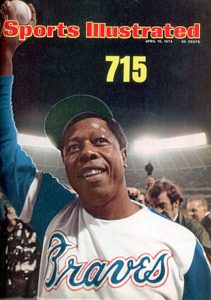 I was watching that night, along with pretty much every other eleven year-old, baseball-loving boy in America. I remember everything about it — the call from announcer Vin Scully, the twist and high stare of Dodgers pitcher Al Downing as he watched the ball sail out over left field, Aaron's joyful trot around the bases, the two white guys in civilian clothes who appeared out of nowhere as he rounded second base and patted his back and shoulder, the way his jubilant teammates mobbed him at home plate and put him on their shoulders. I still have the issue of Sports Illustrated from the next week, with Aaron on the cover holding up the baseball next to a golden, bolded "715." And I also still have the special edition baseball card Topps issued that same year proclaiming Aaron baseball's home run king.
The movie 42 tells the story of Jackie Robinson's inaugural season in the Major Leagues. It stars the late Chadwick Boseman as Jackie, and Harrison Ford as Branch Rickey, the President, General Manager, and part owner of the Brooklyn Dodgers, who brought Robinson into Major League baseball. There is a moment in the movie, which may or may not be apocryphal, when Rickey tells Robinson of seeing white kids in the streets of Brooklyn, playing baseball and copying Robinson's batting stance, pretending to be him.
That was my friends and me when I was growing up and playing baseball on my little dead end street outside of New York City. Except by then, thanks to the black superstars of the 1950s and 60s — Mays and Aaron, Frank Robinson and Ernie Banks, Bob Gibson and Billy Williams and Willie McCovey and so many others — we took for granted that all of us, white and privileged though we were, wanted to emulate the Black players we idolized. We copied their batting stances and pitching wind-ups. We tried batting cross-handed, the way Aaron did when he was a young minor leaguer. We made our baseball caps fly off when we ran, like Willie Mays, and tried to make basket catches the way he did.
For many of us, baseball and other sports opened our eyes to the importance of racial equality and opportunity. That may sound ludicrous, like I'm trivializing race by couching it in the context of sports. But it's the truth. I grew up in a politicized household. I was only five when Martin Luther King, Jr. was assassinated, but my parents talked about him all the time, in glowing terms. In 1972, when I was all of nine years old, I knew about and followed Shirley Chisholm's ground-breaking run for the Presidency.
Mine was also a baseball household. We watched other sports, but baseball was king. I heard about Jackie Robinson and Roy Campanella from my Dad, who loved the Brooklyn Dodgers. I learned to love Willie Mays, because he was my brother Bill's favorite player in the world. I understood that Black players had been excluded from baseball for too long and that this was a terrible injustice. How could the world be considered a fair place if Black players couldn't even get in the game? And because I used to pore over statistics and records, I knew as well that whatever the game was like before Black players were allowed in the Major leagues, it could not have been complete. How could baseball, even in the age of Ruth and Gehrig, be the game that I knew and loved if players like Aaron and Mays were excluded?
Hank Aaron's baseball legacy is clear. His social and historical legacy should be equally apparent. He was a man of grace, intellect, eloquence, and class who carried himself with dignity through an ordeal that should have been a celebration. By his example, his words and actions, his generosity and courage, he made this a better country. He will be missed.