For this week's Creative Friday post, I would like to tell you about my brother, Jim. [JamesCoe.com] It happens to be his birthday, so please feel free to wish him many happy returns of the day.
Jim is a painter. He started painting when he was all of fifteen years old. At that time, he was drawn to painting birds. Birdwatching had become a sort of obsession for Jim, Bill, and me, and Jim had a preternatural ability to capture not only correct plumage and structure, but also attitude and mannerism. His early works were stunning, the work of a prodigy.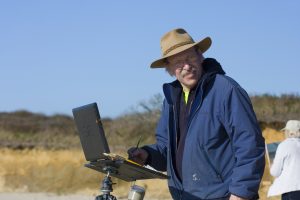 For a time, he worked as a bird illustrator, and you can still find field guides and even an ornithology textbook with his work in it. Eventually, though, he wanted to get away from the limiting world of illustration, and he turned to plein air painting. For more than twenty years now, he has been painting landscapes, some with birds in them, some without. His work is known throughout the world. It hangs in galleries and museums. He has been honored again and again by fellow artists and art aficionados.
And never once has this praise gone to his head. Because that's the other thing about my older brother: not only is he the creative person I admire most in this world, he is the kindest, gentlest soul I know.
His art has been a presence in my life for almost as long as I can remember. When I was young, I tried to emulate him, hoping that I might be an artist someday as well. How did I do? Well, I write fantasy now, so that should tell you…
We have Jim's work all over our house, and I am always eager for another of his pieces. They're just that good.
But more important still is the fact that, outside of Nancy and our girls, he is the best friend I have in the world.
Happy birthday, Bro. Love you.