I have posted a photo like this one in past years on or just after the first night of Hanukkah (which was last night). Nancy and I come from different backgrounds. I was a suburban kid from a comfortable family; she was a farm girl raised in a family that lived paycheck to paycheck. I went to an Ivy League school; she went to a state school (we met in graduate school at Stanford). And I was raised as a secular Jew; she was raised by devoutly Catholic parents.
Despite the fact that my family did in fact celebrate Christmas, this image — the menorah and the Christmas tree — has long struck me as a symbol of all that we brought to our marriage and blended in our life together.
This year, though, with all that has gone on in the world, with all the hostility we have seen directed at those who are other, who are not White and Christian and straight, I hesitated to acknowledge publicly my Judaism, mild though it is. I live in a very, very red area, and I felt unsafe drawing attention to my heritage.
In the end, I decided that I wouldn't give in to my paranoia, or my mistrust of others. I also recognized the obvious: if someone wants to know my religious background, they won't have to dig too deep. As I say, I've posted similar images before.
And so, I will say again, as I have in past years, from our multi-denominational home to yours, our sincere wishes for a safe, joyous holiday season, filled with love and laughter.
Have a great weekend.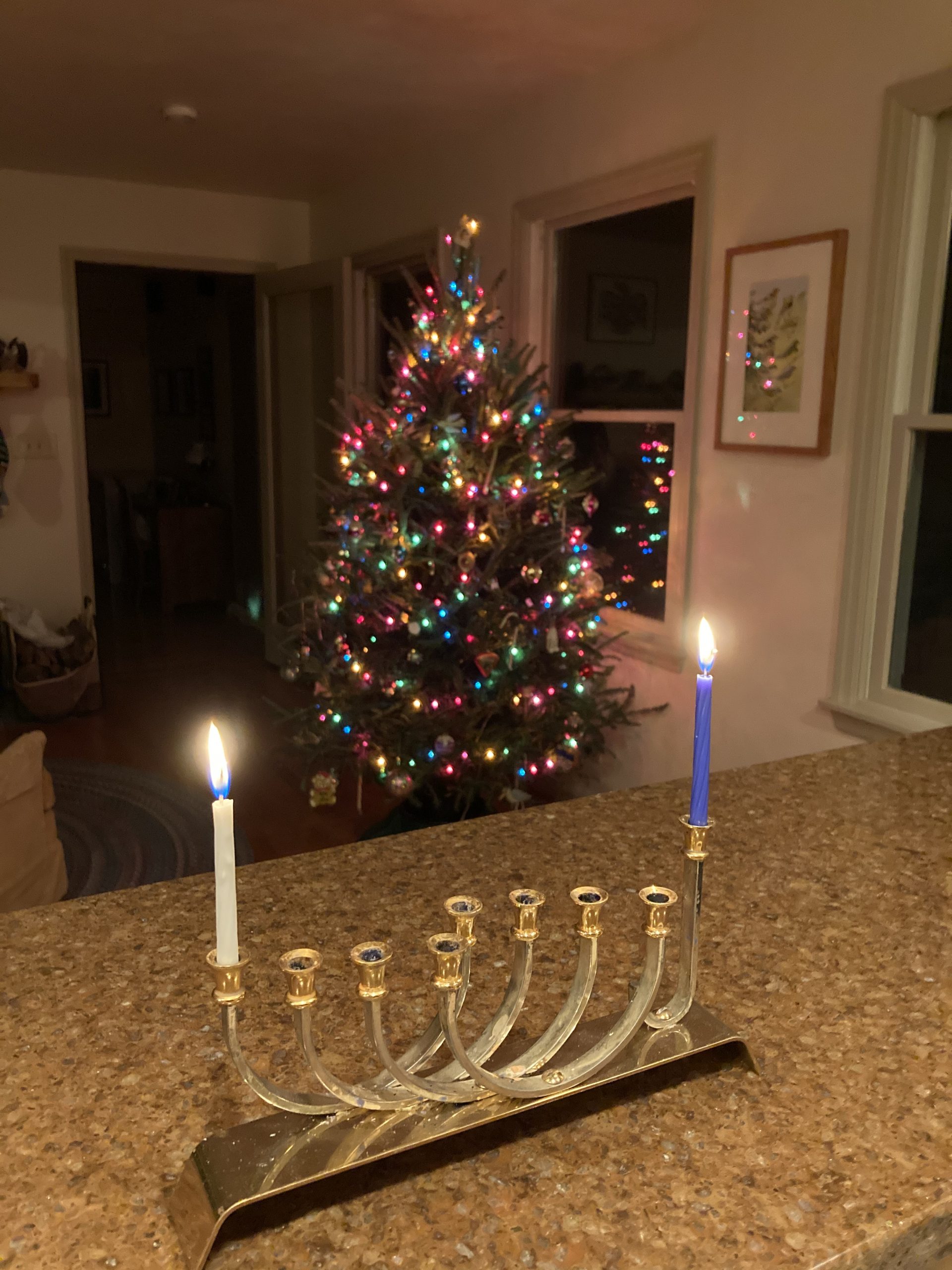 As I mentioned in a recent post about Thanksgiving (which covered the December holidays as well) I come from a Jewish family and still consider myself Jewish, though we are not at all a religious family. Nancy was brought up Catholic, but left the Church long ago. We are decidedly agnostic, but also consider ourselves multi-denominational.
And so yesterday, with a recent snowfall melting away and more bad weather bearing down on us, my younger daughter and I went to the valley to buy our Christmas tree, and then I put up the holiday lights on the house.
When I was growing up, my family always celebrated Christmas, even as we also observed Passover (and Easter) in the spring. These were compromises made by a lot of non-religious Jewish families in the mid-twentieth century. Living in a world still recovering from World War II and plagued by continued anti-Semitism, many of these families, ours included, chose to assimilate rather than broadcast their Jewishness. It was often a safer choice, and certainly a more comfortable one.
As a kid, I didn't care about the reasons, I just knew that I loved Christmas. Yes, the presents were part of the allure — greed was absolutely a factor. But I also loved the lights, the tree, the decorations. I was a sucker for all that stuff, and, truth be told, I still am.
Our house is now decked out in holiday lights, and I couldn't be more excited. It's actually a little ridiculous how happy these lights make me.
I wish all of you a wonderful weekend and a joyous start to the holiday season, no matter what holidays you happen to celebrate. Stay safe, and be kind to one another.