Today, I bring you one more "Middles" post in my several-weeks-long feature on "Beginnings, Middles, and Endings." You can find past posts in the series here, here, and here.
I made the self-evident point a couple of weeks ago that the vast middle of any book is by far the largest segment, which is why I have spent a few weeks on the subject. At the same time, though, there are as many different ways to approach the middle (and the beginning, and the ending) as there are books to be written, which is to say there's an infinite number. And so there are only so many specifics I can offer. This, it seems to me is especially true of the middle. Beginnings share a common purpose — we use them to hook our readers. Endings seek to cap off our narratives, tie off loose ends and, perhaps, hint at additional story elements to come in subsequent volumes.
The purpose of the middle is to tell the story. How's that for vague?
As I say, the middle can take readers literally anywhere. That said, though, I believe strongly that every scene in the vast middle has to serve a narrative purpose. This is one reason why I tend to rely on an outline when I write. Even if that outline is rough and purposefully sketchy, it helps me organize my thoughts and plan out my story. I don't do it because I'm OCD. (I mean, I am OCD, but that's not why I outline. Or at least it's not the only reason. Okay, moving on . . . .) I do it because I don't want wasted pages in my manuscript. I want my pacing as taut and clean as it can be.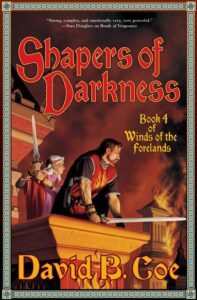 I am currently reading through my Winds of the Forelands series, editing OCR scans of the books in order to re-release them sometime in the near future. Winds of the Forelands was my second series, a sprawling epic fantasy with a complex, dynamic narrative of braided plot lines. At the time I wrote the series (2000-2006) I worked hard to make each volume as coherent and concise as possible. Looking back on the books now, I see that I was only partially successful. I'm doing a light edit right now — I'm only tightening up my prose. The structural flaws in the series will remain. They are part of the story I wrote, and an accurate reflection of my writing at the time. And the fact is, the books are pretty darn good.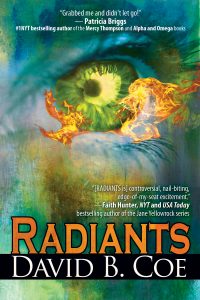 But when I hold Winds of the Forelands up beside the Radiants books, or the Chalice War novels, or even my Islevale Cycle, which is my most recent foray into big epic fantasy, the older story suffers for the comparison. There are so many scenes and passages in WOTF that I could cut without costing myself much at all. The essence of the storyline would remain, and the reading experience would likely be smoother and quicker. — Sigh — So be it.
Again, the purpose of outlining, and the purpose of revising and editing, ought to be to make our work as concise and focused as possible. I can think of several books by big name authors that have in their vast middles scenes that meander, that serve little or no narrative purpose, that (in my opinion) actually detract from the larger story. I won't name the books or authors, but chances are you have come across similar scenes in books you've read. Maybe you've encountered the same ones I'm thinking of. This is the sort of thing we want to avoid. Big name authors can get away with doing this occasionally. Authors seeking to break into the business, or mid-list authors looking to move up the ladder, simply can't.
So, how do we avoid those superfluous, serve-no-purpose scenes?
Well, as I've said already, one way to avoid them is to outline. I know there are many dedicated so-called "organic writers" out there, and I respect that. Again, I outline loosely, precisely because I want to maintain the organic quality of my writing. Still, outlining really can help keep us from straying from our crucial plot points.
So can something called Vernor's Rule. This is a writing principle I have discussed before in various venues. Allow me to explain it again here. "Vernor" is multiple Hugo-award winning author Vernor Vinge, who is best known for such books as A Fire Upon the Deep and A Deepness In the Sky. For a time, he and I had the same editor at Tor Books — that editor is the person who first told me of Vernor's Rule.
Vernor's Rule goes like this: There are basically three things we authors do as storytellers. We advance our plots, we build character, and we fill in background information. (Yes, this oversimplifies things a bit, but if you think about it you soon see that all we write can be placed under these three broad headings.) Every scene we write should be doing at least two of these things simultaneously. Preferably, each scene should do all three things at once. If a scene only accomplishes one of these things, or — heavens forbid — none of them, our narrative has stalled and we need to rework the scene.
Got that? If not, read the paragraph again — it sounds more complicated than it is. Really. It means essentially that writers need to multitask all the time. Every scene, every passage, ought to accomplish several things at once. That's how we keep our narratives moving. That's how we tackle the vast middle.
Next week we start endings. As it were.
Keep writing!