This week I close out my Professional Wednesday feature on "Beginnings, Middles, and Endings" with some general observations about narrative structure. If you are just coming to this series of posts, I would recommend you go back and read the previous entries on openings, middles (here, here, and here), and endings.
Not surprisingly, I stand by all I have written in the preceding essays. But I also think it is worth pointing out that everything I've written in this series of posts thus far assumes a linear approach to narrative. And for writers who are at the start of their careers, still learning their craft and/or still trying to break into the business, that is the safest approach to storytelling, if not the most exciting or innovative. The three-act narrative structure has been around for a long time. Lots of creative careers have been built on it. One could argue that the entire movie industry was founded upon it, and did quite well for a long time, thanks very much.
But for many of us, the real fun begins when we take apart that traditional narrative structure and piece it back together again in ways that are less predictable and more challenging, for creator and audience alike. There are so many fine examples of this, I hardly know where to begin. William Faulkner's masterpiece, The Sound and the Fury, is the first one that comes to mind. In it, Faulkner tells the story of a tragically dysfunctional Southern family by focusing on the events of four days as experienced by four different point of view characters. Each section adds crucial details of the family's rise and fall, until the final point of view brings all the previous elements together into a coherent whole.
One of my favorite novels of all time is Angle of Repose, by Wallace Stegner, which consists of two narratives, one of an older man coming to terms with the looming end of an unhappy life, and the other tracing the life of his mother, which the man reconstructs as he reads through her journals. The two narratives intertwine and feed one another in unexpected and poignant ways.
Many of you are probably familiar with Quentin Tarantino's film Pulp Fiction, which interweaves several storylines, playing with chronology, coincidences, and chance encounters to create a fascinating (albeit bloody and graphically violent) fractured whole.
No doubt you can think of many other examples — together we could go on for pages and pages pointing to all the innovative narrative structures we've encountered, be it in novels, short stories, movies, television episodes, etc.
My point in presenting these posts was to familiarize readers of my blog with the basics of traditional, linear narrative structure. Because before we as artists start breaking the rules, we need to KNOW the rules and even master them. Miles Davis and Charlie Parker didn't start off their musical lives creating jazz classics that sounded like nothing that had come before. They started by learning their craft and by becoming virtuosos of well-established jazz styles. THEN they innovated and changed the world.
The other thing to remember is that straying from narrative traditions doesn't always work. The examples I have given, and those you can think of, are the ones that were successful and memorable. As many as we might think of, I'm certain they represent a minute fraction of those that have been attempted. The vast majority likely fell flat. And even those that are part of successful works are not always worth emulating.
The end of The Lord of the Rings (the books, not the movies) actually has two climaxes. There is the final battle with Sauron's army which coincides with Frodo and Sam's final ascent of Mount Doom and the fight with Gollum over the fate of the Ring. From there the book starts to wind down, with the coronation of Aragorn and leave-takings and resolutions to so many relationships. But then the hobbits return to the Shire and we have the second climax, "The Scouring of the Shire," which sees Frodo, Sam, Merry, and Pippin having to rally their fellow hobbits to defeat Saruman and Wormtongue. The books were successful obviously, but that is not a structural quirk I would recommend for any beginning writer or established author.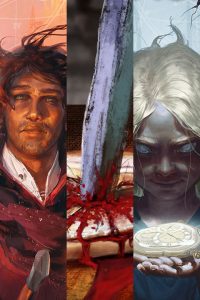 Which is another way of saying that innovation for the sake of innovation is not necessary or advised. Yes, it's fun and challenging to write books or stories that don't conform to simple linear narrative. I learned that with the Islevale Cycle, my time travel/epic fantasy series. And if you have ideas for playing with chronology or otherwise changing up your narrative style, by all means give it a try. But don't feel that you have to. There are plenty of books, movies, plays, and stories out there that conform to regular old narrative form, and they do just fine. Better to write a story in the normal way and have it come out well, than to change things up just for the purpose of doing so, and thus leave your audience confused.
Keep writing!!