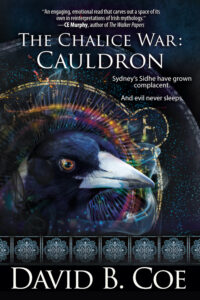 Let's start with the obvious: The Chalice War: Cauldron is now out and available from all booksellers in ebook and paper formats. This is the second installment in my Celtic urban fantasy trilogy, The Chalice War. Stone, the first book, came out a month ago. And the third and final volume, Sword, should be released in early August. The cover reveal will be coming soon.
I sold a bunch of copies of the first two books at ConCarolinas this past weekend, and hope to sell bunches more at LibertyCon (Chattanooga — June 23-25). By the time DragonCon rolls around (Atlanta — August 31-September 4), I'll have all three books in stock.
I have, in a previous post, made the case for supporting authors and their blogs, etc. by buying their published works; I won't bother making the case again. I have also made the case for buying the early books in a series as they're released, rather than waiting for the entire series to drop, and I won't bother doing that again either.
But I did want to spend a bit of time discussing the emotions of a new release, emotions that begin well before the actual publication of the novel. The anticipation can be excruciating. Not just waiting to see the book, or even looking forward to seeing it in the hands of readers, though I feel both of those. With each new book, I experience this sense of excitement about the story finding its way into the world. "I have a new book coming," I want to shout from the rooftops, "and it is going to blow your minds!!" As I've said before, I almost always feel that my newest book is also my best, and so I want to show off a bit, let people see what I'm capable of as an artist now. Ego? Maybe. Pride? Definitely.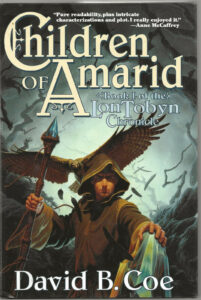 I'm asked quite often if I still feel the thrill of seeing a new book in print, even after so many years and so many releases. And the truth is, I do. Sure, the very first time was unlike anything I've experienced since. I still remember getting a call from the local bookstore here in our little college town. My author copies hadn't arrived yet, so when the store manager reached out to let me know the hardcover edition of Children of Amarid was in stock, I rushed over to see it. I'm pretty sure Nancy came with me.
And, typical of me, I was so excited to see the book, to hold it in my hands, to see my name right there on the cover, right below the gorgeous artwork. I was over the moon. But I also recall thinking, "Hmmmm, the image is a bit too dark, and the colors don't pop the way they should." I have long been Glass-Half-Empty Guy . . . . Which doesn't change the fact that I was right. The cover did come out too dark, something Tor corrected with the mass market paperback edition a year later. Just sayin'.
Those competing impulses, though, are fairly typical for me, and, as I gather from conversations I've had with other authors, for many of my colleagues as well. Yes, the thrill is real. So is the worry about sales and critical response, the hyper-sensitivity to anything that might be even slightly off with the new product, the certainty that the excitement will prove fleeting while the concerns linger.
We authors notice things others don't — the darkness of the images is a perfect example. No one else thought the jacket art for the hardcover of Children of Amarid was anything other than cool. But I picked up on the (very mild) flaw immediately. That said, I have been fortunate with my book art throughout my career, and have liked the cover images that appear on almost all my books. There are a couple of exceptions, but I won't say more than that. The point is, I have never actually hated one of my covers. I know plenty of authors who have. I can't imagine how difficult that would be.
There can be other problems as well. Sometimes the maps we put in our books are split in an awkward way in order to fit them in the front pages. Sometimes there are typos. I know authors who have had their books published only to find that the print editions begin or end with the wrong chapter or scene!! Oh. My. God. I would lose my freaking mind. All sorts of things can go wrong.
And, as I mentioned before, even if all goes as it should with the published version of the book, and even if the jacket looks great, sales can disappoint. So can reviews. Releases can coincide with economic downturns. Or national tragedies. Or global pandemics. We have no control over such things, of course, and in the context of world events, the fate of our book release is pretty insignificant. Except to us. For us, it's more than a book release. It's the realization of years of work and hope and passion.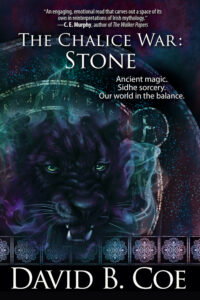 With all this in mind, I am happy to say that the releases of The Chalice War: Stone and The Chalice War: Cauldron have gone great. No new pandemics. The stock market is up. The art work looks marvelous. All the chapters are just where they should be. (I think — I should probably check to be sure . . . . Yep, they look great!) Sales? I have no idea at this point. It's too early to know. Reviews? We'll see about those as well. I worry, of course. I want these books to succeed. I want you to like them. And, if you do, I would love for you to tell the world.
Thanks for reading this.
Keep writing!