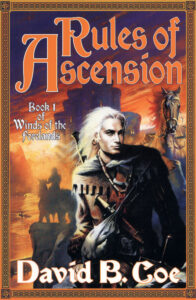 I continue to read through and revise the books of my Winds of the Forelands epic fantasy series, a five-book project first published by Tor Books in 2002-2007. The series has been out of print for some time now, and my goal is to edit all five volumes for concision and clarity, and then to re-release the series, either through a small press or by publishing them myself. I don't yet have a target date for their re-release.
Last week, I wrote about the number of passages I have found in the first book, Rules of Ascension, that are repetitive or overly explanatory. My younger self had yet to learn the simple lesson of trusting one's readers, and, by extension, trusting oneself. We often don't need to tell our readers as much as we think we do. We can trust that the groundwork we have set in place will make clear the plot points, character backgrounds, and world building details we want our readers to grasp and remember.
In previous weeks, I have written about the excess verbiage we often put into our books, at the expense of flow, clarity, and effective story telling. And yes, I have found a great deal of this in Rules of Ascension as well. Too many adverbs, too much passive writing, too many dialogue tags. This was only my second series, and I was still learning to write.
This week, though, I would like to shift my focus a bit, and, in a way, give my younger self a break. Because despite the many, many flaws in my early prose, I am also finding some things to enjoy and even admire about this early work.
I suppose it might strike some as self-serving — even egotistical — to look back on earlier work and say, "I like this; this is good." The truth is, I find myself grappling with self-criticism for even contemplating praising my own work. Hence this paragraph. But I had a text exchange the other day with a dear friend, someone I have known for decades. And he pointed out to me — in a somewhat different context — that extending ourselves grace and compassion, not to mention forgiveness and understanding, can be incredibly difficult, but also profoundly important.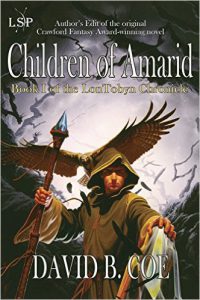 We are often our own most unrelenting critics. This is certainly true for me in other elements of my life. I am hard on myself. Too hard. And, on a professional level, I am the first to notice and criticize flaws in my writing. So reading through old books in preparation for re-release is often an exercise in self-flagellation. It was with the LonTobyn reissues that I did through Lore Seekers Press back in 2016. And it is again with the Winds of the Forelands books.
Then as now, I had to force myself to acknowledge the good in the novels. Because I was hyperaware of instances of clumsy prose and heavy-handed story telling. I still am.
But . . . .
The Winds of the Forelands books marked a turning point in my career. I had enjoyed some success with the LonTobyn Chronicle, and with this new project I wanted to take my writing to the next level. I challenged myself in several ways: I featured a protagonist who was, at least at the outset of the saga, really difficult to like. I built a world that was exponentially more complex and intricate than what I had constructed for LonTobyn. And I wove together numerous plot threads, creating an ambitious (and, I believe, ultimately successful) narrative that I wouldn't have dared to attempt with my first series.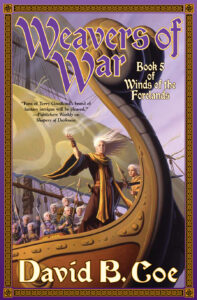 As I have read through this first book in the story, polishing and trimming the prose, I have rediscovered that narrative. I remember far less of it than I would have thought possible. Or rather, I recall scenes as I run across them, but I have not been able to anticipate the storyline as I expected I would. There are so many twists and turns, I simply couldn't keep all of them in my head so many years (and books) later.
So, I constantly find myself thinking, "Oh! I forgot this! What a cool twist!" If I'm being honest, I have to say that it's quite gratifying.
I have written here before about the importance of self-defining our successes. Artists in general, and writers in particular, are subject to business models and creative traditions that depend largely on external markers of success or failure. Royalty statements and sales numbers, print runs and new contracts, reviews in journals, reviews on Amazon, awards, etc. We look outside ourselves for affirmation. If it comes, great. But if it doesn't, many of us label our latest endeavors "failures." Or, worse, we label ourselves that way.
To my mind, one of the secrets to enjoying, or perhaps enduring, a career in writing, is learning to self-define what it means to succeed. We need to take satisfaction and a sense of accomplishment from the things we can control — hitting our deadlines, writing books we know are good, managing to craft that difficult scene or plot point in just the way we had envisioned.
Which brings me back to where I began. Rules of Ascension will benefit from the polishing I've done. The other four books in the series will be better when I complete similar revisions on them. But these are good books. They're exciting, suspenseful, poignant. They're written with passion and a keen eye for detail. The character work is strong, the plotting tight, the world building compelling.
I say this not to brag, but to affirm something I wish I'd been able to say as a young writer, too obsessed with those external measures of accomplishment to look beyond a poor review here or a disappointing sales report there: These books were a success. And I'm damn proud of them.
I look forward to reissuing them so you can enjoy them, too.
Keep writing!