Spring is here. April is knocking on the door. 2023 is just about one quarter gone (a thought that sends me into a frenzied panic) and with the first three months of the year nearly over, I felt this would be a good time to pause and take stock of my goals and accomplishments so far. Care to join me?
The end of March is significant for me, because my convention season is about to begin. Yes, I sometimes have an event or two early in the year, but most years my professional travel begins in earnest with the onset of spring. 2023 promises to be no different in this regard, and the truth is I feel like I have been stuck in second gear since the beginning of the calendar year.
I keep a day book, a sort of diary, using my Sierra Club Engagement Calendar. I write down key events of each day, important conversations I might have had, and, most notably for the purposes of this post, an accounting of the work I have gotten done daily. I do this for myself (although it is also helpful occasionally in settling arguments about the timing of certain things . . . .) for moments like the one I'm having right now, when I wonder if I have actually accomplished anything at all.
I HAVE gotten work done this year. A lot of it has involved editing — the Artifice and Craft anthology I'm editing for Zombies Need Brains, edits on my upcoming Celtic urban fantasy series, and editing I do for clients. This is all important work, but it doesn't leave me much to show for my efforts. When I'm writing a book, I can point to my page count or word count. With editing . . . my track-changes count? It just isn't as satisfying.
Add to that the week-plus that I lost to Covid, and some travel I've done, and I can account for all the time that has passed since New Year's. But aside from my short story for another ZNB anthology, Dragonesque, and a couple of dozen blog posts, I haven't written much of anything this year. I think that is what's bothering me. I get grumpy when I don't write enough, and I'm feeling grumpy.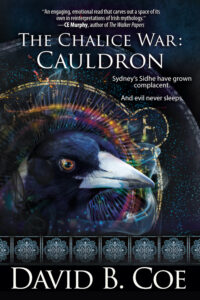 I also know that what has been a quiet year thus far is about to get very, very busy. Starting in May, we (Bell Bridge Books and I) will be releasing The Chalice War trilogy, the aforementioned Celtic urban fantasy. The first book, The Chalice War: Stone, will be out that month, followed closely by The Chalice War: Cauldron, and, sometime in the summer, The Chalice War: Sword. I can't wait. Sword will be my thirtieth (yes, 30th) published book.
Also this summer, Zombies Need Brains will release Artifice and Craft, my 5th edited anthology, and Dragonesque, which will include "Reenactment," my 30th published short story.
In April, I will attend JordanCon (Atlanta). In early June, I will attend ConCarolinas (Charlotte), and later that same month I will be at LibertyCon (Chattanooga).
I have recently been accepted into the Launch Pad Astronomy Workshop, which is taught in late May at the University of Wyoming in Laramie. Launch Pad is a week-long workshop on all things related to space and space travel taught specifically for writers and editors. It offers an amazing opportunity to learn about these fascinating topics from professional scholars who also happen to have backgrounds in SF. I have been considering a new science fiction project, one that would be a dramatic departure from anything I've written before. Launch Pad will be invaluable in preparing me to write those stories.
We have family travel on the schedule for July, following an important professional transition for Nancy at the end of June. And then I will be attending DragonCon (Atlanta) in late August/early September.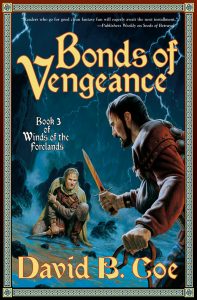 I have two other projects underway as well. A nonfiction thing that I am not ready to discuss in detail, and, at long last, the editing of the Winds of the Forelands books for re-release in late 2023 or early 2024. And I have another writing project — a collaborative undertaking — that I also cannot describe in detail, simply because I am not the organizing force behind the project, so it is not mine to reveal. But I am excited about it.
And I have a possible tie-in project looming, which is not certain enough to reveal at this time.
I know: There's a lot of secrecy in this post. My apologies. There is also a mixed message. On the one hand, I feel a bit stuck and dissatisfied with what I have done so far this year. But I am also excited about what is about to come and a bit overwhelmed with all that looms on my professional calendar.
At the beginning of the year, I had a sense of things I wanted to get done in 2023. My life has been filled with enough uncertainty over the past few years, that I knew better than to fill out a work schedule in ink. But I had goals; I still do, and they remain much the same. The busier calendar on my work horizon won't make it any easier to get work done. Or will it? I work better when my deadlines are immutable, and once I have revised the third Chalice War book, I will be finished  with most of my editing duties for the year. More time for writing — yay!!
So, that's where I am at the 1/4 mark. Where are you?
Keep writing!