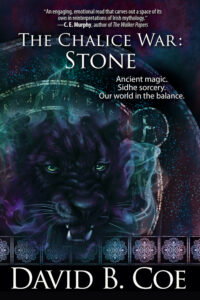 Another teaser, to get you excited for tomorrow's release from Bell Bridge Books of THE CHALICE WAR: STONE, the first book in my new Celtic urban fantasy. Enjoy!
*****
Macha turned back to Marti. "You summoned us. Why?"
Before Marti could answer, the Fury went on. "You used herbs and oils to do it." She halted her pacing beside the spear of tiger's eye and nudged it with the toe of her shoe. "And crystals. How quaint. I'm guessing you lost more than your husband to the Fomhoire. They killed your conduit, too."
Marti stopped herself from saying something rash and irrevocable. Macha wanted a reaction. She was a predator; all three of them were. Twisting the emotions of mortals came as naturally to them as hunting did to a hawk. Marti gained nothing by lashing out. And by holding back, she denied them nourishment of a sort.
"Yes, they did," she said, keeping her tone even. "I wish they hadn't of course, and I'm sorry to have summoned you this way. To be honest, I don't like the smell of petitgrain any more than you do."
An amused grin flashed across Macha features and was gone.
"Nicely done, Marti."
"I don't mind the smell that much," Nemain said.
"Do shut up, Nellie." Macha resumed her pacing, hands held behind her back. "You have questions."
Delicately. She needed to learn as much as she could while revealing as little as possible.
"They sent Sluagh to kill Alistar," she said. "And it turns out Alistar took certain precautions, just in case something like this happened. It seemed like he knew the Fomhoire would come for him eventually."
"What kind of precautions?" Macha asked, as Marti had known she would.
Always distract the Furies with truth, Alistar told her. They'll sense lies, but they're not so smart that they can't be distracted with a few well-placed truths.
Marti shrugged. "Spare license plates for the car, stuff with our finances. It was like he knew I'd outlive him."
"And your question is?"
"Why? What made him a target for the Fomhoire? What did they think they'd gain by killing him?"
Macha stopped and clapped her hands in mock applause. "Lovely, my dear. You should be in show business with us. What do you think, girls? Shall we make Marti part of the act?"
Badbh leered.
Nemain glanced from one sister to the other. "Why? Does she sing, too?"
Macha ignored her. "You brought it here with you, didn't you?" She waved off the question. "You must have. You're far too clever to have left it behind." Her eyes narrowed. "But I do believe Alistar kept you in the dark about its true nature. That would have been like him—doing the prudent thing—assuming he had a choice in the matter. The problem is, he wasn't as prepared to die as you imply. If he was, he would have told you more."
"They were after something he had?" Marti asked, unwilling to confirm the Fury's suspicions.
"They are after something you still have," Macha told her. "Stop playing games with me."
"What is it she has?" Badbh asked, taking a step toward Marti, hunger in her pale eyes.
Macha's gaze flicked toward her sister. "It doesn't matter."
"I think it does."
"I'm sure you do," Macha said, facing the other Fury. "But I have no intention of telling you."
The glower Badbh directed at her sister could have kindled wet wood.
"Maybe we should speak in private?" Marti asked, trying to mask her eagerness.
"I don't think I'm ready to do that, either," Macha said.
"What do you want?"
Macha gave an exaggerated shrug. She was having too much fun for Marti's taste. "I haven't decided yet."
"The Fomhoire want it, too, right?" Badbh said. "Just let them fight for it."
"That's tempting, actually," Macha said. "I would love to see another full-blown war between you and the Fomhoire. It's been too long." She brushed a tiny thread off her dress. "But in this case war would be dangerous, even for us. We can't afford for you to lose it."
"Then tell me what I need to know." The words tumbled out of her, reckless, too fast. Macha had frightened her. Marti's suspicions about the stone had been growing in recent days. With the Fury's last words, terror exploded in her mind.
Gods, Alistar. What did you do to me?
Macha smiled again. "I don't think so."
"But you said—"
"Oh, we don't want to see you beaten, but we have to have some fun. Don't we girls?"
Badbh and Nemain cackled, sounding far more like Furies than nightclub singers.
"You know what you've been hiding," Macha went on. "I do, too. Now, it seems the Fomhoire have some inkling as well. But it's been lost to time for so long they can't imagine where it could be or exactly what it might look like. To be honest, none of us can."
Macha halted, scanned the room with studied indifference before fixing her gaze on Marti once more. "Actually, I would love to see it."
Marti shook her head. "No."
The Fury pouted, her lower lip protruding provocatively. The audiences in Vegas must have loved these three.