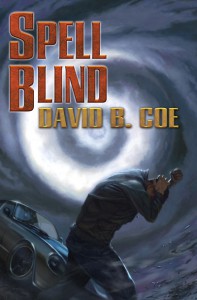 About seven years ago, I received out of the blue, an email from the actor Bronson Pinchot, who is probably best known for playing the role of "Balki" in the sitcom Perfect Strangers. He was, by then, enjoying a successful career as a voice actor, and he was writing to me because he was about to return to the studio to begin recording his reading of the second Justis Fearsson book, His Father's Eyes. He wanted to know what I had thought of his treatment of the first book in the series, Spell Blind, and if there were things I wanted him to do differently with the second book.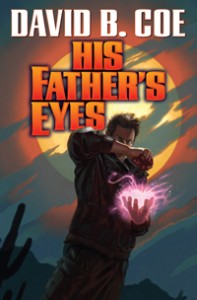 I was thrilled to get the email, and also impressed by the care he was taking with my books. But I wasn't really able to give him the feedback he was after. "I have heard great things about your performance from friends, as well as from online reviews," I told him. "I've listened to the sample on the Audible site and very much like your take on the character's voice. The truth is, though, I am incapable of listening to others read my work. It has nothing to do with your performance, or any one else's, for that matter, and everything to do with hearing the flaws in my own writing, which I find excruciating."
This prompted a reply from him that was as amusing as it was courteous. Saying we were "birds of a feather," he admitted that he had never been able to watch any of his on-screen performances for much the same reason. And there we left it.
Fast forward to a couple of weekends ago, when I attended ConCarolinas. I have been thinking recently of returning to the Justis Fearsson series to write more books in that world. I loved those characters, and really enjoyed writing contemporary urban fantasy, and I have felt for some time now that there is more I can do with the storyline. But I need to re-familiarize myself with the existing works, and I have been eager to start going back through the books.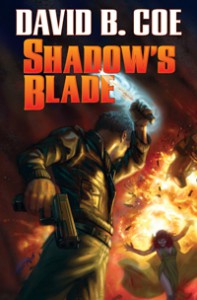 As it happens, I have from Audible the MP3 CD of the third and final book in the original trilogy, Shadow's Blade. Since I also had in my immediate future two seven-hour drives, I thought I would go ahead and listen to the book. How bad could it be, right? Even if I hated what I heard (to reiterate, I wasn't worried about Pinchot's performance, but rather my writing), I could take solace in knowing that I was now seven years and at least eight novels more experienced than I was when I wrote the book.
I want to make clear here that prior to this, I had never, ever listened to one of my novels as an audiobook. Never. I honestly didn't know what to expect.
Well, first of all, I loved Bronson Pinchot's performance. His interpretation of most of the characters was spot-on. His pacing and mood and approach were terrific. I would be delighted to have him narrate more of my work in the future.
And I will also say that I enjoyed my own writing. I was far enough removed from the process of writing the book that I actually got caught up in the story, but was also familiar enough (still) with the book that I could anticipate key scenes and remember lines of which I was particularly fond at the time I wrote them. It was a little like rewatching a favorite movie, but more intimate.
Earlier today, I reached out to Bronson Pinchot, after all these years, and thanked him for his marvelous interpretation of the book. We had a very nice exchange; it turns out he has his own recording studio and business now, so if I want to hire him to do future books, I can.
But the larger point of this story is this: There is nothing wrong with pausing to take pride in our creative accomplishments. Were there passages in the book that I would write differently now? Absolutely. I noticed places where I could have trimmed, where I explained too much, where I should have left stuff unsaid, or presented the material differently. Overall, though, I was struck by how well the book held up. I was reminded of how much I enjoyed writing Justis Fearsson novels. And I was reminded as well that, generally speaking, I am pretty good at this writing thing.
I say that without fear that it will sound like bragging or conceit. Well, okay, I say it with just a little fear that it will sound like bragging or conceit . . . . But as I have suggested in previous Wednesday posts, writing is a difficult profession and if we don't give ourselves a little credit now and then, an occasional pat on the back for a job well done, no one else is going to do it for us. I wrote a good book. Instead of finding the experience of listening to it excruciating, as I feared I might, I found it really fun and very satisfying. I wound up energized and even more eager to return to that world and write more Fearsson stories.
So, if you are feeling down about a current project, put it away for a while, work on something else, and then return to it and read it fresh. Or, if you are generally lacking in confidence right now, take a moment to go back and look at some old work that you've set aside for one reason or another. Sure, you might see elements of the storytelling and writing that need improving. But chances are you'll also rediscover what you loved about the projects in the first place. And there is definitely value in that.
Keep writing!