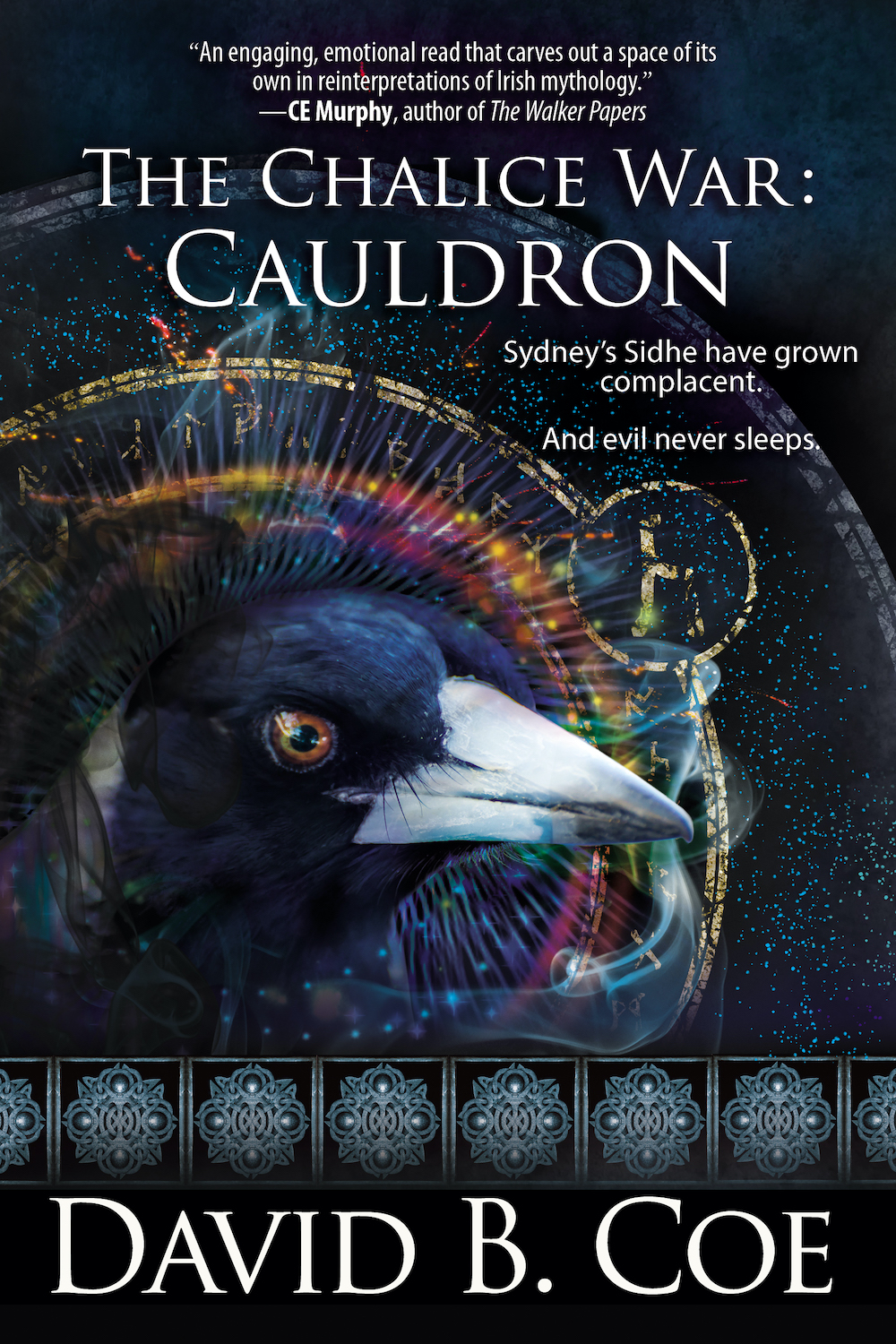 The Chalice War: Cauldron, the second volume in my new Celtic-themed urban fantasy, will be released tomorrow by Bell Bridge Books. And to get you a bit more excited about the release, I offer a new teaser — my hero's first encounter with the Celtic sea god, Manannán mac Lir. Enjoy!!
*****
While Carrie continued her conversations, Riann wandered up the strand. Near a rock pool, she came upon a man who sat in a rickety lawn chair, an ancient Billabong baseball cap on his head, and two fishing poles set in rod holders before him. A dory rested at the tideline a short distance away, its wood worn and badly in need of fresh paint.
Or so she thought at first glance.
When she glimpsed it from the corner of her eye, the boat looked quite different. It was golden and perfect. She halted and stared straight at the vessel; once again, it appeared to be a battered old rowboat.
She wheeled to face the man. "What—"
His smile stopped her.
He was gorgeous. His chin and cheeks were grizzled, and the corners of his emerald eyes crinkled. He had a dimple on one side, and his hair stuck out from beneath his hat, hanging down to the base of his neck. He wore khaki cutoffs and a stained, torn short-sleeved shirt, unbuttoned to reveal a tanned and toned chest and belly, lightly covered with fine silver curls. She had been with men and women, and she preferred the latter. But she would have taken this man to her bed without hesitation.
And he seemed to know it.
"You like my boat?" he asked in a soft Irish burr, his voice a warm tenor.
She eyed the dory again, then averted her gaze slightly, enough to see it turn golden once more.
"I don't understand," she said, facing him.
"Of course you do, love. You understand perfectly." He nodded at Quinn, who stood beside her. "Your conduit is beautiful. May I?"
Before she could answer, he clicked his tongue and held out a hand, palm up. Quinn strained to reach him. Riann released the leash, unsure of why she did it. Quinn trotted to the man and sat in front of him, allowing him to scratch her ears and neck.
"Aye, a fine creature." He regarded her. "You're Michael Donovan's girl, aren't you?"
She gaped, but took a step toward him. "You knew my father?"
"Aye, love. He was a good man. His death was a terrible loss for all in the magical world."
Riann stole a glance at Carrie, started and looked again, then turned a quick circle. A soft wind blew off the water, cooling the day, and the surf surged and retreated as always. Silver gulls circled and cried, and a sea eagle flew past, clutching a fish in its talons. But every person on the beach and the sidewalk had frozen in place, as if time had stopped.
"I'm dreaming," she murmured, frightened.
"You're not even asleep." He slipped a hand into his pocket, pulled out something that caught the sun with a flash of silver. He tossed it in her direction.
She caught and scrutinized it. It appeared to be a coin of some sort, though almost all the detail had been worn away. She thought there might be a head on one side. She couldn't make out the design on the obverse. It was mostly round, and slightly concave.
"What is this?"
"A drachm. A Celtic crown essentially. Proof that I'm real, that this is real."
Riann turned it over. "How—"
"Twenty-two hundred years, give or take."
She studied the coin for another moment before walking closer to him and holding it out for him to take.
"Keep it," he said with a smile. "A token, to remember me."
"Who are you?" Riann asked, fear giving way to curiosity.
"Forgive me. Manannán mac Lir, at your service."
She'd heard the name before, from her father, of course. She combed her memory.
A small frown creased the man's brow, which, impossibly, made him even more attractive. "Come now. I refuse to believe that Michael never spoke of me."
"He did. I just can't remember—"
"You would forget a god?"
And then she did remember.
Manannán, the sea god. A trickster, her father called him. Fickle, even capricious, like all the Celtic gods, but essentially benevolent.
Riann wondered if she should bow, or kneel.
"Most prostrate themselves before me," he said, his tone severe.
"O-oh! I . . . I didn't know."
He laughed. "That was a joke, love. I had the sense you were about to curtsy or some such."
She felt her face redden.
One of the fishing poles juddered and nodded. Manannán sat forward, took hold of the pole, and reeled in what turned out to be an enormous silver fish. The god removed the hook from the creature, whispered something to it in a language Riann didn't know, and heaved it back into the water, easily clearing the coastal breakers.
"Why—"
"Just checking in with old friends. What do you know about the woman?"
As quickly as blood had flooded her cheeks it now drained away, leaving her cold, despite the sunshine.
"What?"
"The woman. The dead one they found last night." He continued to scratch Quinn's head. She licked his hand.
"That was you," Riann said, remembering how Quinn growled and stared into the darkness. "You were watching us."
"What do you know about her?"
"She was Sidhe. She was killed by a Fomhoire and her demon. But that's about all. I don't know why they killed her."
"Fomhoire need a reason?"
She lifted a shoulder, conceding the point.
"You know nothing more?"
"I know her name, where she worked, that she was on a museum board and was recognized for her philanthropy."
"Which museum?"
"The Australian."
He nodded, thoughtful. "What else?"
She shrugged again. "That's all."
Manannán's frown this time conveyed disapproval, as if he thought she should know more.
"I'm sorry," she said, because she thought he expected it.
"No worries, love. But I may check with you again at some point. If you learn anything of value, I hope you'll tell me. Fomhoire incursions are becoming too frequent for my taste. And now they've focused their attention here. There has to be a reason."
"There are others who know more than I do. Why ask me?"
"Who says I haven't asked those others?" He let the question hang, a gentle rebuke. "As to why you, because you were there last night, of course. Because you knew enough to convince the police to let you see the body. That was well done. Michael would have admired your resourcefulness."
"Thank you."
He smiled in answer and her knees nearly gave way. Rather than stare at him, she cast another look at Carrie, who still stood frozen with the brawlers. When Riann turned back to the god she found him eyeing the reporter as well.
"She a friend of yours?"
"I suppose. We've only really just met."
He nodded, his gaze lingering on Carrie, an odd twist to his grin. "Interesting," he murmured.
"What is?"
Manannán turned back to her, his expression brightening. "Not a thing. Remember what I told you. Learn what you can, and watch for me. My demesne ends at the shore, so I'll always be near water."
"Yes, of course."
"I'm going to start things again now. You may experience a moment's unpleasantness. It'll pass. 'Til next time."
Before she could say goodbye, a wave of dizziness crashed over her and she staggered. Voices reached her. A dog on the far side of the street barked and a car engine revved. The world had awakened.
Manannán was gone, as were his chair, the fishing poles, and that magical golden boat. The coin lay in her palm. Proof . . . . Quinn whimpered and sidled back to Riann.
Riann scratched her head absently.
Carrie called her name and when Riann looked that way, she waved and beckoned. Riann strode over the sand to the sidewalk. Already she felt better.
"Do you have the images you need?" Carrie asked.
"Uh . . . yes. Your interviews are over?"
The woman nodded. "I have enough to write my story." She surveyed the beach. "It's nice here. Too bad we haven't time to stay."
"Yes. Did you happen to notice the man I was talking to?"
"I didn't see you talking to anyone. Who was he? Did he see what happened last night?"
"No, nothing like that. Just . . . just a guy fishing. We should probably head back."