Thanksgiving is upon us, and the year is winding down. But for those of you who write and who are looking for publication opportunities, I want to point out that the open call for short story submissions for this year's Zombie Need Brains anthologies — Brave New Worlds, Shattering the Glass Slipper, and, Noir (which I am co-editing with John Zakour) doesn't end until December 31st. You still have plenty of time to submit stories to us.
As I have done in the past, I wanted to offer a post on things to do and consider when submitting short stories to any market, but ours in particular.
Let me start with the most obvious thing. ALL fiction markets — publishers, agencies, journals and magazines, as well as anthologies — have submission guidelines, known in the business as GLs. The guidelines for Zombies Need Brains anthologies can be found here.
GLs are called guidelines for a reason. They are not suggestions. They are not there for you to follow or ignore at your whim. They are requirements. If you ignore the guidelines — ANY of them — chances are your story will be rejected out of hand, without having been read. Why? you ask. Because editors are mean and arbitrary. Ha ha. Just a little editing humor for you there. Well, not really. We ARE mean and arbitrary. But we have good reasons for establishing GLs and wanting to see them followed.
Each anthology ZNB publishes begins with a set of anchor authors, writers you know, people with readerships, who have already agreed to write stories for the collection. Anchor stories usually account for seven or eight of the fourteen stories generally found in each anthology. The remaining stories, six or seven of them, are reserved for stories submitted through the open call.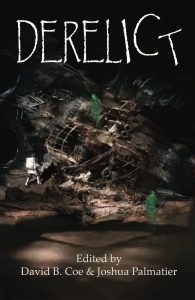 Last year, I co-edited Derelict. We received more than four hundred stories. The year before, I co-edited Galactic Stew. We received more than four hundred stories. The year before that, I co-edited Temporally Deactivated. We received more than two-hundred and fifty stories. Again, these are submissions for a total of six or seven slots.
We have guidelines because reading all those stories, and looking for the ones that are of the highest quality AND that will fit the anthology, is hard work. And one thing that makes it easier is having all the stories look the same, with clear fonts, standard margins and spacing, and professional presentation. If the stories come in looking the same, if the stories are all easy to read, we can judge them strictly on the basis of their quality. And this is exactly what YOU want us to do. The last thing you want is for us to reject your story without ever reading it. Think about those odds I just gave you. Even with Temporally Deactivated, which received the fewest submissions of the three I have co-edited, we only accepted 2.5% of the stories we received. With the more recent volumes, the acceptance rate was under 2%. With all those submissions coming in, we are, of course, looking for great stories (more on that later), but we're also looking for reasons to weed out submissions, to help us get through the piles of stories we have to read. You don't want us to toss your story because you sent it in a difficult-to-read font, or because you single-spaced when you should have double-spaced. You want your presentation to be professional and correct. You want us to judge the story on its merits, on the great characters you've written, on your gorgeous prose, on your scintillating narrative.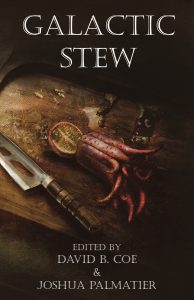 Along similar lines, ZNB anthologies are themed, which means that all the stories are about something in particular. Galactic Stew was about food. Derelict was about abandoned or lost ships. Noir is about detectives, in SF, fantasy, horror, or paranormal settings, investigating mysteries. As with the GLs, anthology themes are not suggestions. We're not saying "If you feel like writing about detectives, feel free, but we'll take any story about anything." We're saying, "For this anthology, we want detective stories with a speculative fiction element." I can't tell you how many stories we get that have nothing at all to do with our theme. I CAN tell you that we reject every last one of them. If you send to a themed anthology open-call a story that is off theme, it will not be accepted. Ever. Full stop.
Okay, so what are we looking for? How do you write a story for us that has a chance of being accepted. First, let me say this: If your story is on theme, and if you followed the GLs, we might still reject your story, even if it's good. Hell, even if it's great. We always have stories we love that don't make it in. Think about those numbers again: four hundred submissions; six or seven slots. There's no way to avoid this sort of disappointment. So do not take a rejection as an indication that your story is bad. It may be that we had a similar story that was simply a shade better. Or it may be that your great story was too similar to an anchor author's story. Or it may be that we had too many fantasy stories and needed an SF (or vice versa).
But to give yourself the best chance, you want to be creative, different, attention-catching. We're looking for detective stories in a noir-voice, so we expect a certain number of tropes. But we want to see those tropes turned on their heads. We want unusual mysteries, populated with intriguing, non-traditional characters. We want beautiful, clean prose. We want stories that make us think, that grab our attention on page one and don't let go until the final passage. We want stories with suspense, or with laugh-out-loud humor, or with emotional power, or, best of all, with all of these things.
This is vague, I realize. The things I've told you NOT to do, are much clearer and more concrete than the things I'm telling you TO do. Because the best stories are the ones we can't possibly anticipate. Often, we don't know specifically what we want until we see it. We want to be surprised, just as we want the readers who will eventually buy the anthology to be surprised. And so I can't tell you exactly what to write. But if you're passionate about the story, if in some way the twists and turns of your story surprised you while you were writing it, if you've got something that you believe is different from anything you've read before, chances are you're on the right track.
Best of luck. Remember, the submission deadline is December 31.