In the mid-1980s, my favorite baseball player on the planet was a young pitcher for the New York Mets named Dwight Gooden. Gooden had a meteoric career that was shortened by injuries and chronic drug abuse. But for the first two and a half years of his career, from the beginning of his rookie season in 1984 to mid-season in 1986, he was one of the best pitchers baseball has ever seen. He was only 20 years old when he entered the league, but already he had outstanding velocity, a monster curveball, pinpoint control, and uncommon poise for a player so young.
Why am I starting a writing-tip post with a discussion of Dwight Gooden? Read on…
At the time of his great success, New York Magazine ran a profile of him and a teammate (an equally young, equally talented, equally troubled outfielder named Darryl Strawberry). In the profile there was a picture of Gooden in uniform and you could see scrawled on the underside of the visor of his baseball cap the words "Pitch inside."
Pitching inside is, quite often, the best way to get hitters out, particularly if the pitcher in question happens to have great velocity and control. When pitched inside, hitters can't extend their arms fully and thus can't generate as much power in their swing. Usually. The problem with pitching inside is that if the pitcher doesn't have quite enough velocity, or if he misses his intended target by even an inch or two, his offering becomes very hittable, often resulting in massive home runs, or at the very least, crisp base hits.
Pitchers can do okay for a while pitching hitters away, but they become great when they take on that risk and throw the ball inside.
High risk, high reward.
Writers need to take risks as well. We can tell a decent story playing it safe, but we flourish when we take chances, when we explore bold ideas for our stories, or create stunningly original worlds, or develop plots that are destined to surprise and captivate our readers.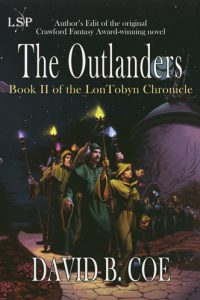 My first book, Children of Amarid, was a fairly standard epic fantasy, though it had the seeds of more within the nuances of its plot. It was my second novel, though, The Outlanders, that convinced me I could succeed as a writer. The reason was, that second book was different. It introduced a technological, crime-ridden world unlike anything I'd ever tried writing. It created an unusual dynamic among three of my lead characters — two of the characters, who were allies, spoke different languages, and they had to rely on the third for translation. But neither of them trusted that third character.
I struggled with that book far, far more than I had with the first, and I think my struggles were symptomatic of factors that helped the book succeed. It was an ambitious project. It forced me to grow as an artist. Nothing felt familiar or pat, and so the finished product read as something fresh and exciting and innovative. As I say, the first book was fine, but the series won the Crawford Award because of The Outlanders.
It's easy to advise you to take chances, to push yourself out of your comfort zone. Turning that advice into instruction in the form of concrete steps is more difficult. Every story is different, every project presents its own challenges.
Still, I can say this: It's easy to grow attached to one particular franchise, one particularly world and set of characters and style of story. Certainly I have written a good deal in the Thieftaker world, and will soon be coming out with new work about Ethan Kaille, Sephira Pryce, et al. The fact is, though, each time I have moved on to a new project, I have tried (admittedly with varying degrees of success) to challenge myself, to force myself to grow.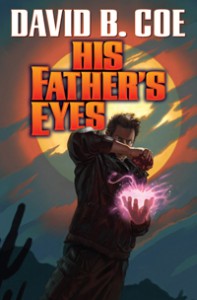 After the LonTobyn books, I moved to Winds of the Forelands and Blood of the Southlands, which demanded far more sophisticated world building and character work. After those, I turned to Thieftaker, adding historical and mystery elements to my storytelling and limiting my point of view to a single character. I also started working on the Justis Fearsson books, which explored mental health issues and were my first forays into writing in a contemporary setting. Then I took on the Islevale books, time travel/epic fantasies that presented the most difficult plotting issues I've ever faced.
We can also challenge ourselves within a particular franchise by shaking up the formula, by changing our approach to plotting, or taking characters and character relationships in new and unexpected directions.
The point is, if we challenge ourselves, if we remind ourselves to "pitch inside," we will breathe new life into our work, grow as artists, and, likely, have more fun.
Keep writing!