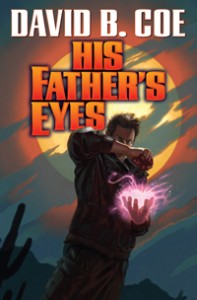 HIS FATHER'S EYES, the second novel in my Case Files of Justis Fearsson series (a contemporary urban fantasy from Baen Books) will be re-released in paperback on March 29, 2016. To mark the occasion, I'm giving away two signed copies of the book on March 22. Want a chance to win?
Great! Here's what you do. Tweet about the book and the release on Twitter, and include @DavidBCoe in the tweet. Or post about it on Facebook and tag "David B. Coe" in the post. Or do something else on social media and let me know what you did. If you've already done those things in response to an earlier Facebook post or tweet, that's fine. You're good — you're entered already. Although, of course, you're welcome to post/tweet again . . .
I love this book, and I hope you will, too. And if you haven't yet read the first book in the series, SPELL BLIND, this is as good a time as any to pick up a copy!
Thanks, and good luck!