If you know me, if you have been with me in panel discussions at conventions, if you have ever received any sort of writing advice from me, or even heard me give such advice to others, I need for you to sit down and prepare yourselves. What I'm about to tell you is shocking. For some of you, it may be more than you can handle. But we're in this together and we will get through to a better place. I promise.
Ready? Here goes…
It is the last week of May – we are twenty-one weeks, twenty-one Writing-Tip Wednesday posts, into the year – and I have yet to write about point of view.
I know. I can't believe it either.
Don't worry, though. I'm going to make it up to you today. Who knows, I might even return to the subject in the weeks and months to come. I'm confident that, by the end of the year, you'll be as tired of hearing me go on and on about point of view as you usually are. A bit of normality in a topsy-turvy world…
Point of view, for those of you unfamiliar with the term, is, essentially, the narrative voice used to tell a story. And the initial choice of point of view for each project we write usually focuses on the relative advantages of writing in first person (action and emotions and descriptions treated with "I," "me," "my") versus writing in close third person (action and emotions and descriptions treated with "she/he/they," "hers/his/theirs").
(Yes, there are other choices. One can write in what is known as omniscient POV, a challenging voice to use and master, because it demands that the narrator know what all characters are thinking and feeling WITHOUT resorting to what's referred to as head-hopping. And one can write in second person point of view, in which the author writes the entire narrative in effect addressing the reader – "You walk into a bar and order your drink. Sounds and smells assault you from all sides…" Etc. Both of these are difficult, even risky choices for beginning writers.)
One day last week, though, I had a conversation with a writer friend (let's call her "Haith Funter") about the other choice we make when deciding on the narrative voice for our projects, and it is this element of point of view I wish to focus on today. Specifically, our conversation centered on whether Haith should consider using a single point of view character or multiple point of view characters for a future project she's considering.
And being me, the moment she mentioned that she was grappling with this I launched into a lengthy (and unasked-for) recitation of the relative merits of each approach. A recitation I offer again here.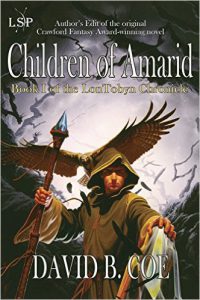 Let's start with what I mean when I speak of multiple point of view characters. This is NOT an invitation to jump willy-nilly from character to character, sharing their thoughts, emotions, and sensations. That is called head-hopping, and it is considered poor writing. Rather, writing with multiple point of view characters means telling the story with several different narrators, each given her or his own chapters or chapter-sections in which to "tell" their part of the story. When we are in a given character's point of view, we are privy only to her thoughts and emotions. In the next chapter, we might be privy to the thoughts of someone else in the story. This is an approach used to great effect by George R.R. Martin in his Song of Ice and Fire series. Martin goes so far as to use his chapter headings to tell us who the point of view character is for that section of the story. Guy Gavriel Kay uses multiple point of view quite a bit – in Tigana, in his Fionavar Tapestry, in many of his more recent sweeping historical fantasies. I have used it in my epic fantasy series – The LonTobyn Chronicle, Winds of the Forelands, Blood of the Southlands, The Islevale Cycle.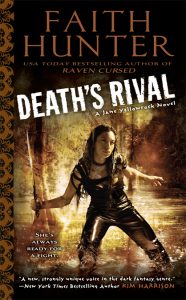 This is in contrast with single character point of view, in which we have only one point of view character for the entire story (and that point of view can be either first or third person). Think of Haith's Yane Jellowrock series, or my Thieftaker or Justis Fearsson series, or Jim Butcher's Harry Dresden books, or Suzanne Collins Hunger Games series, or even (for the most part) J.K. Rowling's Harry Potter books.
With both approaches, the point of view of each character is inviolate, meaning that your reader can learn nothing from a given character that the character her- or himself can't know. The key is that this limitation means vastly different things in single POV on the one hand, and multiple character point of view on the other.
You might notice that the examples I give for each approach are distinctive. Granted, my examples are FAR from comprehensive, but they are instructive.
For single character point of view we have essentially two kinds of books: urban fantasies that have a mystery element, and YA novels that concentrate as much on the lead character's emotional development as on external factors. Single character POV tends to be intimate. Readers form a powerful attachment to the narrators of these books. And, of even greater importance, readers learn things about the narrative at the same time the characters do. Even in books that begin with our narrator looking back on past events, we are soon taken back in time so that this older narrative has a sense of immediacy. This is why single character POV works so well in mysteries. The reader gets information as the "detective" does. Discovery happens in real time, as it were.
My examples of multiple character POV books are almost all grand, sprawling epics of one sort or another. In part, this is because it can be more difficult to tell such stories from the vantage point of only one character. But more than that, the power of multiple POV lies in two simple facts.
First, because we are following several POV characters at once, we are drawn into a number of subplots. All of these are braided together in some way, contributing to the larger story line. And since we can leave one to pick up another, we almost always have several characters in danger, or creating danger, at any one time. Each shift from one POV character to another leaves one story hanging in order to pick up another. The shifts in narrator actually impart momentum to the story.
Second, in multiple POV, our readers always have more information than any one character. We see traps as they're being laid, we see intrigue from all angles, we can recognize the perils for one character based upon the machinations of another. Rather than discovering things as our narrators do, our readers are almost always one step ahead of them. This knowledge creates anticipation, feeds expectation, some of which we can satisfy, some of which we might thwart, all of which ratchets up the narrative tension.
Different stories lend themselves to different point of view choices. I would never dream of telling anyone (not even Haith) what approach to use for their story. Chances are you'll know what your story requires as soon as you begin to write it. But my hope is that a clearer understanding of the relative strengths and advantages of each option will make that choice a little easier.
Keep writing!