This week, I launch a new series here in the Professional Wednesday feature — "Beginnings, Middles, and Endings." Sometimes I focus on minute details of writing in these posts, arcane points of craft or business that are helpful to some, but perhaps less so to others. With this series, I am, at least for a few weeks, returning to basics of storytelling. Because while we can focus on all sorts of small points to improve our writing, the fact is we're all storytellers, and it never hurts to reconsider the fundamentals now and then.
Today, let's start with beginnings ("A very good place to start," to borrow from The Sound of Music). To state the obvious, your opening lines, paragraphs, and pages are where you want to hook your reader. I spend a great deal of time — a disproportionate amount of time — crafting my opening page. I want my readers to be wowed by the time they start reading page 2. I want them to have decided on that very first page that they cannot/dare not/will not put this book down until they have finished reading it. (Yes, they can pause for meals and sleep, but only because I'm a generous soul.)
There are, of course, as many ways to hook a reader as there are stories to be told and authors to tell them. My wonderful friend J.D. Blackrose (Joelle Reizes) begins her book A Wrinkle and Crime with a single sentence that is laugh-out-loud funny. Readers are hooked in mere seconds. Guy Gavriel Kay, another good friend and probably my favorite author, tends to ease into his novels a bit more, allowing his gorgeous prose and the slow build of his brilliant storytelling to draw readers in.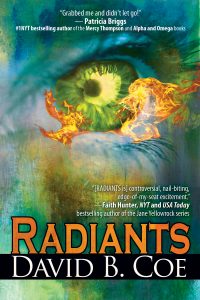 I fall somewhere in between. I don't think any of my novels have a single opening sentence that grabs readers by the collar (that's actually pretty rare), but I do try to capture my readers' attention early. My best book opening, I believe, comes in Radiants (Bell Bridge Books, 2021):
The first time I did it, my mom, who is about as chill as any parent anywhere, hit me. Slapped me across the face. This was after I confessed. She never would have known if I hadn't told her, and still she hit me. That's how pissed off she was.

She told me it was a violation, which I didn't even understand at first. I thought she meant it was against the rules—like a violation in sports—and I had pretty much figured that out when she slapped me. But no, she meant violation in a way I'd never heard the word used.

An invasion. A rape of the mind. She called it that, too. Her slap shocked me. When she called it a rape, I started to cry. I swore I'd never do it again, and she made me promise on my dad's grave, something she hadn't ever done before. I did, and I meant it.

I was twelve at the time. About the age my brother is now, and you just know Mom is aware of that. Hyper-aware.

I honored the promise I made that day. I had been tempted in the weeks and months and years since. Many, many times. But never once did I break my vow. Not until today.
Why do I like this opening so much? Well, let's break it down. Our opening should hint at conflict and tension. It should introduce a key character — a central protagonist or antagonist. It should establish voice. And it should intrigue or excite the reader with action or mystery or romance or some other compelling plot feature. This opening to Radiants does all of those things in about half a page. The conflict and tension are right there in the first graph, with the slap from an otherwise mellow parent. Clearly this narrator did something really bad — and we want to know what it was. These graphs, and her confession, establish the narrator as someone we trust and want to know more about. Already we know she has faced tragedy, as indicated by the oblique reference to her father's death, and we know she has a younger brother. We get a sense of her voice from the informal tone of the prose. And with that last line we want to know more — about her and what she is going through. This terrible thing she did, this thing that angered her mother so much, she has just done again! Today!! Why? And we're off and running . . . .
As I said, there are an infinite number of ways we might open our books. There is no single right way to do this (or really anything else in writing). But there are some things to avoid in our opening passages. One of the most common errors I see in the opening paragraphs of short stories and the opening pages of novels, is an over-reliance on exposition. Often beginning writers are so eager to explain their worlds, tell us all there is to know about lead characters, and show the cool stuff in their magic systems or imagined technologies, that they dive into descriptions and explanations. The problem with this? There is almost no tension or conflict in exposition and background. Tension and conflict come from character and narrative. So save the exposition for later. Or, better yet, do away with it entirely and find other, more creative and compelling ways to reveal your background information.
Some writers err on the side of the other extreme. They are so eager to plunge the reader into action that they have on page one some serious, terrible stuff happening to their characters. The problem here is that we don't yet know the characters well enough to care about them the way we ought to before they're put through the wringer. As in so many aspects of writing, we want to find balance. We don't want to bore readers with too much character background, but we also don't want to overwhelm them with spectacle at the expense of introducing our lead characters.
There are a few things beginning writers are told they should never, ever do with their opening lines. "Don't begin with your character waking up." "Don't start with the literary equivalent of a weather report." ("It was a dark and stormy night . . . .") "Don't open with a dream sequence (and then have the character wake up)." The problem with these sorts of openings is they're overdone to the point of cliché. That said, it may be that you've found a way to open with a character waking up that is perfect for your story and is unlike any other waking-up-opening the world has ever seen. In which case, go for it.
As long as your opening feels original and organic to the story, you should be fine. And originality is most likely to come from your characters. Anchor yourself firmly in the point of view of whoever your narrating character is for the opening scene, and then tap into their emotions, thoughts, and sensations. Make it visceral, make it powerful. Ultimately, the best opening will be one that is compelling, intriguing, and, of course, written with eloquence and passion.
Next week (and perhaps the week after), Middles!!
In the meantime, keep writing.