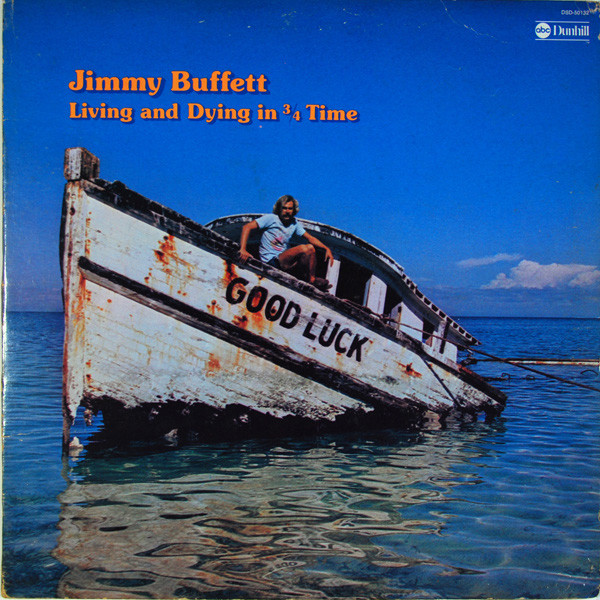 The news of Jimmy Buffett's death this past weekend, hit me surprisingly hard, and I am still trying to figure out why. Buffett, the "Roguish Bard of Island Escapism," as the New York Times called him in an online obituary, was a strong musical presence in my life. I have been listening to his music for more than four decades, I own a bunch of his albums, and over the years I have learned to play many of his songs on my guitars (none of them is particularly difficult to master). But the truth is, if asked to name my top five or top ten or even top twenty-five favorite bands and musicians, he probably wouldn't make it onto any of those lists. So why do I feel as though I've lost a friend?
As with so much of the music I listen to, I was introduced to Jimmy Buffett's songs by my oldest brother, Bill. This was long before Buffett's fans came to be known as "Parrot-Heads." It was before the song "Margaritaville," Buffett's biggest hit, had even been written or released. There was certainly not yet a chain of restaurants named for the song. Buffett had yet to become a bestselling author, or a musical icon, or a billionaire, all of which he achieved over the course of his career.
This was back in the early 1970s, when he was still a rather obscure country musician, albeit one with a terrific sense of humor and a unique sound. Bill played me songs from albums titled A White Sport Coat and a Pink Crustacean and Living and Dying in 3/4 Time. Some of the songs were irreverent and funny ("Why Don't We Get Drunk" and "The Great Filling Station Holdup"), others were memorably beautiful ("Come Monday" and "He Went To Paris") and still others were just plain fun to listen to. Buffett's studio musicians, whom he dubbed "The Coral Reefer Band," were skilled and versatile, feeling equally at home with country, rock, reggae, and ballads.
So, yes, I enjoyed his music. But his loss means more to me than that. I mentioned earlier that I play several of his songs on guitar. I have for decades. I regularly performed some of them in college, when I played with my dear friends Alan Goldberg and Amy (Linenthal) Halliday. We played "Sugar Trade," a song Buffett wrote with James Taylor, and "Wonder Why We Ever Go Home," yet another beautiful ballad.
During one memorable night in the student pub, Bill came down from Boston to see us play and to perform a few songs with me. Bill was a skilled harmonica player and had a band of his own that performed regularly in New England. He and I played "Son of a Son of a Sailor," a song I usually played during my solo set. Bill had prepared meticulously for our set; I hadn't. I messed up my accompaniment to his harmonica solo in the middle of the song, getting the rhythm wrong and forcing him to adjust on the fly. He was gracious about it, but to this day I can't listen to "Son of a Son" without cringing at the memory.
Jimmy Buffett's music, more than that of most artists, touched me personally. I associate it with family, with friendship, with some of the most wonderful memories of my college days, with the comfort and joy I still draw from playing my guitars and singing — for myself, for Nancy, for our daughters.
And for some reason, I remember with incredible clarity an evening when Bill was playing Jimmy Buffett music not only for me, but also for my mom and dad on the stereo in their living room. He put on a song called "God's Own Drunk," a song originally written by Lord Buckley that Buffett covered brilliantly on Living and Dying in 3/4 Time. It is actually a story more than a song, and it is spoken over a slow country blues. It tells the tale of a man who, while guarding his brother's moonshine still, partakes of some powerful booze and then encounters a bear, "a Kodiak-lookin' fella about nineteen feet tall . . . ." I remember my father and particularly my mother getting such a kick out of the song, and Bill looking so pleased to have made them laugh.
As I say, Buffett was a musician and songwriter whom I enjoyed and respected, even though I was never a fanatic, never a Parrot-Head. His music has been a golden thread through my life for more years than I care to count. I'll miss him.
Have a great week.