This post probably isn't about what you think it is.
Nancy and I are nearing the end of what has been an exhausting and at times terribly difficult year. I won't catalogue our burdens because they are, frankly, no worse than those faced by many of you. We have things in our lives that mitigate the challenges, things for which we are incredibly grateful. But we've had a rough year — the third in a row, actually. Again, this doesn't set us apart from others. There may be differences in the specifics, but there are far more similarities of kind. We have all faced struggles.
That's not really what this post is about.
After Thanksgiving, as we were mapping out a very busy December, we made a decision not to have a Christmas tree this year. Mostly, I made the decision. I am the one who goes down into the valley to buy a tree. I'm the one who sets it up, who waters it daily, who takes it down at the end of the season. And I just didn't feel like dealing with it this year.
When I informed our daughters of this they were disappointed, to say the least. They don't live with us anymore, but when they come home for the holidays, they like to have the house looking festive, the way it did when they were kids and Christmas was everything. I justified the decision to skip having a tree this year by assuring them this was not something permanent. We would surely have a tree again next year. But this year it felt like too much, everything was too fraught. We went back and forth, but eventually they accepted my decision, albeit reluctantly.
And then, this past week, on a rainy afternoon, I went down and bought a tree after all. Nothing had changed, of course. Nothing happened to make the past year suddenly, magically turn easy. The work of setting up and maintaining the tree remains. I changed my mind.
To be clear, this is not a post about the Christmas spirit suddenly moving me to want a tree, though in a way I suppose it did. It is not about the importance of doing something nice for my kids, although that is, of course, incredibly important, and it was gratifying to know how pleased they were by my/our change of heart.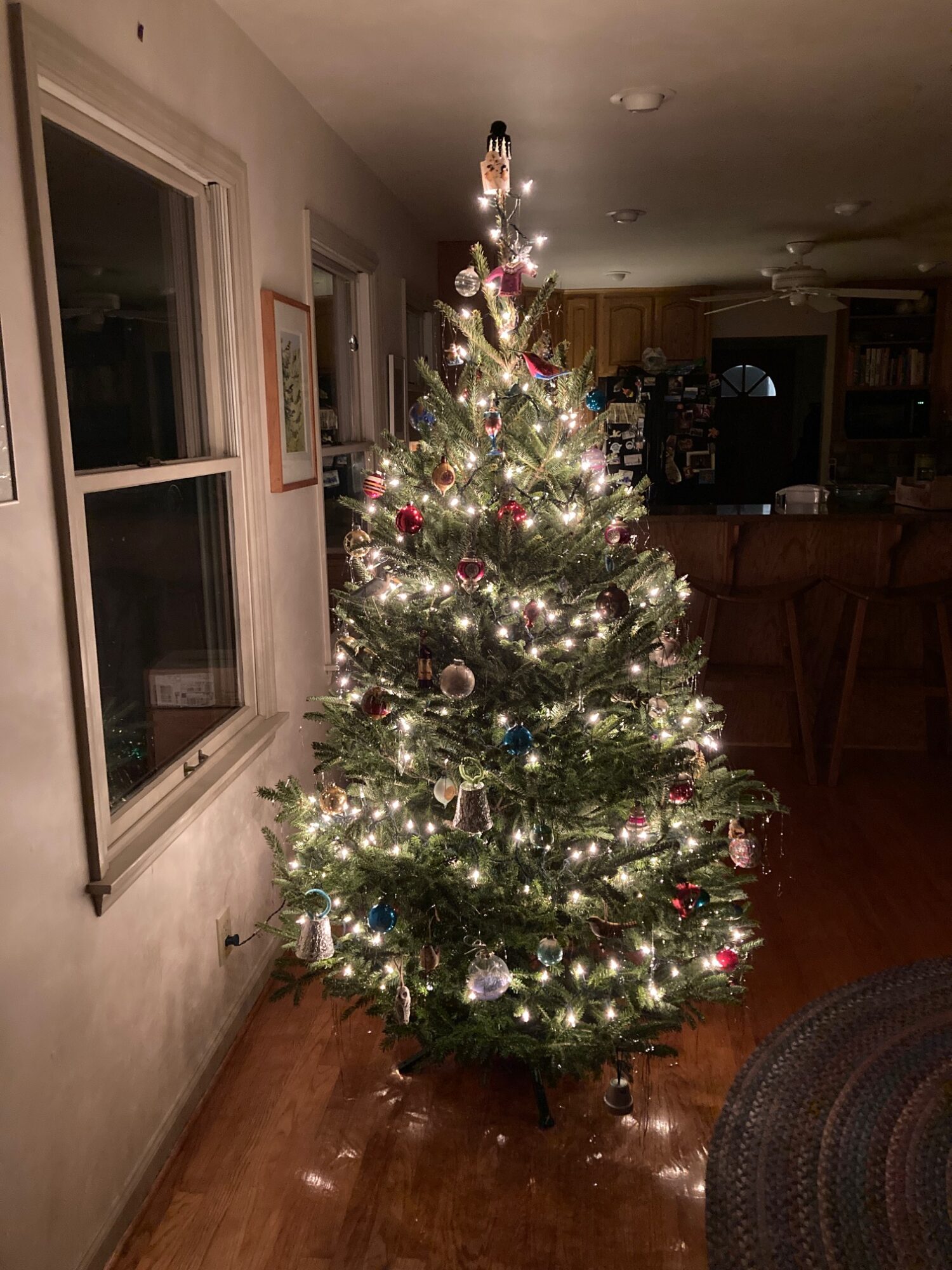 In the end, my choice regarding the tree was about me, about what I needed, what I realized I had to do even though I didn't really want to.
I have written a bit recently about my uncertainty regarding my next writing project. I have been unable to choose from among several possible projects, and I am starting to understand that my inability to make that choice is not about creative impulses, or marketing uncertainties, or even an inability to decide what possibility excites me the most.
I'm simply stuck. For reasons I haven't sussed out quite yet, I can't get myself to make that professional choice and move forward with it. And, I realized this week, the whole Christmas tree thing was sourced in a similar lack of motivation and momentum. I was stuck personally as well as professionally. Too many things going on, too much occupying my thoughts, too many emotional impulses pushing me one way and another. And my first reaction to all of this was to stop. The push-me/pull-you of life was more than I cared to address in any way, and so I simply dug in my heels. The tree, ridiculous as this now seems as I type it out, was the bridge-too-far, the thing I decided was too much.
What made me realize this I was doing this?
Honestly, I'm not sure. Maybe it was the reaction from my kids. Maybe it was the recognition that, despite knowing it meant a bit of effort and work, I actually wanted a tree, almost as much as my daughters did. I love having a tree. There's a reason I'm the one who usually does the work required each year. I enjoy the smell, the lights, the ritual, the departure from routine, the sight of the tree with its lights on, glowing in the middle of the family room. Suddenly, denying myself that pleasure, denying Nancy and the girls that pleasure, didn't make much sense to me.
And in the same way, I know I want to begin work on my next writing project, even though I feel stuck, even though none of the projects is really calling to me right now. I believe I need to do with my work what I did this past week with the tree. I need to get off my butt and start working on something, even if I'm not sure it's THE project I should be writing now.
All of us find ourselves in circumstances like these now and again. Sometimes they manifest in the professional realm; sometimes they show up in our personal lives. For some of us, the inertia I'm describing works its way into everything. I have glibly written of my decision to "snap out of it" with respect to the tree. I don't mean to make it sound easy. This week has been hard for me. I suffer from anxiety and panic disorders, and recently both have been troubling me more than usual. Breaking out of these patterns takes work. For some it takes enormous courage as well.
I see you. I understand and I sympathize. Perhaps that's why I chose to share this story with you today. The holidays can be a struggle in all kinds of ways. These past few years have taken a toll. Maybe this post was about all of that after all.
I wish you peace and health and happiness.