As we turn the calendar to March, I thought I would turn to a new series of posts in my Professional Wednesday feature. This month, as I struggle with a bit of work-related inertia, I have decided some might find it helpful to read about "What Holds Me Back." Because let's be honest — those of us who seek to make a living as professional creators face no shortage of obstacles to productivity. We have to be self-motivated, we have to be disciplined, we have to be imaginative and prolific on demand. None of this is easy and at times it seems hobgoblins lurk in every corner, threatening to undermine even the most sincere determination to get stuff done.
What — or who — are my hobgoblins? How do they disrupt my work patterns, and what do I do to keep them at bay? These are the questions I hope to address in the next several Wednesday posts.
This week, I address perhaps the most obvious and formidable hobgoblin of them all: Life.
Life is a fickle bastard, with a cruel streak a mile wide, a perverse — at times evil — sense of humor, and a preternatural knack for intruding at the absolute worst moment. But Life can also be charming, deeply attractive, kind, generous, and downright fun. This is part of what makes Life such a difficult opponent in the battle over productivity. Life is as changeable as March weather, as unpredictable as the best storyline, and as relentless as time itself. Life happens constantly; Life will not sit quietly in a corner reading a book and respecting our need for calm just because we have a looming deadline or a new idea we are eager to explore. Life lives to mess with us.
All strange metaphors aside, in my experience, relating to my own work output and also my interactions with other professionals, general life disruptions are responsible for the vast majority of missed deadlines and punted obligations. Sometimes it's the (relatively) small stuff — a kid with a bad cold or stomach bug, a blown car engine or flat tire, a flooded basement or loss of power. Sometimes it's more serious than that — an ailing elderly parent, a dire illness in the family, a failing marriage, the death of a friend or relative. I've faced my share of such things — not all, but enough; every one of us has.
And in the short term, there is nothing we can do about them. Life imposes its own exigencies. When our kid is sick or our parents are fading or a relative or friend is in need, we have no choice but to prioritize the people we love and the obligations we've taken on as parents and partners, offspring and siblings and friends. No one with a thread of compassion or decency should punish or blame us for this. Those who would, do so at their own risk, because eventually they, too, will be on the receiving end of Life's caprice.
The problem comes later, after the crisis has passed, but while the aftermath lingers. Nearly two years ago, when our daughter received her cancer diagnosis, I withdrew from . . . well, pretty much everything. I told my agent and editor that I wouldn't be able to make a deadline that was still a couple of months away. I stopped seeing friends. I hunkered down with my fear and my grief and my anger, and I essentially surrendered to this terrible thing Life had done to my family and me. I was sure I couldn't work through it, and so I didn't even think it worthwhile to make the attempt.
Nancy responded differently, not because she is better or stronger than I am (although she might well be both . . .) but because she deals with emotional strain differently. She is great at compartmentalizing, which is good, because at the time she had a high-stress, high-profile job. In the time since, she has advanced to a position that is even more high-stress and high-profile. Her ability to compartmentalize has served her well.
I don't have that ability. I can't compartmentalize. But, I realized, I had a different ability I could harness. I had learned years ago — when we lost my parents, and later when we lost my eldest brother — to channel my grief and pain into my art. And it didn't take me long after hearing the news of our daughter's illness to understand that was precisely what I needed to do. Within a week of calling my agent and editor to tell them I was pulling back, I sent them new messages. I am working through this. I will make my deadline.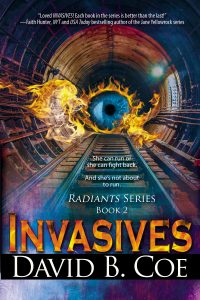 And I did. The book was Invasives, by the way. It contains the best character work I've ever done, and that is no coincidence.
I suffer from anxiety and panic disorder. I sometimes walk the edge of depression. I know as well as anyone that coping with life is hard, and that glib, easy-fix solutions to the shit life throws at us are worse than useless. Such facile responses can actually hurt, because they suggest to those of us who struggle that the problem isn't the circumstance but rather our inability to deal with it.
But I know as well, from my own experience, that we don't have to be whole to create. Life elicits emotion and those emotions can overwhelm and paralyze. The thing is, though, we're creators, and emotion is our bread and butter. Yes, at times the emotions we feel in life's rawest moments are like a downed electrical wire. We touch them at our own risk. As I found a couple of years ago, however, we can be resilient in the face of the worst circumstances. Long before I was ready to interact with other people, I was ready, even eager, to take hold of that live wire and use it for something constructive and healing.
Life can disrupt our art. We all know this. But we are alchemists at heart. We can turn grief and hurt and fear and anger into golden moments on the page (or the canvas or the guitar or the stage — whatever). And, for me at least, that is how I keep life from holding me back.
Keep writing.