My "What matters?" series of posts will conclude next Monday, after a Monday Musings post this week that straddled the personal and professional a bit more than usual. In the meantime, I am using today's Professional Wednesday post to begin pivoting toward the impending release of my new series, a contemporary urban fantasy that delves deeply into Celtic mythology. The series is called The Chalice War, and the first book is The Chalice War: Stone. It will be released within the next month or so, and will be followed soon after by the second book, The Chalice War: Cauldron, and the finale, The Chalice War: Sword.
In my experience, every new project has a story (no pun intended) and this one is no different. Back in the summer of 2009, I was in a bit of a career doldrums. Blood of the Southlands, my third epic fantasy series, was complete, and all but the third book had been released. The series had done well critically, but sales were a bit disappointing — a pattern I had encountered before and would again — and I was trying to figure out where to go next. I had pitched the first iteration of what would become the Thieftaker series to my agent, and she was trying to sell it to Tor Books. But, as always, the publishing world was moving at a snail's pace, and I had nothing to do.
Within half a year, I would be working on the Robin Hood novelization and starting to convert Thieftaker from an epic fantasy to a historical urban fantasy. But for the moment, I was without a project.
And then an idea came to me — a sudden flash of insight into what would become a pivotal scene in Stone. I took the idea and ran with it. First, I read a ton of material on Celtic history and lore, taking copious notes and figuring out how I might create modern-day versions of the heroes and deities I was reading about. Then, my research complete (for the moment), I began to write the first draft of a contemporary urban fantasy.
I didn't do much outlining, but rather allowed the novel to take me where it might. And boy did it take me to some interesting places. It started in an imagined bedroom community in northern Virginia, soon evolved into a cross-country trek on U.S. Interstate 40, and wound up on the Strip in Las Vegas. The Battle Furies — the Morrigan — showed up. Turns out, in addition to being goddesses who fed on strife and human suffering, who could turn themselves into a winged horse (Macha) and twin giant ravens (Badbh and Nemain), who drove armies to a killing frenzy and men to uncontrollable lust, they were also Vegas nightclub singers.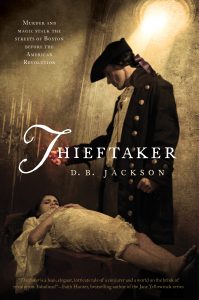 I finished the book and showed it to my agent. She liked it a lot, but thought it needed work. She was right, of course. But by that time, I had signed the contracts for Robin Hood and the Thieftaker books. Not too long after, I finally sold the Fearsson series to Baen Books and so had that trilogy to get through.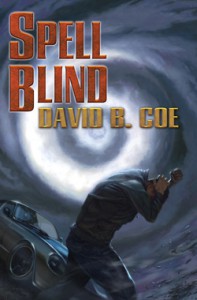 But I never forgot my Celtic urban fantasy, or its heroes Marti and Kel. When I had some spare time, I went back and rewrote the book, incorporating revision notes from friends and from my agent with my own sense of what the book needed. I rewrote it a second time a couple of years later, and having some time, started work on a second volume, this one set in Australia (where my family and I lived in 2005-2006). I stalled out on that book about two-thirds of the way in, but I liked what I had. By then, though, I was deeply involved with the final Thieftaker books and the Fearsson series. And I was starting to have some ideas for what would become the Islevale trilogy.
The Celtic books languished in a virtual trunk, not forgotten, but ignored. I didn't know how to end the second book. I knew the first book needed another rewrite. And I had no idea how to complete the trilogy.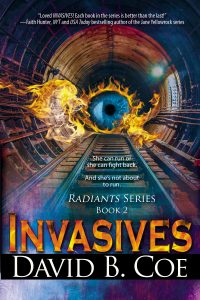 But I had been through this before. The first book in the Case Files of Justis Fearsson went through at least half a dozen iterations between the first draft, written in 2005, and its eventually publication in 2014. I first came up with the basic concept for Invasives, the second Radiants book, in 2009. It sat on my computer desktop for more than ten years before I actually used it.
I revised Stone yet again, and in so doing, came up with an idea of how to complete the second novel. I rewrote what I had written of that novel, and this time got past whatever had held me back and managed to complete it. And in finishing that volume, I came up with an approach for the third book. It was daring, and quite different from the first two books, but it worked. I set that one in Ireland, and also in the Underrealm.
Finally, in 2021, I had a conversation with Deb Dixon, my marvelous editor at Bell Bridge Books. She asked me what I was thinking of writing next, and I said, "Well, I have this series I've been working on — a contemporary urban fantasy steeped in Celtic mythology . . . ."
Her response: "Yes, please."
The moral of the story should be clear: Never, ever, give up on a project. Sometimes we're not ready to write the ideas we have. Sometimes our imagination outstrips our creative abilities. At other times, our careers take us in other directions, and we're not yet ready to pursue projects that we know we want to write eventually. And at still other times, our ideas come to us piecemeal. We can't see the entire work, but we know there is something there worth writing.
All three of these things were true for me. On some level I knew what I wanted to do with the Celtic books back when I wrote that first iteration of Stone. But I wasn't yet a good enough writer to do justice to the idea. I had other projects that were more fully formed and that I needed to work on in the moment. And so I did. And the idea for the trilogy took time to percolate.
In the end, these are books I love, stories I'm proud to see come to fruition. I look forward to sharing them with all of you.
Keep writing!!