As you know, early in 2023 I will be coming out with a new urban fantasy series that is steeped in Celtic mythology. Before working on this series, I hadn't known much about Celtic lore. But I did my research, learned all I could, and then started to imagine ways in which I might blend those Celtic traditions with my vision for the stories I wanted to write. I tried to be respectful of traditions that are not my own, while also having fun and writing something I hoped would be fun for my readers.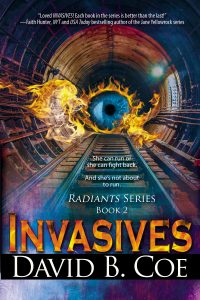 Two years ago at this time, I was revising Radiants and starting to organize my plans for Invasives, the second book in the sequence. I had never written a supernatural thriller before, but I had the idea and wanted to give it a go.
Two years before that I had just released the second Islevale book and was working on Time's Demon, the second book in the trilogy. These were my first forays into writing time travel and while I knew there were tremendous pitfalls to writing in that particular subgenre, I wanted to give it a try. Plotting a time travel series is probably the most challenging thing I've ever attempted as a professional writer; I doubt I will ever try it again, but I'm glad I did it once.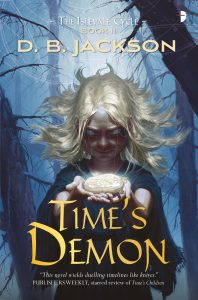 Around that same time, I was also reading submissions for the Temporally Deactivated anthology, my first co-editing venture. Last year I opened my freelance editing business, and a year ago at this time, I was editing a manuscript for a client.
Back in 2015-2016, again at this time of year, I was working on the Author's Edit of the LonTobyn Chronicle, my first series. Up until then, I had never re-released any of my old work, but I had the rights back, and I knew I could improve the books with a deep edit of the original manuscripts.
Yes, there is a point to all of this.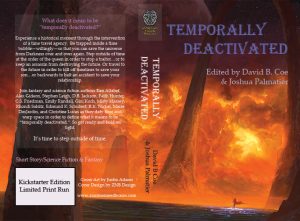 Last week, I wrote about planning out my professional activities for the coming year. This week, I want to discuss a different element of professional planning. My point in starting off with a list of those projects from past years is that just about every year, I try to take on a new challenge, something I've never attempted before. I didn't start off doing this consciously — I didn't say to myself, "I'm going to start doing something new each year, just to shake things up." It just sort of happened.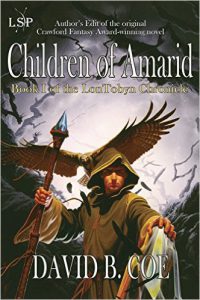 As it turns out, these new challenges have brought me to a place where I can say, in all candor, that I have never been happier in my work than I am now. Each time I try something new, I reinvigorate myself as a creator. I force myself out of the tried-and-true, the comfortable. With each of the new projects I mentioned above I had a moment of doubt. I wondered if I was capable of accomplishing what I set out to do. Now, I'm a pretty confident guy when it comes to my writing chops and my ability to help others improve their writing, so those doubts didn't last long. But they were there each time.
Indeed, part of the joy of taking on the projects lay in pushing myself, in overcoming the doubts and getting the work done. As I've written before, writing is hard in any number of ways. We help ourselves when we can self-define our successes, rather than relying on a fickle, difficult marketplace to define them for us. Each of the aforementioned projects boosted my sense of self worth.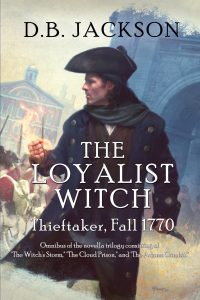 But those new challenges did more than that. They kept my professional routine fresh. I am a creature of habit. I try to write/edit/work every day, so in a general sense, my work days and work weeks don't change all that much. By varying the content of my job — by writing new kinds of stories and expanding my professional portfolio to include editing as well as writing — I made the routine feel new and shiny and exciting. And at the same time, these new projects made it possible to return to some old favorites, notably the Thieftaker series, with renewed enthusiasm.
I also made myself better at my craft and deepened my understanding of and appreciation for the nuances of storytelling. I learned a ton by revising my first books. I saw old mistakes that I was still making, and also gained a fresh appreciation for the ways I had improved as a writer. Writing time travel strengthened my plotting by forcing me to look for the loose ends that might have escaped my notice had my characters not possessed the ability to go back in time and undo my choices! Editing has taught me a ton about my own writing by showing me, in unfamiliar narrative contexts, what story elements work best (and worst).
My point is this: As you begin to plan your professional activities and ambitions for 2023, try to put in your calendar something new and different. It is fine to set as a goal the completion of that novel you've been working on for a long time, or the publication of a series you've had written for a little while now but haven't yet sent out into the world. Those are laudable aims, and I wish you every success with them.
But maybe you've never tried writing short fiction, or you've written stories but never submitted any of them. Maybe you've written fantasy but never tried science fiction, or thrillers, or romance. Set as a goal for 2023 taking on one of those new tasks. Allow yourself to accomplish something unfamiliar. At the very least, doing so will force you to grow as an artist, which is always a good thing. And perhaps you will discover a previously unexplored talent and passion for something you hadn't even considered trying.
Best of luck, and keep writing!