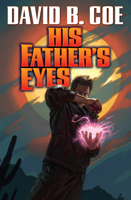 Today is release day for His Father's Eyes, second book in The Case Files of Justis Fearsson, the contemporary urban fantasy that I write under my own name for Baen Books. To mark the occasion, the 2015 Summer-of-Two-Releases Virtual Tour makes several stops.
First, I am back visiting again with Faith Hunter, and this time Jay Fearsson, the hero of my series is interviewed by Jane Yellowrock, the kickass heroine of Faith's New York Times bestselling series. Not only that, but fans of her books should know that Beast makes an appearance as interviewer as well. You can find the interview here. I guarantee you'll enjoy it.
I am also back at the Magical Words blog site, with a post about the new book and all that it means to me. This was a difficult and cathartic book for me to write, and the post touches on why. You can find it here.
And finally, Joelle Reizes has been kind enough to host me for her Five Questions in Five Minutes feature. You can find our Q&A here.
So help me celebrate release day. And if you're interesting in finding a copy of the novel, you can use the links on this page. Thank you!