On Monday, I began what will be a series of posts on the things that matter to us, and the ways in which we can make them central to our lives. Not surprisingly, I think about this a great deal with respect to my writing. And I believe all of us, no matter where we are in our careers, can benefit from this sort of thinking.
As with the broader topic, I expect that the question "What matters?" will inform the next few Professional Wednesday posts. Today, I want to take on the question in its broadest sense.
At the start of each year, I spend some time mapping out the coming months, trying to make certain that I schedule my work for the year to come, the various projects I hope to complete, in a way that will maximize my productivity without setting myself up for failure by giving myself unrealistic deadlines or overly ambitious timetables for the completion of manuscripts. It's a process I've written about a couple of times in the past month or so. (Find other posts here and here.)
Creating a work calendar for the year is about more than time management, though. It is also about prioritizing. It is about answering the question "What matters?"
We all have projects we care about and goals that stir our passions. For some, "what matters" is that novel we've been trying for years to finish. For others, "what matters" is finally getting that first professional sale, either of a book or a short story. And for others still, "what matters" may simply be finally making writing a daily or weekly habit — getting started on a road that may not reach its final destination this year, but that at least begins here and now.
Whatever your "what matters" might be, it should inform your planning for the coming year.
What matters to me? Professionally, for this coming year, a few things. I have a series debuting in February. I want to promote the hell out of it. I want to feel at the end of the release windows — the weeks immediately preceding and following the releases of the three books — that I have done all I could to make the series successful. I also have an old series that I want to re-release. I've been talking about doing this for several years now, and each year I have found other projects to take up my time and energy. But this series, Winds of the Forelands, is one about which I am passionate. This is the year I bring it out again. It matters to me. And I want to start something new, a series that will take me in a new direction, I have resisted starting it for a couple of years, I believe because I am intimidated by the magnitude of what I'm taking on. It's time to get over my hesitation.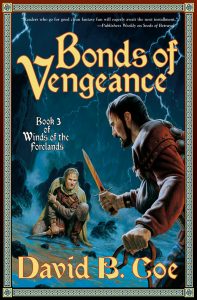 What about you? I'm not merely asking what you wish to accomplish, though obviously that's part of the equation. I'm asking as well what you care about. Sure, maybe you want to be published — or at least contracted — by year's end. That's a laudable goal. But what project will get you there? What story is burning brightest inside you? What work will bring you joy? What project is most likely to tap into your greatest creative passion? That ought to be part of the equation as well.
Our professional pursuits are not just about what ambitions we'll realize. They're also about what matters most to us as artists. Writing, like all acts of creation, is about more than sales and "success," however we might define that word. Writing is an act of love. This business is too hard, too fickle, too cruel, to be approached solely as a bottom-line endeavor. Often, the truest satisfaction we can hope to draw from our work is the self-recognition of our own achievement. And ultimately, I would argue, our own pride and sense of accomplishment ought to be what matters most.
So as you begin 2023 — and I hope it is a year of accomplishment and satisfaction for all of you — ask yourself "What matters?" Because I guarantee you, if the work — the concept, the narrative, the characters, the settings — matters to you, that emotional connection to the project will show up in your writing. "What matters" is not just about warm and fuzzy feelings. Answering the question will point you toward the most powerful expression of your creative vision.
Keep writing.