After running away from social media for six weeks, and ignoring publicity opportunities and the like, I feel a little funny offering any professional advice to anyone on anything. Which, I realize, is entirely wrong-headed.
Sometimes the stuff we write is completely divorced from our real lives, but more often than not, we draw upon personal experience and knowledge for our character work, our world building, our plotting, and our dialogue. Here's a passage that is a case in point. It's from The Fugitive Stone, the first book in the Celtic urban fantasy I'm working on.
"One of the insidious things about anxiety and depression—about all mental health problems, really—is the false sense that we're the only ones who are like this. That we're broken, and everyone else is 'normal'"—she put air-quotes around the word—"whatever the hell that means. After all this time, you'd think I'd know better."
The truth is, lots of writers struggle every day with problems and emotional issues that are at least as difficult as mine. Many have it worse than I do. I know this, and yet I still have to fight the tendency to think I'm the only one, that I'm messed up and everyone else is fine. There's a little voice in my head that whispers shit like that to me all the time. I hate that fucking voice.
As I have mentioned here before, I find work to be a balm, a welcome distraction, a place I can go where my worries and griefs recede and I am free to create and thus escape for a short while. Sure, the stuff I'm avoiding is there waiting for me when I step out of my office, but the respite is the thing. It helps. Being productive, getting work done, helps me feel . . . [here's that word again] normal.
There is no secret sauce to this. I can't give advice on how others might find the same thing to be true with their work. Everyone suffers from mental illness in unique ways. Everyone's challenges manifest differently. I know how fortunate I am to be able to work and produce and find solace in doing so. I know it's not a path open to everyone.
But I will say this: Last year, when our daughter first received her cancer diagnosis, I gave up on everything, at least at first. I was convinced I wouldn't be able to function. I called my agent and my editor and I told them both I was stepping back from all professional activities. I wouldn't be blogging or posting to social media, I wouldn't be attending conventions, I couldn't imagine trying to write anything, and so I was going to stop working on the book I was writing at the time. I usually hit my deadlines, but that was one I was certain I would miss.
It didn't take me long, though, to understand that sitting around worrying about my [adult] child and grieving for the terrible changes imposed upon our family by her diagnosis were poor activities with which to fill each day. I needed to do something that made me feel alive, that reminded there was more to my life than her illness.
This was in the spring of 2021, and the first day I tried to write was pretty much a disaster. I barely got anything written, and I'm not sure I kept a word of it. But the mere act of sitting down at my computer to work felt familiar and, thus, reassuring. I did it again the next day, and the one after that. By the end of that week, I had managed to write more than 7000 words — not close to my usual pace, but not bad at all. The weeks that followed were even more productive.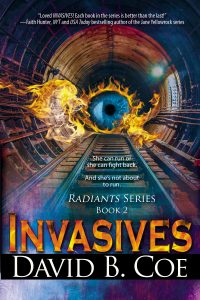 In the end, I hit my deadline. More, the book I wrote that spring, Invasives, the second Radiants novel, turned out better than I ever could have imagined. I love the book, not only because I think it's good, but because it saved me. It got me through that terrible spring and early summer.
I guess what I'm saying is this: We are all coping with something. Life is hard. Life throws obstacles in our paths all the time. Life is a book and we are its protagonists, and just as we writers love to rain shit down on our characters, life rains shit down on us. My tendency, when the shitstorms grow too wild, is to run and hide. I did it in March of 2021. I did it again just a month or so ago, when our daughter suffered a setback in her fight with cancer.
But in 2021, and again this summer, I found that work helped.
Work might not be the answer for you. Maybe knitting is. Maybe photography is. Maybe music or birdwatching, cooking or cleaning, painting or gardening, reading or watching old movies. It doesn't matter what it is. What matters is recognizing that something might help, that looking beyond the pain might well be just what you need.
Be well. Take care of yourself and the ones you love.