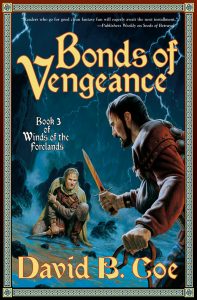 Many years back, while I was working on one of the middle books in my Winds of the Forelands quintet, my second series, I came downstairs after a particularly frustrating day of writing and started whining to Nancy about my manuscript. It was terrible, I told her. There was no story there, no way to complete the narrative I'd begun. The book was a disaster, and I might well have to scrap the whole thing.
To which she said, mildly, "Ah. You're at the 60% point?"
The question brought me up short, because that's exactly where I was. And prompted by her remark, I realized something obvious to her that I'd missed up until then: To that point in my career, every book I'd written had stalled at the 60% mark.
Last week, I began a new "Most Important Lessons" feature that focused on "Dealing With the Slog." The first post focused on meeting our self-imposed deadlines. Today's installment will discuss how to address the 60% Stall.
I would love to tell you that as my career has progressed, I have moved past this problem, but I'd be lying. I don't stall at 60% with every book, but I do run into problems at that point in most manuscripts. It seems to be endemic to my process. And I'm certainly not the only writer who does. The more I talk about the problem, the more I realize it's fairly common.
The problem as it presents itself to me can be boiled down this way: When I begin a novel, I know what the main conflicts are, and I have a clear understanding of the obstacles I intend to throw in the path of my protagonist(s). And I also have a good sense of how I want my story to end. Quite often, though, as I write my story, certain elements change. I often alter plot points as I write them. My characters assert themselves in subtle ways, developing their own personalities and wills, and forcing me to rethink their arcs.
So those obstacles as I have written them are not quite the same as what I envisioned originally. On the other hand, the ending, as I imagined it, remains largely unchanged. And thus the path between the crisis point for my protagonists and the end point I want them to reach has to change as well. And the pivot point, the moment when we shift from doing all sorts of nasty stuff to our heroes to beginning to have them fight back and turn the tide, usually starts at about the 60% mark. Yes, shit still goes wrong after that. I'm not saying the last third of the novel has to be a golden time for the protagonist. Far from it. But, for me at least, 60% is when things begin to turn.
How do we address the 60% stall?
First, let me tell you what I don't do. I don't panic. I don't rant and rave. I don't freak out. Not anymore. Not since Nancy pointed out to me that this is something I go through with most of my books. Plot holes happen. The book as we planned it — whether we outline in detail or write by the seat of our pants — doesn't always look exactly like the book as we write it. And that's okay. There is still a story here worth telling. There is still a path between where we are at 59% and where we wish to be on the last page. Breathe. Calm down. It's going to be all right.
The second thing I try to do is assess the deviations between what I've written and what I had in mind originally. Quite often, the answer to overcoming the Stall lies in those differences. Maybe (for instance) we have introduced a new character we hadn't planned on including, and that person's presence has set up this narrative disconnect. Most likely, that means the character in question needs to figure into the new narrative path leading us from where we are to where we need to be. Or maybe we have added a key plot twist we hadn't anticipated originally. Again, if that's the case, chances are our new solution needs to address the consequences of this twist.
The third thing I consider is whether I need to A) change the ending I'd had in mind, B) add an element in the final 40% to deal with the new conditions I've created, or C) go back and edit out some of the changes I have allowed to creep into the first 60%. Choice C) is almost always my least favorite option. Why? Because I have written the book as I have thus far for a reason. If I have strayed from my original, pre-writing vision, it's because new stuff came to me organically, as I wrote. And generally — not always, but most of the time — I find that my organic decisions are my best decisions.
Finally, and most important, I keep writing. I keep moving forward. Even if my (temporary) solution to navigating past the Stall is flawed, I always, ALWAYS believe it is better to keep pushing through. The alternatives are to give up entirely (unthinkable!!) or to retreat into rewrites and try to fix the problem that way, which in my opinion makes the Stall harder to overcome. Every completed manuscript will require editing, and it may well be that after completing the first draft, setting it aside for a while, and then starting the revision process, we will discover solutions to our narrative issues that weren't obvious when we were in the middle of writing.
The important thing to remember is this: The 60% Stall is not a death knell for our story. It is a temporary setback. It is not cause for panic, but rather for reflection, for brainstorming, for creative thinking about our narrative.
Keep writing!!