Continuing this week's theme of maintaining mental health through difficult times . . .
Back in March, when our daughter's cancer was diagnosed, my first impulse was to put everything on pause. I contacted my editor and agent to let them know I was not going to be working for a while. I announced on my various social media platforms that I would be pulling back from them as well. I don't know what I thought I would be busy with. I don't know what I thought I would do to fill my days. But in that instant, I couldn't imagine doing . . . anything.
I can't say for certain if this was a good decision or a bad one. I did what I needed to do in that moment. I made time for myself to deal with something utterly devastating and unprecedented in my life, for the very reason I stated above. I didn't know what I could do and what I couldn't. And, being self-employed, I have the luxury of being able to clear my schedule when I need to.
I'll pause here to say this is why paid family leave should be universal across the country. People deal with crises of this sort every day. The privileged few — people like me — shouldn't be the only ones who can take the time to care for themselves and their loved ones in this way.
Of course, Nancy had work, and though her colleagues and boss would have understood had she taken time off, the truth is the nature of her position at the university, and the fact that the school was in the middle of implementing the Covid response she helped formulate, made this impossible. And so, perhaps not so surprisingly, after taking only a few days to be shellshocked and emotionally paralyzed, I got back to work as well.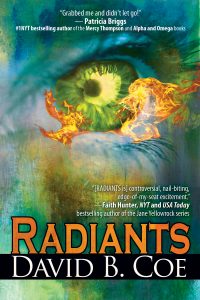 I was in the middle of writing a book — Invasives, the sequel to Radiants — and I dove back in. It's a book about family, as so many of my novels are, and about discovering powers within. It doesn't take much imagination to understand why I would find that particular story line comforting.
At the time, I wasn't very far along in the book — maybe one-third of the way in. But with my reality frightening and sad, I threw myself into the story. Work became the place I went to escape my dread, my grief, my rage at the injustice of my kid's illness. The emotions came with me, of course, but I was able to channel them into my characters, to turn them into narrative. That is the magic of creation, the alchemy that allows us to convert anguish into art. Each day, I couldn't wait to get back to my book; I can't remember a time when work has meant more to me. My haven, my outlet, my balm.
I finished the book in less than two months, which is pretty quick for me, and I knew immediately that I had written something special. I love all my books. Someone asked me just the other day what my favorite book is among those I've written, and I answered as I always do: the newest one. But in this case, it was especially true. Invasives is laden with emotional power and it is, to my mind, one of the best plotted books I've written. Often when I write, I have to fight off distractions. Not this time. With Invasives, writing was the distraction.
I was sad to finish the book — which was definitely new for me. Usually I celebrate finishing a novel. This time, I wondered how I would cope without the book to write. My child was still sick, still dealing with treatments and such. And I was still scared, still sad.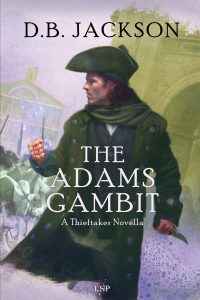 And so around that time, unsure of what to write next, I acted on an idea I'd had for several years. I hung out my virtual shingle as a freelance editor. Work came in quickly, and before I knew it I was editing a series for one friend, and talking to others about future editing projects. I also released the Thieftaker novellas. And prepared for the October release of Radiants. And started gearing up for the Kickstarter for Noir, the anthology I'm co-editing for Zombies Need Brains. And wrote a story for another anthology.
In other words, I worked the way I normally would. Yes, some days were harder than others. Some days I got nothing done at all. And part of working through this ordeal has been giving myself permission to have days where I do nothing more than spin my wheels. But more often than not, work has continued to offer me solace.
I've watched in awe as Nancy, who has even more on her plate than I do (elder care issues involving her parents and a job that is emotionally and mentally exhausting), has found the strength and discipline to be a loving, supportive mom, an attentive daughter, a skilled and focused professional, as well as a loving partner. She, too, has found refuge in her job.
Looking back, I feel a little foolish for having retreated from my professional life the way I did those first days after learning of my daughter's diagnosis. From this vantage point, it appears rash, unnecessary. I feared that in some way my job would keep me from giving my full attention to my daughter's health. I was right. The mistake I made was in thinking that would be a bad thing. Believe me, I spent a ton of time thinking about her, worrying about her, searching for ways I might ease her burden. But I couldn't do that for every hour of every day, not without doing real damage to my own emotional and physical health.
Work saved me.
Now, I know each of us deals in unique ways with anxiety, fear, grief, and other emotions, and so I offer this post not as a prescription for others, but simply as a description of my experience. I hope that some of you find it helpful.