Not so very long ago, I wrote a post on some of my favorite things. I thought I would follow up on that with a post about a few things I love that I consider "hidden gems," things I have found along the way with which a large number of people might not be familiar.
So buckle in and enjoy a brief spin through the backwaters of my artistic and entertainment tastes.
Hidden Gem novels: I have a couple of recommendations in this regard, as it happens, both of them by people I know. The first series comes from fantasy author Lynn Flewelling. Her Tamir Trilogy (The Bone Doll's Twin, Hidden Warrior, and The Oracle's Queen) is one I have recommended before, but I love, love, love it, and I think others will as well. It is haunting, thrilling, and romantic, but it also bends our expectations when it comes to gender and the roles imposed upon girls and women. Brilliant stuff.
I also love C.E. Murphy's Negotiator Trilogy (Heart of Stone, House of Cards, Hands of Flame). These are urban fantasies set in New York City, but they are unlike any UF I've read before or since. They're exciting and romantic (yes, I admit it: I like romantic plots), with a magical element that is utterly fascinating and entirely captivating. I love these books.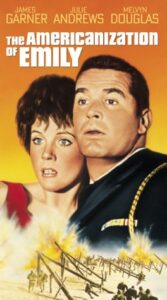 Hidden Gem movies: Two entries here, too, both of them idiosyncratic. But that's the point, right? The first is a film from 1964 called The Americanization of Emily. It is a war movie set during World War II, but it will turn your expectations upside down as it rejects normal images of heroism and wartime valor. The cast is great — Julie Andrews in the title role is terrific. She's worldly, sassy, and a long, long way from Mary Poppins and Fräulein Maria. James Garner, a favorite of mine, is her love interest, and is not at all the usual romantic lead. James Coburn and Melvyn Douglas are strong in supporting roles.
The second film is 1992's Passion Fish, starring Mary McDonnell, Alfre Woodard, David Strathairn, and Angela Bassett. Written and directed by John Sayles, Passion Fish tells the story of a spoiled soap opera star who is paralyzed in a car wreck and returns to her childhood home in the bayou, intent on drinking her way into an early grave. What she discovers at home changes her life. It sounds hokey and depressing. It's neither. Trust me on this. It's wonderful, and the performances are phenomenal.
Hidden Gem music: I'm a big fan of acoustic instrumental music and I have a couple of recommendations along these lines. The first is an album I know I have mentioned on this blog before, but it's been some time. The album is called Skip, Hop, and Wobble. The musicians are Jerry Douglas on dobro, Russ Barenberg on guitar, and Edgar Meyer on stand-up bass. The music is bluegrass inspired, but it has little of the twang that some object to in bluegrass. Rather, the tunes are by turns lyrical, humorous, and toe-tapping. I have a lot of bluegrass, a lot of instrumental music. This album is unique. I can think of nothing else like it.
The second album I would classify as Scottish folk music. Some might call it Celtic, but I tend to think of Celtic music as specifically Irish. Tomato, to-mah-to. Anyway, the album is called Highlander's Farewell, and it features Alasdair Fraser on fiddle and Natalie Haas on cello. The music is evocative and gorgeous. You'll feel like you've been transported to Scotland.
Finally, a third recommendation. Alison Brown is an amazing crossover musician. She plays banjo and has been a session player for bluegrass stars like Chris Thile and Alison Krauss. But she also has a band of her own, the Alison Brown Quartet, which includes her husband, bass player Garry West. They play an amazing form of bluegrass-jazz that is completely addicting. I recommend you start with the album Replay.
Hidden Gem TV: Many of you know I am a huge fan of Aaron Sorkin's The West Wing, and many of you share that passion. Before he started work on that classic, though, he was show-runner for a short-lived series called Sports Night. It's about a late-night sports show similar to ESPN's Sports Center, but for a third-place network. Like all of Sorkin's shows Sports Night is funny, poignant, intelligent, and filled with marvelous dialogue and terrific acting. It aired on ABC, and they didn't know what to do with it. They marketed it as a romantic comedy and even added a laugh-track, which is really too bad. It was far too smart a show for the network, and they managed to kill it in two seasons. But those seasons are great, and you can find it on one of the streaming services. Easy to binge, and so, so good.
And with that, I will stop, although I reserve the right to return to this theme in future posts.
In the meantime, have a great week!