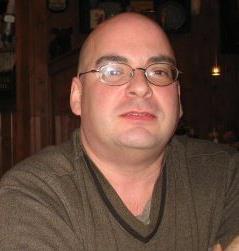 I have to confess that I don't remember when I first met Wayne McCalla.
It's not that our first meeting wasn't important, but rather that Wayne was so much a part of my career, my life, that he just always seemed to be there. I remember sending him ARCs of my later Winds of the Forelands books. So that puts us back into the mid 2000s. It could have been even earlier.
Wayne loved to read. He loved to meet authors, to have his books signed, to get turned on to yet another speculative fiction series. He frequented cons, always carrying a book bag, always looking for his next signature, the next world to explore. And if he fell in love with your books watch out. He couldn't get enough of them. He liked to brag to me that he had every edition of every book I had ever published. He once drove from his home in Indiana to my town in southern middle Tennessee, just to attend a signing I did at the University bookstore here. He was like that. As I say, he loved books, and he loved authors. It was almost embarrassing. It was profoundly humbling.
He was generous, fun-loving, and a great travel companion. We drove together to several conventions and our conversations never flagged. He had a wonderful laugh, and an ever-present, shy, beautiful smile. He was quiet, that diffident smile revealing something intrinsic to his gentle nature. He would come to dinners with authors and other fans and simply listen, soaking up the camaraderie, occasionally chipping in something that always wound up being witty or uncommonly observant.
But he was passionate about fandom and speculative fiction and convention culture. The health problems that curtailed his ability to attend such gatherings were an ever-increasing source of frustration for him. He missed his friends. And they missed him. More recently, it seemed he was finally putting some of his medical issues behind him. He looked forward to returning to the convention circuit, if not this year, then certainly in 2023.
All of which makes his unexpected and sudden death earlier this week that much more tragic. As I said when I began, it seemed like Wayne was always just there. His absence is haunting, heart-rending, deeply unfair, and utterly bewildering. It is, quite simply, wrong.
I was nowhere near ready to say goodbye, but what do time and fate care for our readiness or lack thereof.
Farewell, my friend. I miss you already. I hope wherever you are now, the books are plentiful, and every one of them is signed.
— DBC