Title got your attention, eh?
Yeah, figured it would. I might not be a marketing genius, but I've learned a little bit over the years…
Last week, I wrote about using profanity in our writing, and at one point likened gratuitous spicy language to gratuitous sex and violence. I went on to reference a fairly explicit sex scene I had included in a trunk novel I happened to be editing at the time, and I said this: "…The sexual encounter is essential to both my character's journey and my plot and, therefore, it warrants the attention and detail it's given in the book."
It occurred to me later that I had yet to address writing sex scenes and action scenes in my Writing-Tip posts, and so here we are.
I have been fortunate in my life in that I have largely avoided violence. I have never been in combat, and have been spared violent encounters in my personal life. On the other hand – and I do not plan to say much in this regard – I have had sex. More than once.
And yet, I feel equally comfortable writing fight scenes and sex scenes. And, as it happens, I have written far more of the former than the latter. I have made up for my lack of experience with violence by reading a lot about combat in different settings, about hand-to-hand conflict, about weaponry and war tactics, and a host of other subjects necessary to give my scenes the verisimilitude I seek in all my writing.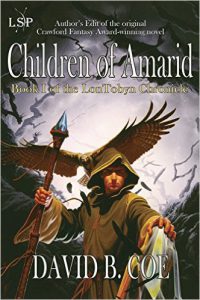 I believe my action scenes are pretty effective, and, actually, I would say the same about my sex scenes. But that wasn't always the case. In the first draft of my very first novel, Children of Amarid, I wrote a sex scene that my editor tore apart. And with good reason. While the rest of the narrative worked pretty well, the sex scene felt completely staged and out of character. And the reason was quite simple: For that one encounter, I forgot about my characters' points of view and tried to write a sex scene that felt, well, sexy. That didn't work, because my characters were young and in love, but also inexperienced and still a little awkward with each other. None of that came through in the writing.
Point of view, I have said many times before, is the key to good writing, the answer to most, if not all, of the problems that crop up in our work. Because point of view is the place where character development meets plot, where emotion is introduced to our narratives, where our readers are given the emotional cues they need to experience our stories as we intend. And so it follows that, like all the writing we do, the success of our sex scenes and action scenes is entirely dependent on point of view.
Our characters' sexual encounters are particularly dependent on emotion for their success. That unsuccessful first-try sex scene I wrote in the initial draft of Children of Amarid failed because I skipped over emotion and focused too much on lust. To be sure, passion is likely to play a role in most scenes of this sort. But for two young lovers, out of their depth and afraid and seeking emotional refuge from the threats to their lives that drive the plot, emotional is all. Passion is, in a way, secondary. In the trunk novel sex scene I mentioned earlier, emotion and body image and passion and self-doubt are all rolled together into the experience, and that's why the scene works.
Let me put it this way: Imagine writing three sex scenes. The first features a teenager, madly in love, terrified, about to engage in their very first sexual relationship. The second features an older woman in a Western town who works in a brothel and is confronting the very real possibility that she is about to be fired because she is too old and the men coming to the brothel no longer desire her. The third features a man who is in love with his wife but facing problems in their marriage in large part because they desperately want a child and can't manage to conceive. Clearly, these three scenes are going to read VERY differently, and those differences will express themselves through the emotions and thoughts and sensations of our point of view characters.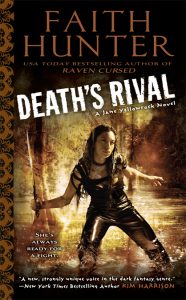 In the same way, action scenes – fight scenes, battle scenes, violent scenes; whatever you want to call them – also hinge on the qualities, histories, experiences, and emotions of our point of view characters. A seasoned fighter, someone who makes their living in a violent world or who was brought up to be a warrior, is going to experience violence quite differently from, well, someone like me, who has little knowledge of fighting technique and scant history with violence and bloodshed. The practiced fighter's point of view might sound almost clinical – this person will know how to control emotion, how to draw upon skills and observations learned over years of training. The novice's point of view should come off as far more desperate, fearful, overwhelmed by the frenzy of violence in which they find themselves. Again, point of view is all. One is not necessarily more exciting to read than the other – think of the battle scenes in Faith Hunter's thrilling, New York Times Bestselling Jane Yellowrock books and in A.J. Hartley's wonderful Will Hawthorne novels, which are not only entertaining but also a master class in writing voice. Jane is a warrior; Will is SO not.. The scenes in both make for compelling reading, but they couldn't be more different.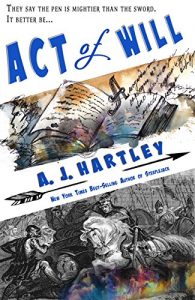 Finally, when we're writing our fight scenes, we should keep these things in mind. First, these are NOT the places to dive into detailed description. Even an inexperienced fighter might notice that their opponent is brawny and big, that they move with confidence and appear to be skilled with their weapon. But our point of view fighter is NOT likely to choose that moment to focus on eye color and hair style and clothing particulars. The character should be far more concerned with staying alive! And second, taking this piece of advice from Faith: The pace of our prose in writing such scenes is the literary equivalent of a musical score in a movie. Just as during action scenes in movies, the music gets percussive and clipped and dramatic, so when writing these scenes we should make our prose spare, concise. We should depend on short, declarative, punchy sentences. We should NOT be using flowery, pretty complex phrases.
So, sex and violence. Yes, they make for interesting reading (and writing!). But they are not easy, and should not be treated the same regardless of character. Try to keep these tips in mind when crafting your next romantic interludes or violent encounters.
And keep writing!