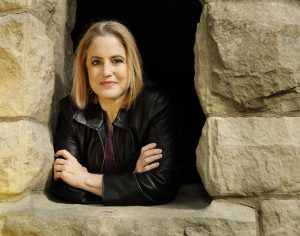 J.D. Blackrose (aka my wonderful friend, Joelle Reizes) is promoting Pluck and Cover, the first of her Zombie Cosmetologist novellas. (Find it on Amazon.) Here is the series description:
Waylon Jenkins has a problem. Well, he's got a few of them. The ghost of Betsy Ross lives in his house, he's pretty sure his favorite client is the victim of ongoing domestic violence, and he's been roped into helping the police investigate a series of murders.

And his penis fell off in the shower this morning. He needs a new one, but none of his friends are willing to donate theirs to the cause.

In case it isn't obvious by now, Waylon Jenkins is a zombie.

He's also one of the most highly respected and in-demand makeup artists in Hollywood, and that keeps him busy, no matter how dead he is. But now he needs to find out who's committing a string of murders, and make sure nobody hurts Mitzi (one name only), one of his most faithful (and famous) clients.

He also needs a new penis.

Pluck & Cover is the first in the Zombie Cosmetologist Novellas, a new series by J.D. Blackrose, author of The Soul Wars and The Devil's Been Busy.
And here is an excerpt from the first novella! Enjoy!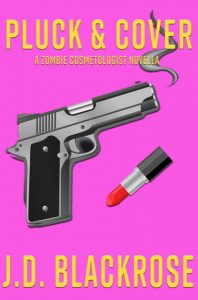 *****
"We have an appointment with Mr. Addington," Perkins explained, handing over his identification and gesturing to the star pinned to his chest.
"Yes, sir." The guard took his ID, checked a list, and made a call. The other guard came around to my side and knocked on the glass.
"We'll need your ID, too, sir."​​
"No problem." I handed over my driver's license, which was real, although the birth certificate I used to get it was fake, and he took it back to his colleague.
Perkins rolled the window up, calm on the exterior, while they checked us out, but he kept fiddling with the radio. Finally, they returned our identification, handed us each a badge to clip to our clothes, and slipped a placard onto the inside dash that indicated we were guests.
"Leave that on the car when you park, Captain. That way, we won't suspect a bomb and blow up your car."
Perkins and I both startled at that.
The guard grinned, or, more accurately, showed us his teeth. "Just kidding."
"Ha." That was all Perkins said. I didn't say anything. We parked in a guest spot right in front of the door, and I checked my makeup in the mirror. It was a nervous tic, and I shouldn't have done it, given the outside cameras and what the security staff would make of a man powdering his nose.
Perkins didn't seem to care. He was taking in the surroundings, noting the cameras, the K9 patrol on the far end of the campus, the high fences, and he looked up when a helicopter flew overhead.
"What the fuck are they doing here? Wound care?" he whispered to me as we approached the imposing front doors. "Sure as hell isn't bandages, antibiotics, and butterfly clips."
Again, I went with silence.
The armed guards at the front door inspected our badges and waved us through. The man and woman at the desk inside the foyer wore plain clothes, pretending to be receptionists, but I noted the holster bulges under their jackets.
The woman addressed us. "Captain Perkins. Mr. ​Jenkins. Mr. Addington will see you in his office. Allow me to escort you."
Perkins and I exchanged glances. Like we were allowing anything. It was obvious that they were calling the shots.
She used a card key to access the elevator and ushered us in, pressing the top floor, which was indicated by a blank white button. All the other buttons had numbers on them and were black. The C-suites ranked anonymity.
The door opened, and a man in a suit greeted us before we could step out.
"Captain Perkins and Mr. Jenkins, welcome. I'm Peter Shunk, Mr. Addington's executive assistant. Please follow me."
The elevator door closed behind us with a soft hum. Only way to go was forward, but my discomfort was growing by the minute. I was lucky I didn't sweat, or it would be dripping down my face. Perkins kept pulling at his cuffs, a sign that even his cool veneer was cracking. He wore his uniform, a tan, crisp button-down, a dark tie with a silver tie clip, his star over his heart, and dark green khaki pants. His duty belt was fully kitted out with his gun on his right hip, extra mags in the back, handcuffs, pepper spray, and a pouch for gloves, as well as other paraphernalia that made him look dangerous and all business.
Peter slipped across the carpet like a well-oiled dinner cart in a five-star hotel, silent and unobtrusive. His steps didn't even leave footprints in the plush fibers. With his dark slick hair, pointy chin, and mincing walk, he reminded me of a praying mantis waiting for an unsuspecting bug. I comforted myself with the thought that male praying mantises don't live all that long and often met sad, tragic ends.