Baseball season opens this week. That might not seem like a big deal to you. And in truth, it's far less of a big deal for me now than it used to be.
But once upon a time, Opening Day was Christmas morning and my birthday all rolled into one. It was the best day of the year that didn't involve me getting presents. It was a day of possibility, of dreams deferred finally having their day in the sun. And, yes, quite often, it was also the day those dreams and possibilities were doused with icy water.
When I was a kid, baseball was everything to me. Sure, I had other interests, but I lived and died with the Yankees (mostly died, for the first twelve years of my life) and I dreamed of being a major league baseball player. I remember a first grade class assignment in which we were supposed to draw a picture of ourselves in whatever job we expected to do when we grew up, and then write a few sentences about that job. I drew myself playing center field for the Yankees.
I should pause here to say that I must have been truly delusional. I was a TERRIBLE baseball player as a kid. I was terrified of getting hit by the baseball. My little league at-bats were panic-inducing affairs that saw me swinging at any pitch within four or five feet of the plate so that I could strike out more quickly. The strikeout itself was a foregone conclusion, right? So why prolong the encounter and risk devastating physical injury? Every once in a while, I would screw up the courage NOT to swing and would manage a walk.
And as I trotted down to first base, marveling at the mere fact that I was still alive, my father would clap from the stands, calling "Nice going, Charlie [his nickname for me — he did, in fact, know my real name]! Walk's as good as a hit!"
Kind, but untrue. Walks are great — on average, players who walk a lot help their teams far more than players who walk infrequently. Still, hits are better. There are stats to back this up. But I digress . . .
What about my fielding, you might ask. Well, I was already a birdwatcher by the time I was playing little league, and I spent a lot of time out in right field, watching for interesting fly-overs, and running after hit balls that were safely on the ground and decelerating, and therefore far less of a threat . . .
[I did get a little better as I grew older. I spent three summers at sleepaway camp when I was eleven, twelve, and thirteen, and during my last year there had a pretty good season. I batted over .300 — yes, I kept track; yes, I still remember — fielded well, and generally acquitted myself quite well. But I should also say that this was a camp for well-to-do Jewish kids. Not exactly the training ground for future Major Leaguers. The pitchers I faced were more likely to wind up as orthodontists than as professional athletes.]
And still, I insisted year after year that I would someday play for the Yankees. And not just at any position. I would play center field. The realm of Joe DiMaggio and Mickey Mantle. As I said: delusional. My parents tried, gently, to steer me away from this dream, pointing out that baseball players — and most professional athletes — had certain skills and attributes that I lacked. Like hand-eye coordination. And height.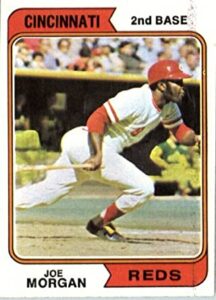 "Aha!!" I was able to reply. "What about Joe Morgan? Two time Most Valuable Player, perennial All-Star, World Series champion. He's five foot seven!" Besides, I assured them. I didn't expect or need to be six feet tall. I would be perfectly happy with five foot ten, like my hero, Roy White.
Amazingly, it was this statement that my father couldn't abide. God bless him, he was willing to put up with my elephantine blind spot when it came to my playing ability. But me growing to be five foot ten? No. This was the bridge too far. "Charlie, I'm sorry. But you are never, ever going to be five foot ten . . ."
Spoiler alert: He was right.
I did eventually get over my baseball-playing dreams. Mostly. But baseball's Opening Day still elicits from me a different sort of dream. "This is the year!" I tell myself, literally every year. "This is the year the Yankees will dominate the American League. The Mets will dominate the National League. The two will meet in an epic seven game World Series! I won't even care which team wins!"
So maybe I'm still delusional.
But did you know that in 1991, when the Minnesota Twins faced the Atlanta Braves in the World Series, both teams were just one year removed from last-place finishes in their respective divisions? True story. In 1969, the Miracle Mets won 100 games and the World Series, after spending their first seven years of existence at or near the basement of the National League.
And while we're at it, did you know that Freddie Patek, shortstop for the Pittsburgh Pirates and Kansas City Royals, three time All-Star, was only five foot five??
Anything can happen!
And that really is the point.
Look, baseball is no longer the game I worshiped as a child. Games have gotten too long and boring. Batters swing for the fences in every at-bat. Pitchers try to strike out every batter they face. The nuance and strategy that I loved — it all seems to be gone. And yet, with Opening Day approaching, I find myself dreaming of a season in which smart baseball returns, in which the obsession with power-hitting and power-pitching fades, and this amazing game returns to the subtle brilliance I remember so fondly.
Call me delusional.
Have a great week.