In May of 1994, Nancy and I took our first trip to New Mexico. (We have been back several times since, and we're always looking forward to our next visit; it is one of our favorite places in the world.) By that time, we had been married for three years, and we had been talking about visiting the state since the beginning of our relationship. Early in that year, Nancy told me it was time to plan our visit, because she was ready to start a family, and, she said, "this time next year, I expect to be pregnant."
Yes, ma'am. She was more than right, by the way. Our older daughter was born in May 1995.
At the time, I was still in the dreaming stage of my career. I had started work on the book that would become my first published novel, Children of Amarid, and an editor from Tor Books had expressed interest in the series. My agent at the time was negotiating terms with Tor, and already I was learning an early, nerve-wracking lesson about the slow pace of New York publishing. We had yet to sign a contract, and I despaired of ever doing so.
One of the many joys of visiting New Mexico is experiencing the artistry of the native peoples there. The various Pueblo communities produce their own styles of jewelry, pottery, wood carving, and other forms of visual art. During that first visit, I was drawn in particular to ceramic representations of the Storyteller, the embodiment of oral tradition, a symbol of shared history and community lore. Storyteller figures are typical rendered as open-mouthed (in the midst of relating some tale) with smaller figures — children, ostensibly — perched around and/or on them. The Storyteller can be of any gender. They can also take the form of an animal or bird, and they can support any number of smaller figures on their lap, their limbs, their shoulders.
I saw the figures as a symbol of my dream of being a professional writer, and I wanted desperately to find one to take home with me. Unfortunately, the figures are intricately crafted, and their price reflected that. I couldn't find one that both spoke to me and was affordable.
As part of our visit to New Mexico that spring, Nancy and I made our way out to the Acoma Pueblo. Acoma is known as Sky City, because it is perched on a gorgeous, craggy mesa in the desert west of Albuquerque. It is one of the oldest communities in all of North America, and it is known for, among other things, its exquisite pottery. You can't drive to the top of the mesa, but rather must park below and walk up. And you can't just wander the community on your own. You can only access it by taking a tour.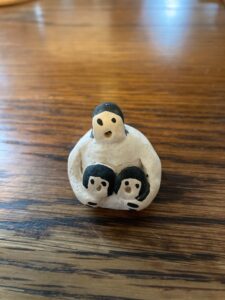 During our tour, we encountered many people selling pottery in front of their homes. And at one table, a mother displayed her wares beside those of her young daughter. I think the girl must have been around 7 or 8, give or take a year, and she had made a few small bowls, seed pots, and dishes. And she had made a tiny storyteller. As one would expect, it was quite crude compared to those we had seen for sale back in Albuquerque (we hadn't yet been to Santa Fe or Taos), but something about the figure spoke to me. Maybe is was just that the storyteller was so cute. Or maybe it was that the girl herself was so proud of it. Or maybe I saw in this child's early effort to follow in her mother's footsteps something akin to my dream of becoming a professional writer. Whatever the reason, I asked the girl how much it cost.
She looked at her mom, seeming surprised that she might actually sell something. Her mom said, "Five dollars."
"I'll take it."
I handed the girl the money. She wrapped up the storyteller she'd made and gave it to me. And Nancy and I followed our tour to another part of Sky City.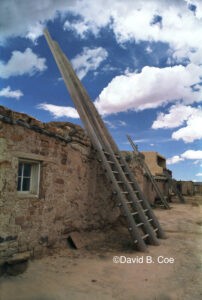 That was a magical day in many ways. Acoma was as beautiful as we had been told, the pale red stone of the Pueblo seeming to glow beneath a deep azure sky, wooden kiva ladders rising above their structures and reaching toward the clouds. At one point, I spotted a rainbow in the clouds overhead — there was no rain, just the prismatic color, which appeared for a moment and then vanished. I think I was the only one on the tour who saw it. I believed that, together, the rainbow and my little storyteller were omens, signs that my dream would, in fact, come to pass.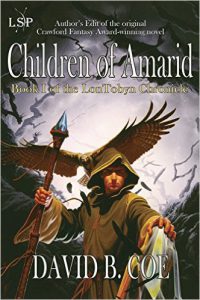 Two months later, I got my first contract from Tor Books. Children of Amarid wasn't published for another three years — that first book needed a lot of editorial work. But I was on my way.
Nearly twenty-nine years later, the storyteller I bought that day in Acoma still sits on my desk, right beside my computer screen. I look at it every day, and it still represents for me the dream that launched my career.
I wish you a wonderful week.